AMD's Next AGESA Update For AM5 Pushes The Nitro Button For A DDR5 Speed Boost
Memory overclocking performance has
historically been a weak point
of AMD's Ryzen processors. This is true even on Socket AM5; where Intel-based DDR5 rigs can hit 7000, 8000, all the way up to the world record of 11,202 MT/s, AMD systems tend to struggle to get much past 6000 MT/s. On the Socket AM4 platform,
memory overclocking was limited
by the transfer rate being linked to the CPU's infinity fabric speed, but on AM5 these are decoupled.
The problem on Socket AM5 is that AMD's processors didn't support
"Gear 2" mode for the memory controller
. This mode halves the clock rate of the memory controller relative to the transfer rate of the RAM. It increases memory latency, but can allow you to push transfer rates much higher, which in turn can bring the memory clock rate back up to similar levels.
How high? Well, as we mentioned, Intel-based machines have gone as high as 11,202 MT/s. We might say that we don't see
that kind of speed
coming to the AM5 platform anytime soon, but maybe we should keep our mouths shut because AMD has just released AGESA firmware update 1.0.0.7b that enables Gear 2 mode and also improves overall memory stability for all Socket AM5 CPUs.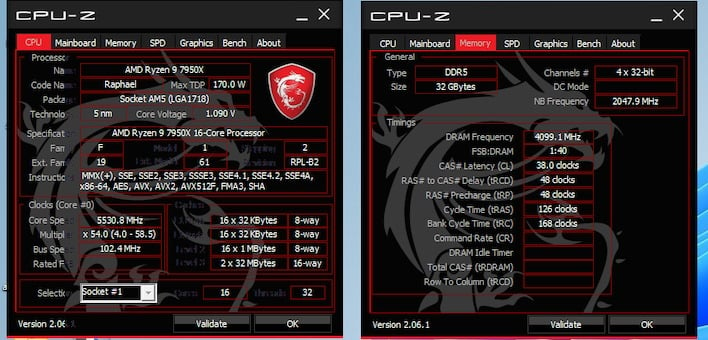 What does this mean in practice? Well, people are already hitting 7200 MT/s, 7600 MT/s, 8200 MT/s, and even 9058 MT/s with the new BIOS. Overclocker and leaker
chi11eddog on Twitter
posted up some screenshots (above) of an MSI X670E Ace board reaching DDR5-8200 using an OLOy memory kit rated for DDR5-7600 operation.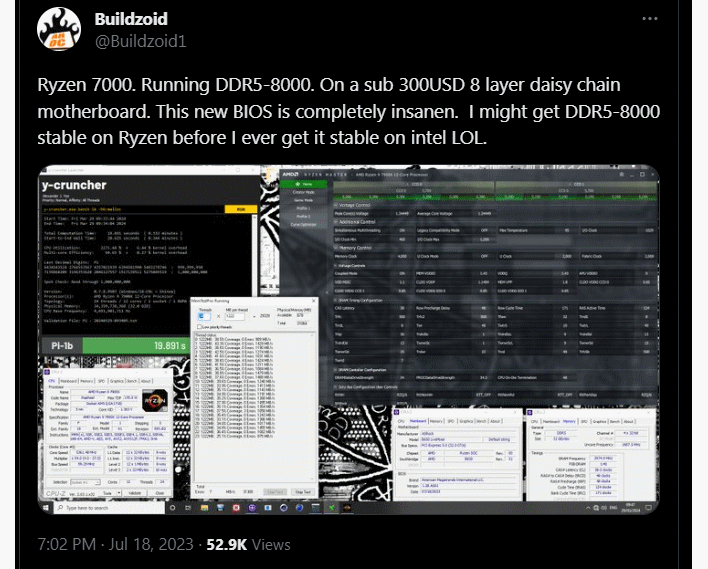 Along similar lines, expert overclocker Buildzoid (of YouTube channel
Actually Hardcore Overclocking
) got
his Ryzen 9 7900X booting stable
with DDR5 memory running at 8000 MT/s on an ASRock B650 Livemixer motherboard—a platter that you can currently pick up for just $225 over at Newegg.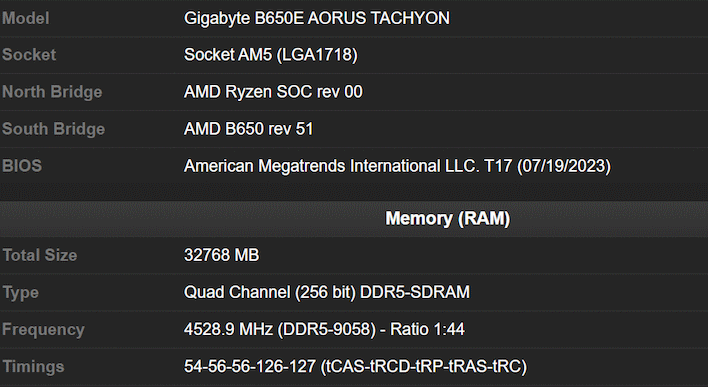 Another renowned overclocker, Chihhua "HiCookie" Ke, posted up a result of 9058 MT/s—currently the Ryzen memory OC record—using an Aorus B650E Tachyon. Don't let the "B" indicator fool you; the Tachyon is a high-end motherboard
meant for extreme overclocking
. HiCookie was notably using a Ryzen 7 7800X3D CPU, which proves that the 3D V-Cache CPUs can get in on the memory OC goodness, too.
How about a slightly more official source? Gigabyte
posted a press release
announcing that, with the latest BIOS updates on its X670 and B650 motherboards, DDR5-8000 will be supported using XMP. Those updates will apparently come down at the end of July.
Perhaps the most impressive part of all of this is that it has been achieved without overvolting the crap out of the CPU's SoC. As you may recall, some motherboards—including at least one of Gigabyte's—were overvolting Socket AM5 CPUs' SoC voltage
to the point that they would explode
. Gigabyte's press release says that DDR5-8000 has been achieved on its boards using 1.3v SoC, which is the recommended maximum value from AMD.

Verified AMD employee and Reddit poster /u/SampsonJackson made a number of posts
in a thread
talking about the achievement. He says that "7600-7800 is also possible now," depending on motherboard quality and the CPU silicon lottery. Perhaps more exciting for gamers looking for the lowest memory latency, he also says that many CPUs will be able to hit 6400 MT/s without enabling "Gear 2" mode... but not all.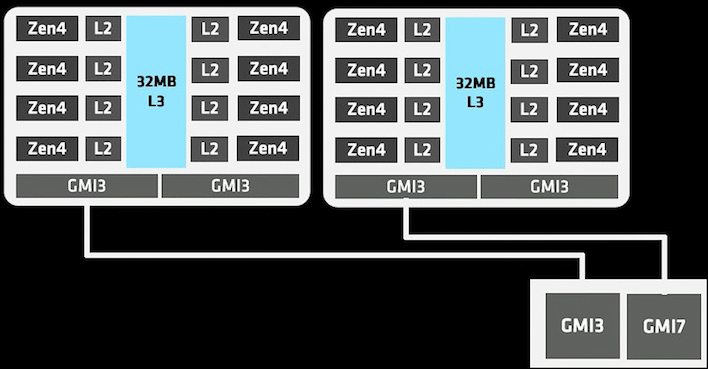 It's worth noting that, arguably, only folks with dual-CCD parts should bother with this kind of high-end memory overclocking. That means Ryzen 9 processors, the
chips with more than 8 cores
. The reason is that the GMI3 link connecting Ryzen CCDs with the cIOD only supports a transfer rate of 20:1 off the FCLK, which is always going to be slower than the memory transfer rate when you only have one CCD with one GMI3 link. In that case, the goal is to optimize latency—as long as you're in dual-channel mode, anyway—so try to hit that 6400 MT/s in Gear 1 mode.