Acer Starts Selling Its First AMD Graphics Card, The Radeon RX 7600 Predator BiFrost
Acer has launched its first AMD Radeon graphics cards. Its strategy is to start at the more affordable end of the market, and thus it has prepared the Predator BiFrost Radeon RX7600 (and OC) for the mass market. These designs bear a lot of similarities to the warmly welcomed
Acer Predator BiFrost Intel Arc models
, announced last September.
Behind the scenes at Computex, Acer revealed that it was working on both AMD and NVIDIA graphics card designs, with the possibility that it may expand from its Intel Arc-only beginnings. What were shown off at the time were Acer's designs for high-end NVIDIA and AMD models, but earlier in the year we saw a leak indicating that AMD Radeon RX 7000 models were the
next in line
for a probable product launch.

So, what do we have here? Acer's Predator BiFrost Radeon RX7600 (OC) cards are pretty handsome designs, but won't hold any surprises for anyone who has seen the firm's Intel Arc products. Here we have the signature BiFrost cooler applied with its mix of blower style fan (70mm) and larger axial fan (92mm). This same arrangement seems to have no problem with the 225W
Intel Arc A770 GPU
, so might run even cooler and quieter on AMD's 165W GPU. However, Acer has maybe missed an opportunity to provide a more compact offering than this 267mm long x 117.75mm tall (10.5 x 4.6-inches) dual-slot design.
We note that the standard Predator BiFrost Radeon RX7600 from Acer follows reference specs with a 2,250MHz game clock and a 2,655MHz boost clock, but eats 5W more for a 170W quoted TDP. The OC model doesn't look like it is worth a premium, with just a 3% overclock vs those GPU clocks. Also, for the extra speed, the OC model's quoted TDP has been moved up to 180W.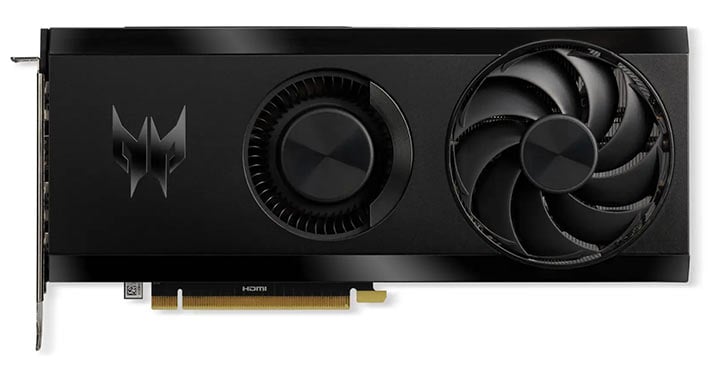 While Acer's Predator BiFrost Arc A770 has attractive RGB lighting zones, the A750 model, and these budget Radeon models seem to have trimmed such frivolity to keep the pricing down.
These new RDNA 3 architecture graphics cards have popped up in Acer's home country of Taiwan first, with the Predator BiFrost Radeon RX7600 priced at NTD$8,990 and the OC version at NTD$8,490. If we convert these prices to USD today, the resulting prices are about $290 and $275, respectively.