Acer Releasing A Radeon RX 7000 GPU Would Leave NVIDIA As The Odd Man Out
Acer's recent foray into the DIY discrete graphics card market coincided with Intel's modern entry. The former launched an introductory Predator BiFrost model based on latter's flagship
Arc A770 GPU
, complete with a custom cooling solution and factory overclock. It may not be Acer's last, either. Rumor has it that Acer is expanding its resale GPU lineup with AMD Radeon RX 7000 models on tap.
Details are rather sparse and sketchy, but if true, Acer's expansion would be a big win for AMD and a notable loss for NVIDIA. Part of what's interesting here is that NVIDIA already
lost a major hardware partner in EVGA
, which abruptly (and shockingly) exited the GPU business altogether right before the launch of the
GeForce RTX 40 series
.
The story of the long-term impact on NVIDIA's bottom line has yet to be written. What can be said, however, is that EVGA's departure created a void and an opportunity for another manufacturer to step in and take its place as NVIDIA's right-hand man, so to speak. Acer is apparently not interested in that role, though again, this is all just a rumor at this point.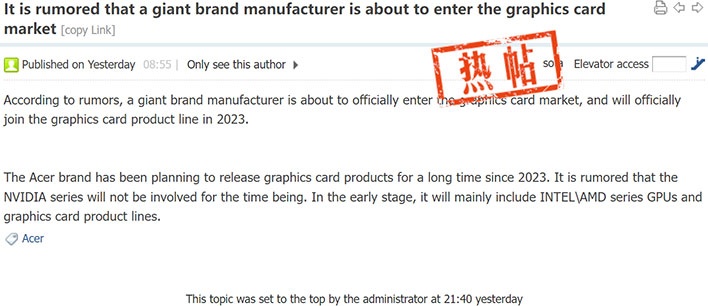 Source: BoardChannels via Videocardz
It originates from a post on the BoardChannels forum in China. We were unable to register for direct access to the forum post, but the folks at Videocardz took a screenshot of the translated text, shown above. It's a rough translation from our reading, but the gist of the post is that Acer wants to become a more serious player in the DIY discrete graphics card market, and will focus on Intel and AMD models for the time being.
As things stand, Acer offers two DIY graphics cards in its lineup—one is the aforementioned
Predator BiFrost Arc A770 OC
, and the other is a Predator A380 model without the BiFrost branding or fancier cooling solution. That said, this isn't completely new territory for Acer. In addition to its recent DIY models, Acer has been making discrete cards for its prebuilt Predator gaming PCs for years.
Focusing on the DIY market is the next logical step. EVGA's departure doesn't really mean there's less competition. It only made cards based on NVIDIA's GPUs, but given Acer's brand recognition, there's an opportunity to carve out a sizable piece of the pie. And who knows, the added competition could potentially help keep prices in check, though we'll have to wait and see.