PowerColor Red Devil Ultimate Radeon RX 6900 XT Review: Speed Demon
PowerColor Red Devil Ultimate Radeon RX 6900 XT: Big Navi Unlocked And Unleashed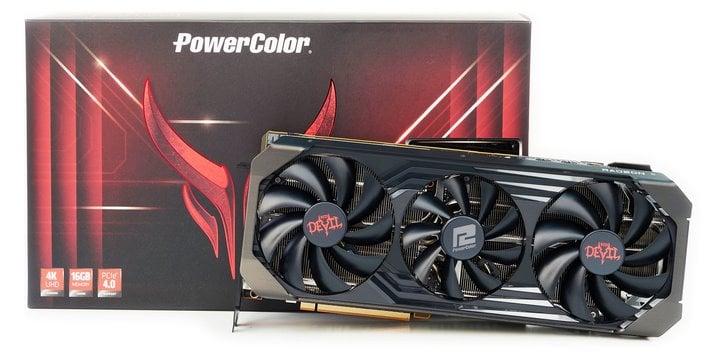 PowerColor has historically released its high-end, customized Red Devil-branded Radeons in lock-step with AMD. AMD launches a new GPU with one set of specifications, and a short time later, board partners like PowerColor come through with tweaked versions injected with their own special sauce. On the surface, that's how today's launch of the PowerColor Red Devil Ultimate
Radeon RX 6900 XT
also went down, but there is some additional mojo at play here.
PowerColor
already has a "non-Ultimate" Red Devil 6900 XT in its line-up, but the Red Devil Ultimate Radeon RX 6900 XT takes things to the next level. The silicon on this card has been specially binned to ensure stability at even higher clocks than standard cards, and the power limit has been increased as well. AMD has also tweaked its software to recognize the more capable GPUs, to unlock higher minimum and maximum clock settings in the Tuning section of its drivers.
We'll explain everything and take the card for a spin shortly. First up, let's get some particulars out of the way...
PowerColor Red Devil Radeon RX 6900 XT

Specifications & Features
GPU

AMD Radeon RX 6900 XT (7nm, Navi 21)

Engine Clock

Boost Clock - OC Mode: Up to 2425MHz, Game Clock: Up to 2235MHz


Boost Clock - Silent Mode: Up to 2335MHz, Game Clock: Up to 2135MHz




Stream Processors

5120

Infinity Cache

128MB

Ray Accelerators

80

Memory Size/Bus

Memory Clock

Displays

Resolution

HDMI: 7680×4320, DisplayPort1.4: 7680×4320

Interface

Output

1x HDMI, 3x DisplayPort

BIOS Support

Dual UEFI w/ Switch

Cooling

Form Factor

Power Consumption

~303W (OC) / ~272W (Silent)

System Requirement

Minimum 850 Watt Power Supply, 3 x 8-pin Power Connector.
---
Before we dive into the PowerColor Red Devil Ultimate Radeon RX 6900 XT, we should point out that we're not going to cover the intricacies of its GPU in this piece. We've already covered the RDNA 2 architecture and Navi 21 GPU at the heart of this card in the past, specifically in our original
Radeon RX 6900 XT review
and our Radeon RX 6800 and
Radeon RX 6800 XT launch article
. In those two articles, we provide additional details regarding the Navi 21 GPU and the RDNA2 architecture, and discuss AMD's Infinity Cache, the GPU's new cache hierarchy, the updated Compute Units (CU) and their integrated Ray Accelerators, and Smart Access Memory (SAM), among many other things. If you'd like the additional technical detail, you'll find it all in our previous coverage.
The PowerColor Red Devil Ultimate Radeon RX 6900 XT has a similar aesthetic to previous-gen Red Devil cards, but everything is amped up here. The PowerColor Red Devil Ultimate Radeon RX 6900 XT is quite large at a little over a foot long, 5" high and three-slots wide, though if you look closely, you'll see the actual PCB is shorter than the overall length of the card.
The massive cooler is packing a high density heatsink with copper base, that's linked to the fins via seven heat pipes – 3 x 8mm and 4 x 6mm. Various sections of the heatsink make contact with the
GPU
, memory, and VRM on the card. And sitting atop the assembly are three axial, ball bearing fans, 2 x 100mm outer fans and a center 90mm fan, all wrapped in a rigid metal shroud. We should also note that the fans on the card stop spinning completely when the GPU temperature is below 60°C, so during light use the card is nice and quiet. There's a metal heat plate on the backside of the card too, but PowerColor notes it doesn't employ any thermal pads to make contact with the PCB. Instead, the plate is vented to add surface area and allow air to flow around the PCB.
Intermingled through the front and back of the shroud and backplate you'll find RGB lighting on the PowerColor Red Devil Ultimate Radeon RX 6900 XT, and the card has an RGB header as well should users want to link it up with their motherboard to control / match the lighting.
Underneath the heatsink is a custom PCB with 16 power phases, versus 13 (11+2) on AMD's reference design. DrMos high-polymer caps are used throughout the design as well. PowerColor notes that the VRM on this card is capable of delivering over 400W of power, and spreading the load across more phases helps keep board temperatures in check as well. Power is delivered to the card though a trio of 8-pin standard PCIe connectors (150w each), which, in addition to the power provided by the PEG slot, will offer more than enough power headroom.
GDDR6
memory on the card runs at 16Gbps, similar to AMD's reference cards.
The ports on the card are also illuminated, so they're easy to see even in the dark with a PC crammed under a desk, which is a nice touch.
And now, for some benchmarks…
Related content