Minisforum HX90G Mini Gaming PC Review: A Tiny All-AMD Titan
Minisforum HX90G Mini Gaming PC: Stress testing, Synthetic And Productivity App Benchmarking
Minisforum HX90G Mini PC Stress Testing - Checking Power, Thermals, Cooling And Noise
With everything set up and ready to go, we decided it was a good idea to give this machine a stress test, with various system monitoring tools loaded, to make sure we don't have any obvious flaws or weaknesses before moving onto the main course testing.
We loaded up Prime95 and Furmark to make sure both the CPU and GPU would get busy simultaneously, and watch for any potential issues to emerge - with the most 'serious' problem expected to be a little thermal throttling from time to time. How did the system do when both CPU and GPU were at 100% utilization?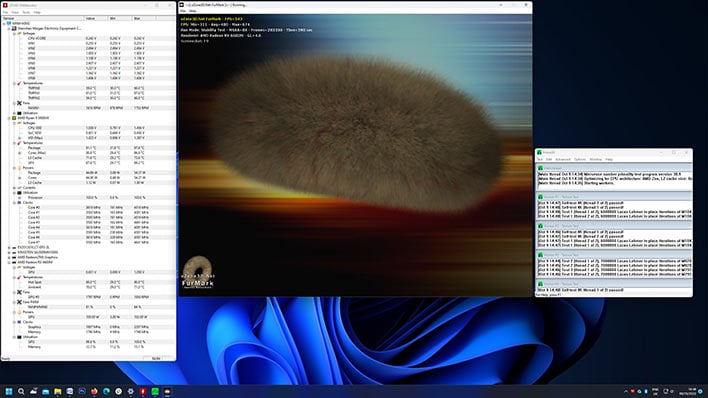 As you can see in the screenshot (click to zoom), running these taxing tools for quite a length of time didn't really put any undue strain on the HX90G. The CPU didn't get any hotter than 87.4 degrees Celsius max, and seemed to stabilize at about 80 degrees under load (21 degrees room temperature). AMD's
Ryzen 9 5900HX
used 54W when pushed to 100% load. Similarly, the GPU didn't get too bothered by the strain. AMD's Radeon RX 6600M stayed at 80 degrees Celsius or below throughout testing - and that is a hotspot reading. GPU power consumption hit 102W maximum.
Earlier in the review, we mentioned that these laptop performance components are enjoying much better than laptop cooling in the relatively thick chassis of this design. Moreover, Minisforum says the heat producing components have liquid metal thermal compound applied, and the heatsinks and fans are joined by seven heatpipes. No overclocking tests were done in this review, but there may be some decent benefits to be had from tweaking clocks and voltages, depending on the tasks you use it for.
While we are on the topic of cooling, you might be concerned that the HX90G's cooling system is noisy under load. However, we are pleased to report that the system noise wasn't distracting or irritating even under the stress test conditions. Using our equipment, and the system under load as above, the sound meter registered a noise level of <60 dB next to the device. Moving back to about 20 inches (or 40cm) away, as it was positioned on the desk to the side of the monitor, the stress test noise level reduced to <40 dB.

Storage And Productivity Performance With The Minisforum HX90G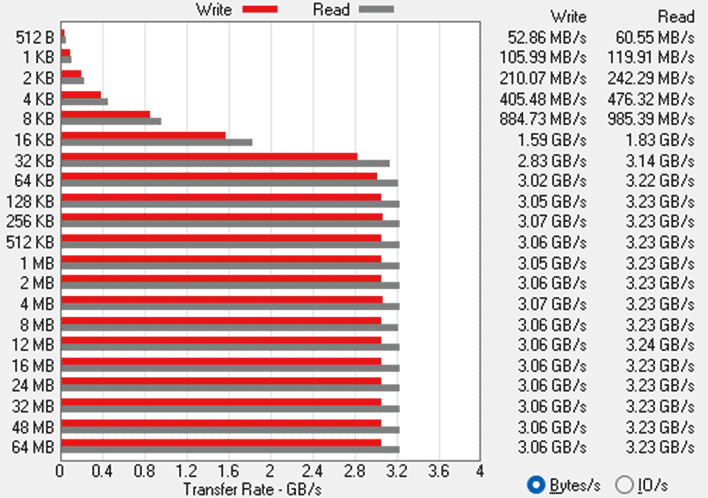 Moving onto the performance tests section of this review, we are going to start by checking out the speed of the bundled M.2 SSD. The read and write scores for the 'ESO' brand boot drive were good for a PCIe Gen 3.0 x4 NVMe SSD. It's about 1 GB/s faster at both read and write than the Kingston PCIe 3.0 x4 1TB SSD we put in for bulk game storage purposes.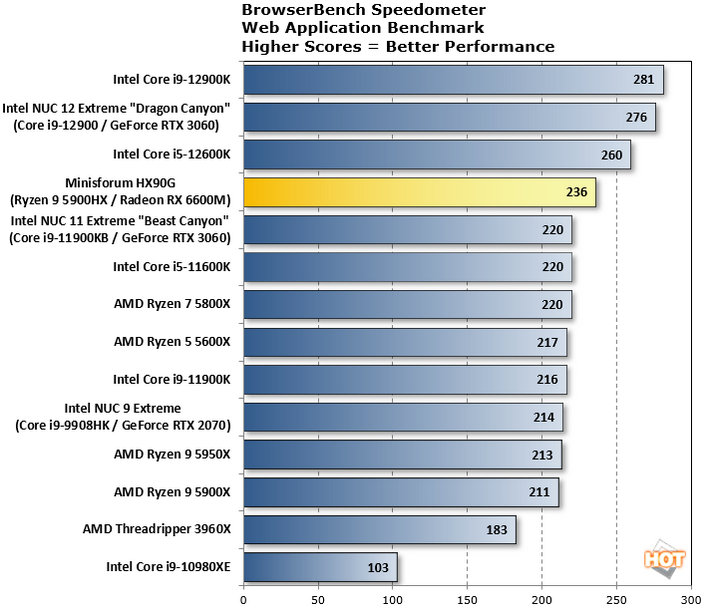 A little PC like this is going to be great for web browsing, and it achieved a good score in BrowserBench Speedometer to back up this hunch. Pitted against the selection of NUCs and more substantial desktop machines in our test library, the HX90G did well to sandwich itself between
Intel's 12th Gen
and 11th Gen Core desktop processors. Remember, Alder Lake benefits from a number of architectural improvements to benefit the frequent bursty workloads web browser operations typically require for perky performance.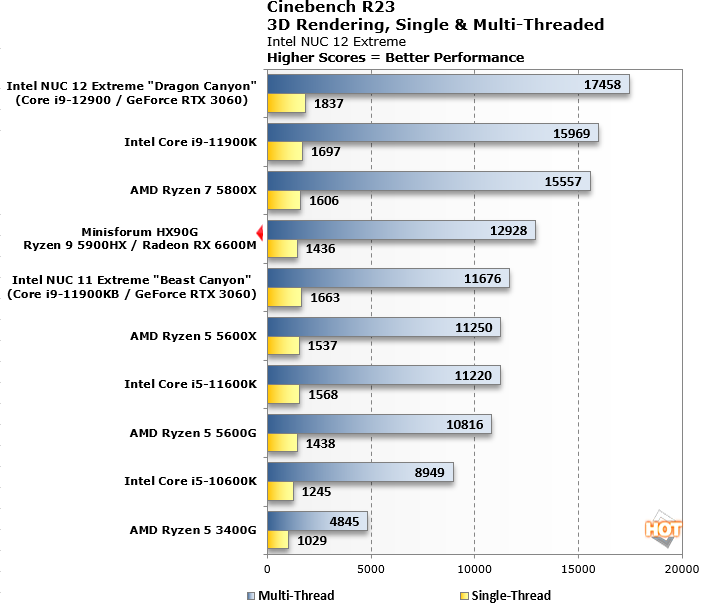 Cinebench R23 measures the computer processor's affinity for 3D rendering. It also allows testers to check for single- and multi-threaded performance scaling, with a wide range of comparison baselines built-into the tool for convenience. We aren't disappointed with fourth place given the muscular competition. And you will start to see a trend established here as the Minisforum HX90G, with its soon-to-be succeeded AMD Ryzen and Radeon generational architectures, lagging a little behind Intel's
NUC 12 Extreme Dragon Canyon
with Intel Core i9-12900 desktop CPU and NVIDIA GeForce RTX 3060 desktop GPU. Our wording emphasis an important difference though - mobile vs desktop parts. Intel's Dragon Canyon sucked over 270W in gaming in our tests back in March. We didn't measure the HX90's power consumption at the wall, but reckon it is likely to be more like 180W, adding up the max observed CPU and GPU power and other typical PC component overheads.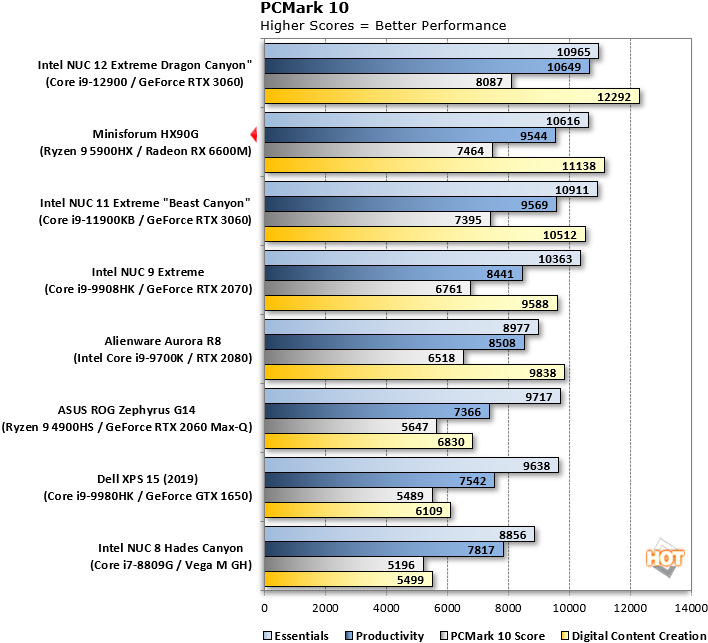 PCMark 10 is a benchmark which attempts to give a user an idea about a computer's suitability for duties in the modern workplace. Think about using popular office productivity and content creation tools, things that tax processing, use up memory and read/write sizable lumps of data to storage. A good score in this benchmark means that your PC won't be the culprit that is slowing down your work output, though you might need more coffee, perhaps. The Minisforum HX90G is seen to be a very capable workhorse, as judged here by PCMark 10.
Related content