Lenovo IdeaPad Slim 7 Review: Ryzen Powered Thin And Light
Lenovo IdeaPad Slim 7: Performance, Battery Life And The Verdict
We tested the Lenovo IdeaPad Slim 7 as it shipped, with the latest Windows updates installed, and any auto-updates that came down via Lenovo's Vantage application, to best ensure what we present to you here is indicative of what you can expect from machines bought at retail. Many variables can affect performance, however, so our comparisons should serve only as a reference. Our benchmarking kicks off with storage, CPU, and browser tests to get an idea as to how the AMD
Ryzen 4000
series-powered machine performs in everyday computing tasks…
ATTO Disk Benchmark




Peak Sequential Storage Throughput



ATTO's disk benchmark gives us an idea of how well the system's SSD performs with sequential read and write operations of differing sizes. This system has a 512GB SK Hynix PCIe Gen 3 NVMe solid state drive...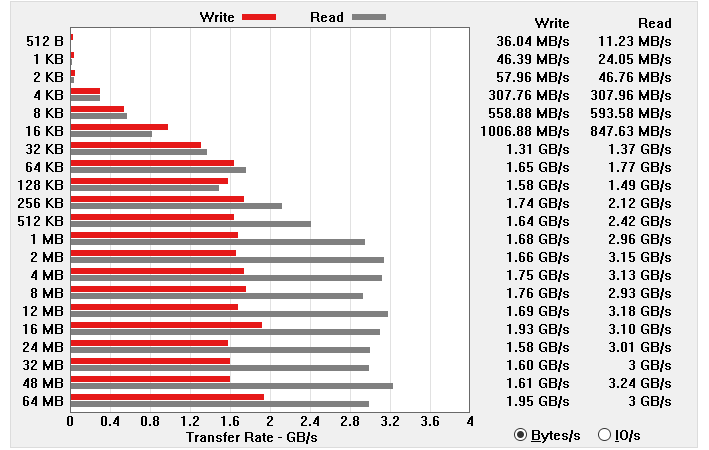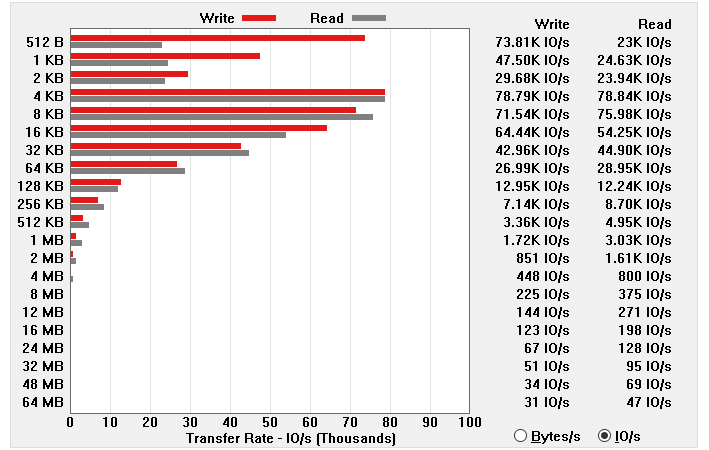 Reads topped out at a little over 3.2GB/s but typically hovered around the 2.9-3GB/s mark with larger data sets. Write's topped out at 1.95GB/s per second, again with a somewhat lower typical range of 1.6-1.7GB/s.
Speedometer Web Application Benchmark
Browser Performance
We moved on to BrowserBench.org's
Speedometer
test, which takes a holistic look at web application performance. This test automatically loads and runs several sample webapps from ToDoMVC.com using the most popular web development frameworks around, including React, Angular, Ember.js, and even vanilla JavaScript. This test is a better example of how systems cope with real web applications, as opposed to a pure JavaScript compute test like JetStream. All tests were performed using the latest version of Chrome.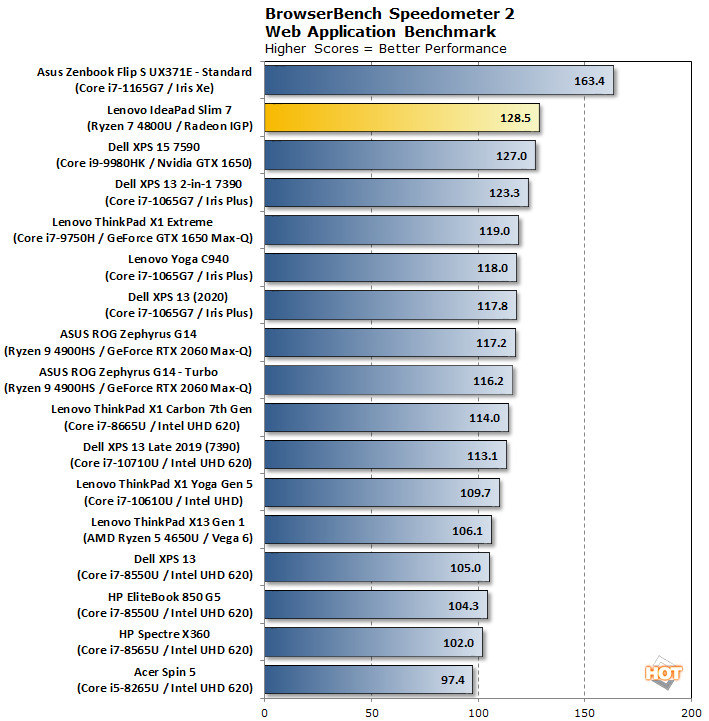 The Lenovo IdeaPad Slim 7 finished near the top of the charts, besting previous-gen notebooks, but trailing the Tiger Lake-based Asus ZenBook Flip.
Cinebench R15 And R20




3D Rendering On The CPU And GPU



Cinebench tests the CPU and GPU independently and provides a glimpse into the system's throughput. The tests are based on Maxon's Cinema 4D modeling software that's used in movie production studios. The older R15 version of the benchmark has an OpenGL graphics test built-in, while the more taxing and new R20 version is solely a CPU test...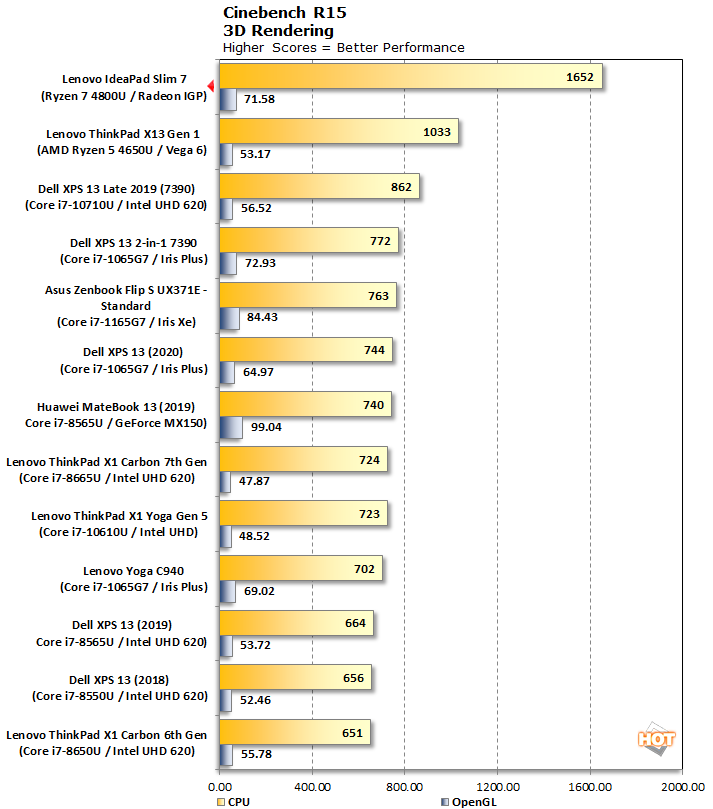 The Lenovo IdeaPad Slim 7 put up strong numbers in this older version of Cinebench. In the OpenGL graphics benchmark, the integrated Radeon GPU was among the top performers. In the multi-threaded CPU benchmark, however, the 8-core / 16-thread Ryzen 7 4800U decimated all of the other notebooks that we tested.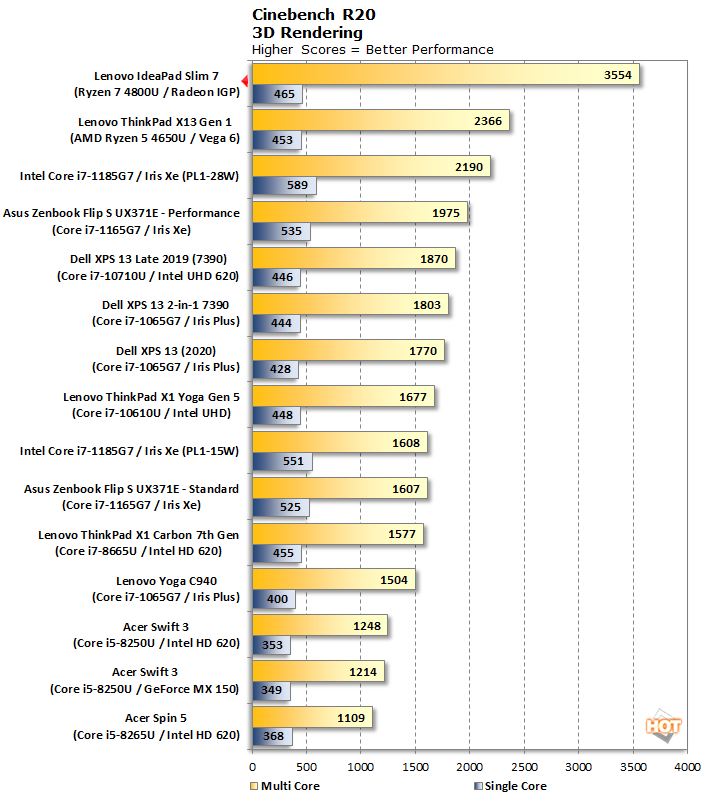 The Cinebench R20 data looks similar, but here we're comparing single and multi-threaded CPU performance alone. In the single-threaded benchmark, the Lenovo IdeaPad Slim 7 finished strong, but trailed some of the top-end Intel-based machines. In the multi-threaded benchmark though, the 8-core
Ryzen
CPU -- once again -- topped the charts.
Geekbench




Single and multi-core



Geekbench 5 is a cross-platform benchmark that simulates real world processing workloads in image processing and particle physics scenarios. We tested the ROG Zephyrus G14 with Geekbench 5's single and multi-core test workloads.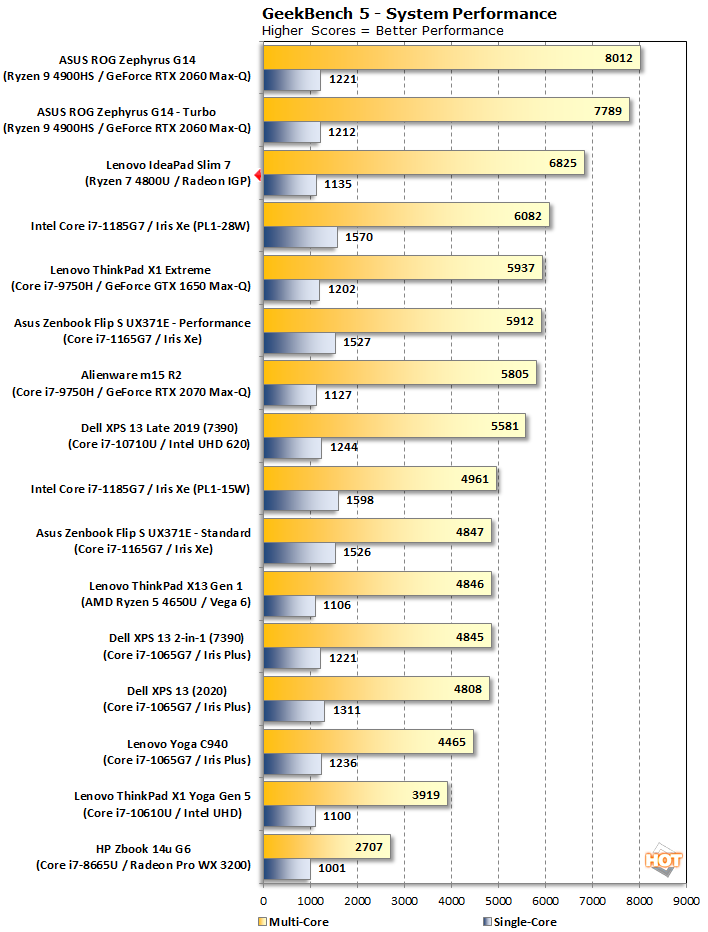 We saw more of the same in Geekbench 5. Here, the Lenovo IdeaPad Slim 7 offers strong single-threaded performance relatively to other thin and light notebooks, but it can't quite catch Tiger Lake. In the multi-threaded benchmark, only the higher-clocked / higher-TDP Ryzen processor is faster.
Futuremark benchmarks have been popular go-to system level tests since the late '90s. We ran the
Lenovo
IdeaPad Slim 7 through PCMark 10, which is designed to gauge the system's performance in common, everyday computing tasks with GPU acceleration-enabled, and with 3DMark tests further down the page assess graphics and gaming chops.
PCMark 10




Productivity and System-Level Benchmarking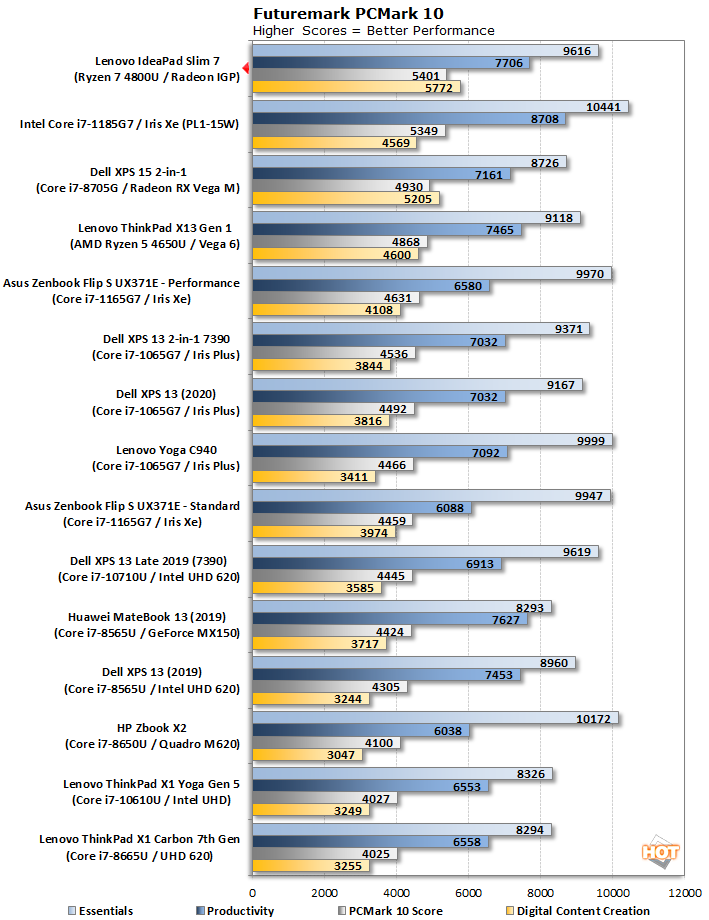 In PCMark 10, the Lenovo IdeaPad Slim 7 finished at the top of the heap in terms of its overall score, which is boosted by a particularly strong Digital Content Creation result. In the Essentials and Productivity tests -- which don't benefit as much from additional CPU threads -- the Lenovo IdeaPad Slim 7 still performs well, but trails some of the top-end Intel-based machines.



3DMark Benchmarks




3D Benchmarking



We are going to run an array of 3DMark tests on the Lenovo IdeaPad Slim 7 in an effort to compare it to an array of notebooks of similar form factors...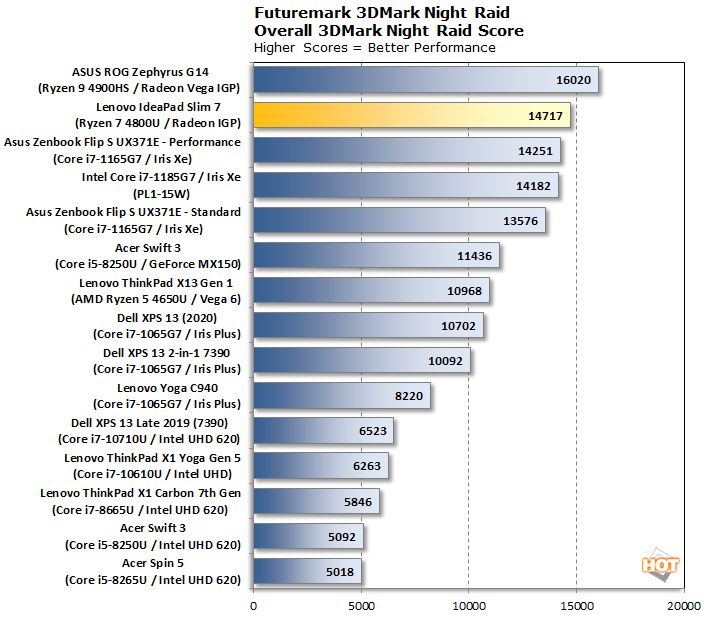 With the 3DMark Night Raid benchmark, the Radeon IGP in the Lenovo IdeaPad Slim 7 finishes near the top of the charts, besting the Iris Xe graphics in the Zenbook Flip. This less-demanding test is somewhat limited by shared memory bandwidth, so let's try something a little more demanding. Fire Strike up next.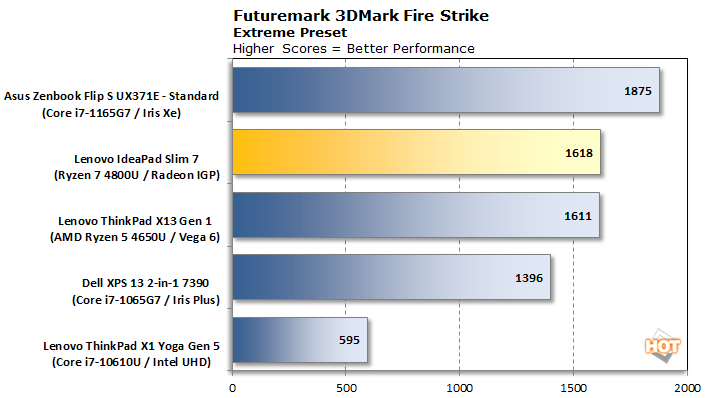 The 3DMark Fire Strike benchmark has the Vega-based Radeon IGP trailing the Iris Xe graphics in the Asus machine by a relatively wide margin, but it clearly outpaces the Iris Plus graphics in the 10th Gen processor.
Middle Earth: Shadow Of War Performance / Gears




Gaming Performance



With our synthetic testing out of the way, it's time to move on to an actual game. Though it is a thin and light and not a gaming notebook, the powerful processor and Vega-based Radeon graphics in the Lenovo IdeaPad Slim 7 are perfectly capable of playing many games. Let's take a look at performance in Middle Earth: Shadow of War first...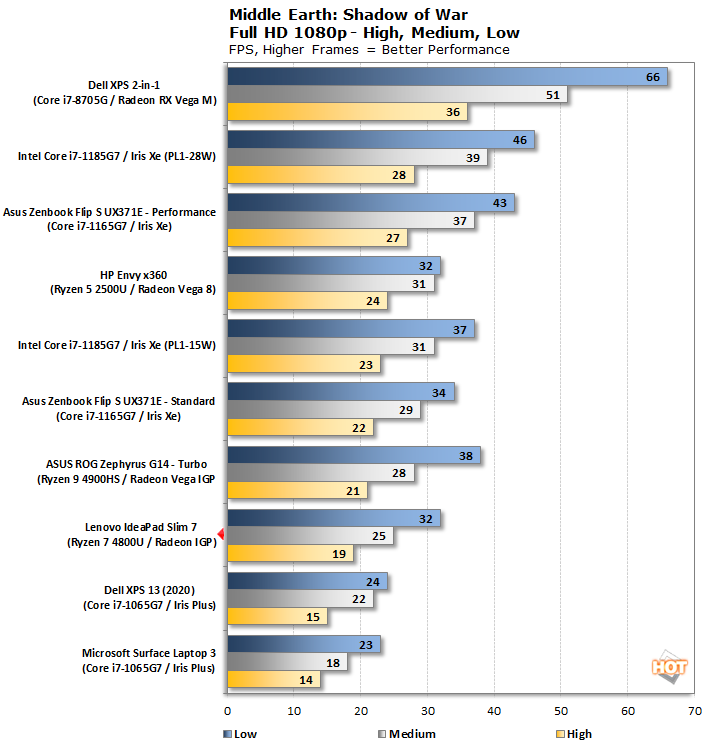 In this first set of tests with Shadow Of War, the Lenovo IdeaPad Slim 7 outruns the Iris Plus graphics in the Intel 10th-gen machines, but it can't quite catch the Iris Xe graphics in Tiger Lake or even the higher-TDP previous-gen Ryzen processors. Playing this particular game at 1080p is pushing it, even using low settings, however. To smooth things out, dropping down to 720p would be advisable.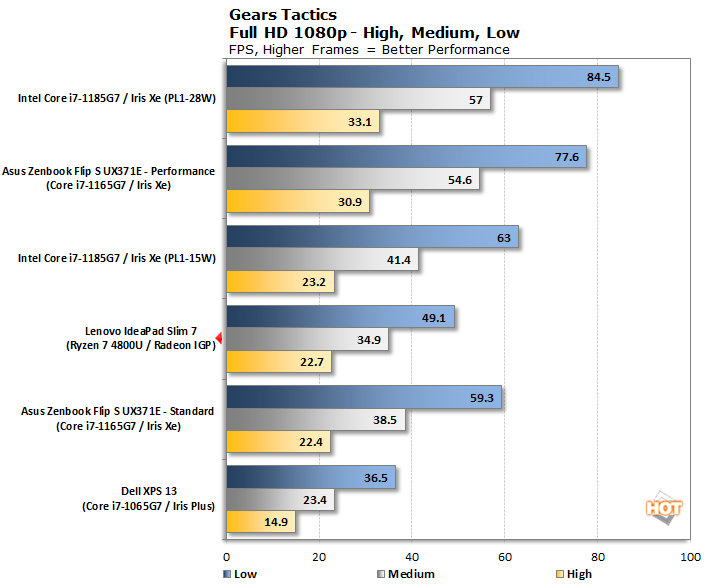 With Gears Tactics, the Lenovo IdeaPad Slim 7 competes well with Iris Xe graphics at 1080p with Medium and High settings. This is another game that's a bit too intense for the machine to hit that 60FPS sweet spot, though. Cranking down the resolution in this game would be a good idea as well.

AMD Ryzen 4000 Battery Life With The IdeaPad 7
Our Battery Life testing is performed using a custom 1080p HD video loop test we developed here at HotHardware. We conduct the tests with
Windows 10
Quiet Hours / Focus Assist enabled and the display's brightness calibrated as close to 115 lux on
our meters
as possible. Brightness calibration is vital to ensure a fair comparison with other notebooks in our group, since it greatly affects battery life.
However, every notebook has different brightness ranges, so it's critical to rely on a light meter, instead of a Windows brightness setting percentage, in order to level the playing field on brightness output. The Lenovo IdeaPad Slim 7 required about 55 percent brightness to achieve 115 lux.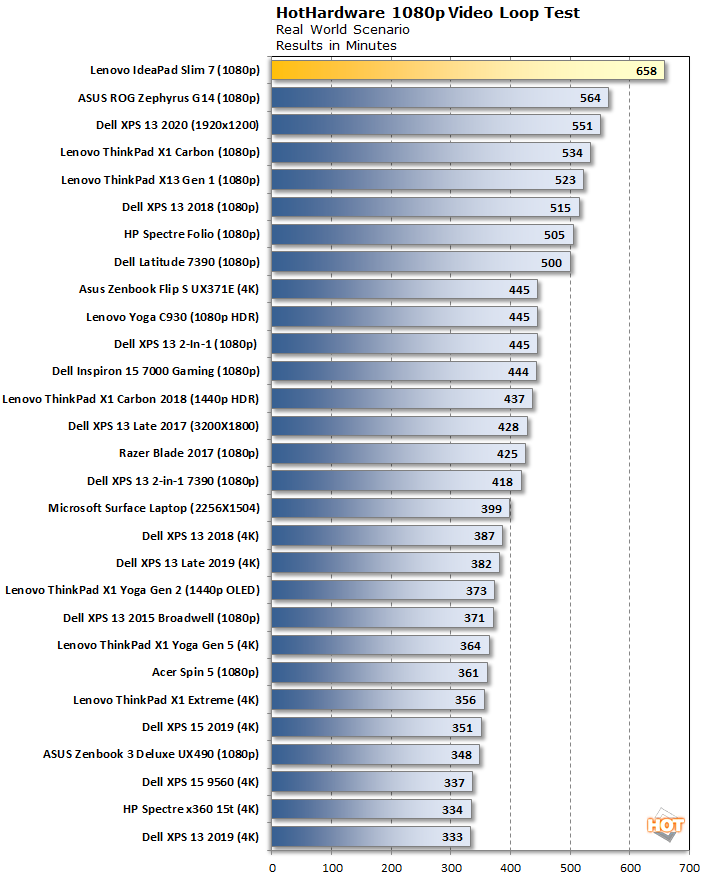 To put it simply, battery life was awesome on this machine. The Lenovo IdeaPad Slim 7 topped the charts and lasted nearly 11 hours in this test. In terms of real-world battery life characteristics, the Lenovo IdeaPad Slim 7 is very good as well. With day-to-day computing tasks (browsing the web, checking email, hitting YouTube, etc.) getting two word days out of this system is no problem at all. Standby time is particularly good as well -- days have sometimes gone by between waking the machine and only a small amount of battery life was used. If battery life is a major consideration for you, a machine like the Lenovo IdeaPad Slim 7 will not disappoint.
Lenovo Yoga IdeaPad Slim 7 Cooling And Acoustics
The Lenovo IdeaPad Slim 7 is only 12.62" x 8.18" x 0.58" and 3.08lbs. As such, there's not a lot of volume inside its relatively thin chassis to keep an 8-core / 16-thread processor with one of the better integrated GPUs running ultra-cool and quiet. The machine does a surprisingly admirable job, however...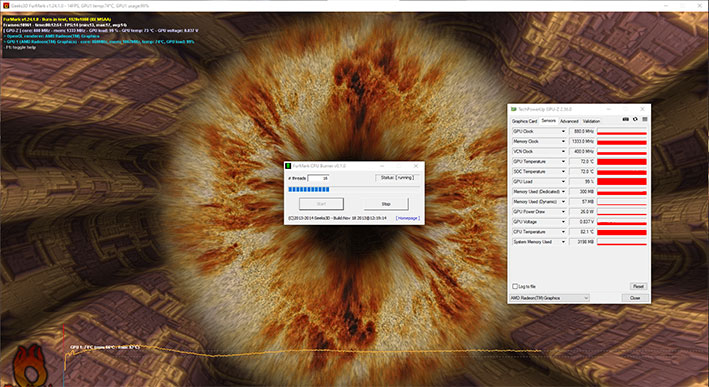 Even in a worst case scenario like this -- running Furmark's CPU Burner and GPU Burn-In tests concurrently -- the Slim 7 remains somewhat tame. Note, the CPU and GPU are integrated and their temperatures will vacillate somewhat, but even then, they don't run particularly hot once the system's cooling fans kick into high-gear. The GPU and SoC temperature typically hovered in the low 70°C range, while the CPU cores topped out at about 83°C. Letting this particularly taxing workload run for 20 mins, will result in the Slim 7's cooling fan running at full tilt, which output roughly 46.1dBa on our sound pressure meter from approximately one foot away. That's not particularly loud, but it is loud enough to be heard across a boardroom table. That's the worst of it though -- during everyday computing, the Lenovo IdeaPad Slim 7 is extremely well mannered and doesn't make a peep most of the time.

To better quantify how the cooling solution affects performance, we also did some Cinebench testing over time. What you see here are 11 consecutive Cinebench R20 runs. The results for the first 10 runs were recorded after a cold boot, with <1s between the runs. The 11th run was performed after letting the system idle and cool down for 30 seconds, after the 10th run had completed. As you can see, from a cold boot, performance is about 10% - 12% higher than the second run. By the third run, performance drops another couple of percentage points, until leveling off and maintaining the same performance for the rest of the run. Letting the machine cool for 30 seconds before the 11th run didn't restore full performance, however. A longer cooldown period of about a minute is necessary to ratchet things back up
Final Thoughts On The Lenovo IdeaPad Slim 7
The $999 Lenovo IdeaPad Slim 7 is an excellent notebook. Considering the kind of multi-threaded CPU performance this diminutive machine is packing under the hood, thanks to its 8-core / 16-thread
AMD Ryzen 7 4800U mobile processor
, we couldn't help but be impressed. At this time, Intel doesn't have any mobile processors that can offer the same level of performance in a form factor like this. AMD's first swag at a high-performance, power-friendly 8-core mobile processor is an undeniable success. On top of the excellent CPU performance, the integrated Vega-based Radeon graphics are relatively strong as well. The iGPU can't quite keep pace with Intel's latest Iris Xe-based offerings in its 11th-gen processors, but the integrated Radeon GPU is superior to previous-gen solutions, while offering all of the benefits of AMD's extensive Radeon Adrenaline Edition software suite.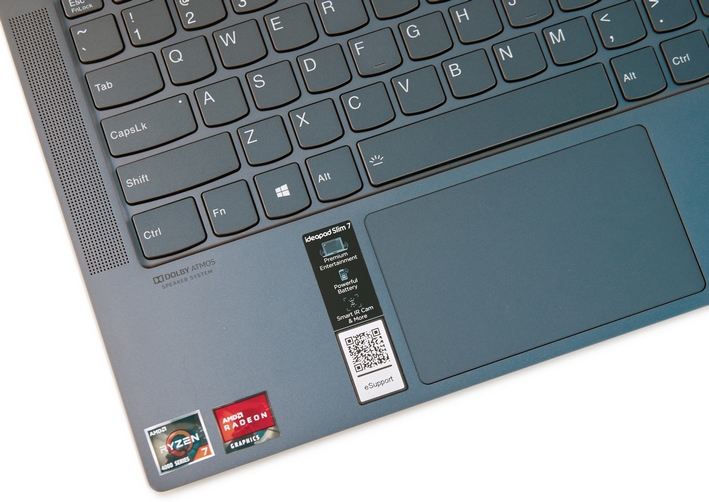 Over and above its powerful platform, the Lenovo IdeaPad Slim 7 itself has a lot to offer as well. We're particularly fond of the machine's overall aesthetic. The display is sharp and punchy (if somewhat dim), the touchpad is responsive and relatively large, audio output is excellent for a system this size, and the keyboard -- while not quite on the same level as Lenovo's excellent
Thinkpads
-- it comfortable and easy to type on. The Lenovo IdeaPad Slim 7 also has a useful array of IO ports, it is clearly well built using quality materials, and battery life is top-notch. The only downsides to the machine are the sharp edges on the wrist rest area, which you can definitely feel after extended use, the somewhat dim display, and its limited availability. Overall though, we can't help but think that anyone that gets their hands on one of these machines will be quite pleased.





Strong Performance
Clean, Understated Looks
Decent Keyboard
Excellent Battery Life
Very Good Display
Good Port Array For A Thin And Light

Single Thread Still Trails Intel
Fiddly Power Button
Can Get Somewhat Loud
Not Available In All Markets
Related content
Comments