Intel SSD D7-P5510 Review: Ultra-Fast PCIe 4 Enterprise Storage
Intel SSD D7-P5510: More Benchmarks And The Verdict
EFD Software's HD Tune is described on the company's website as such: "HD Tune is a hard disk utility with many functions. It can be used to measure the drive's performance, scan for errors, check the health status (S.M.A.R.T.), securely erase all data and much more." The latest version of the benchmark added temperature statistics and improved support for SSDs, among a few other updates and fixes.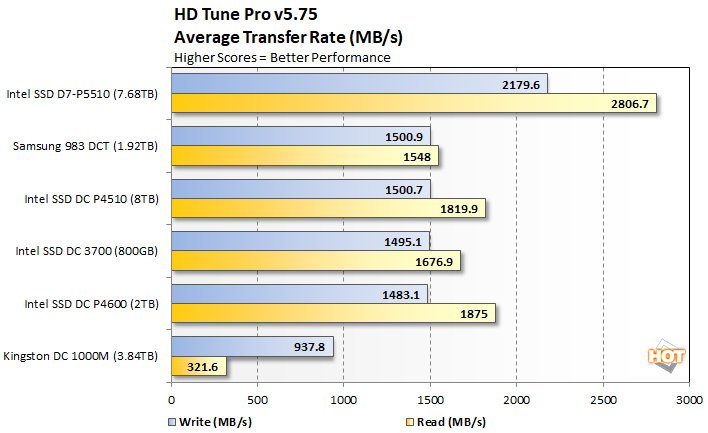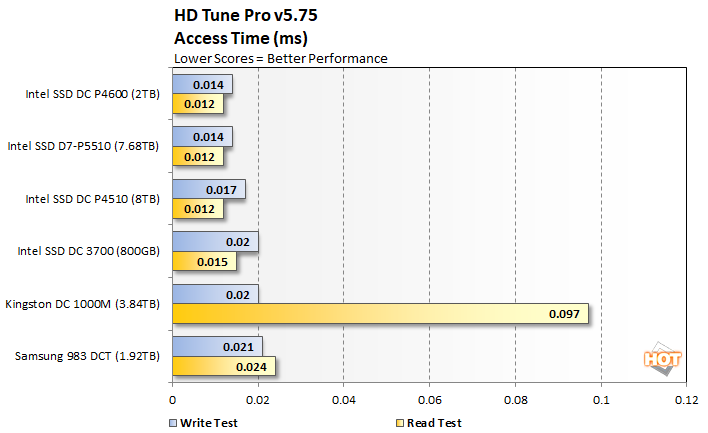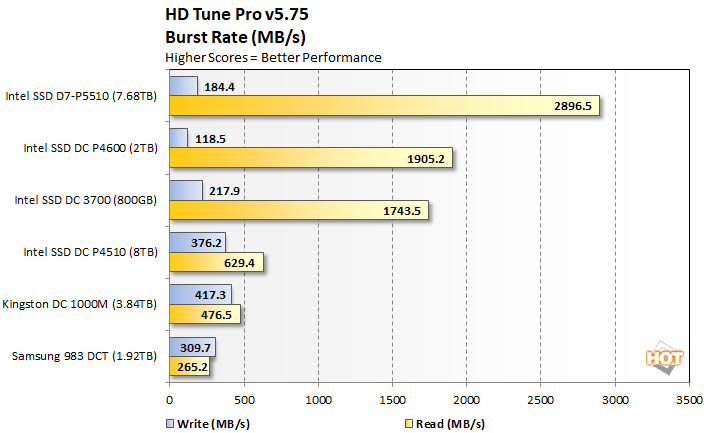 The Intel SSD D7-P5510 offered the highest throughput and tied for the lowest latencies here. It led with the read burst test as well, but bursty writes trailed most of the other drives.
CrystalDiskMark x64 Benchmarks

Synthetic File Transfer Tests
CrystalDiskMark is a synthetic benchmark that tests both sequential and random small and mid-sized file transfers using incompressible data. It provides a quick look at best and worst case scenarios with regard to
SSD
performance, best case being larger sequential transfers and worse case being small, random transfers.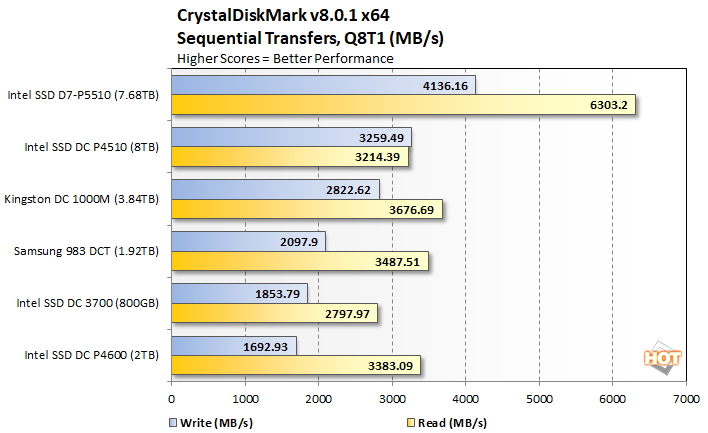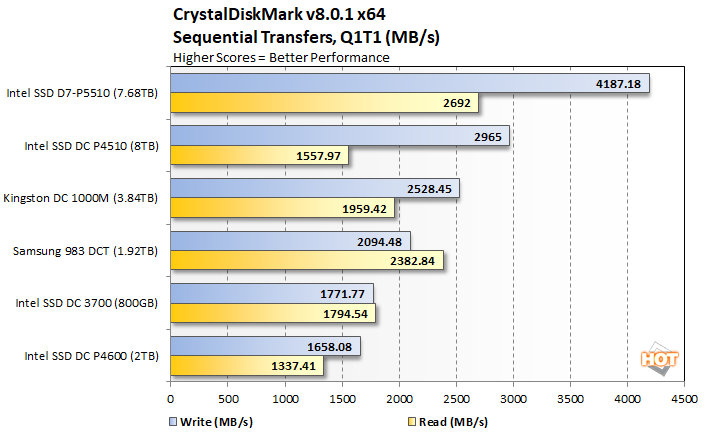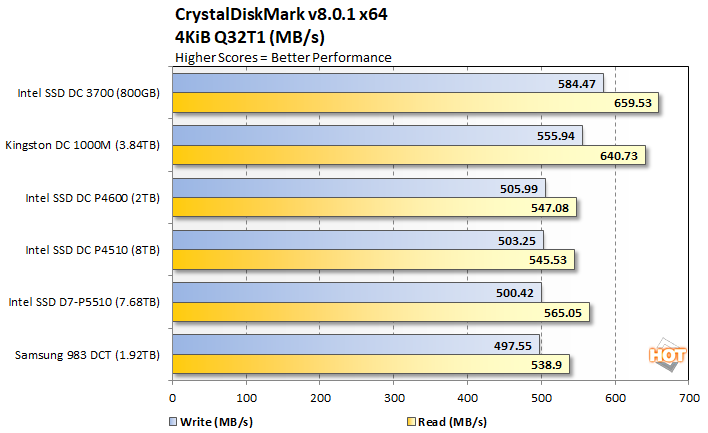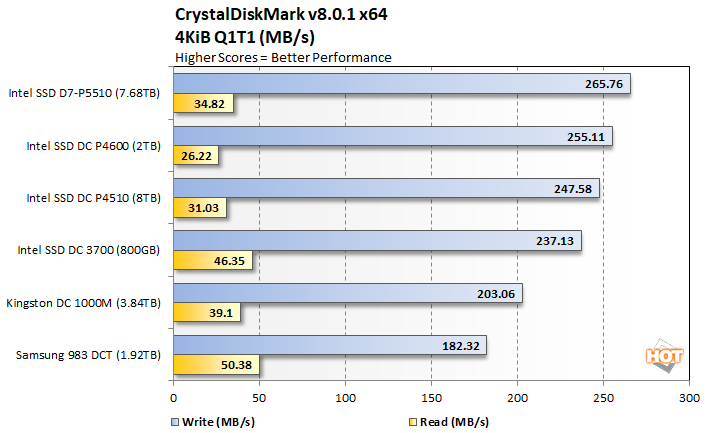 The Intel SSD D7-P5510 once again outran all of the other drives according to CrystalDiskMark's sequential tests. In the QD32 random 4K test, however, the Intel SSD D7-P5510 is in the mix with most previous-gen Intel-built drives, but the Kingston drive and older DC3700 come out on top. With low queue depth 4K transfers though, the new
Intel
SSD D7-P5510 puts up the best write score and is competitive in terms of reads.
Latency Under Load

Sustained Writes w/ 100% Random 4K Access Pattern
For this next set of tests, we measured access latency at various queue depths with the same fully random IOmeter 4K access pattern (67% reads, 33% writes), while each of the drives was also under a sustained sequential write workload. A sustained sequential write across the entire volume was initiated, and when performance plateaued, access latency was measured with IOMeter.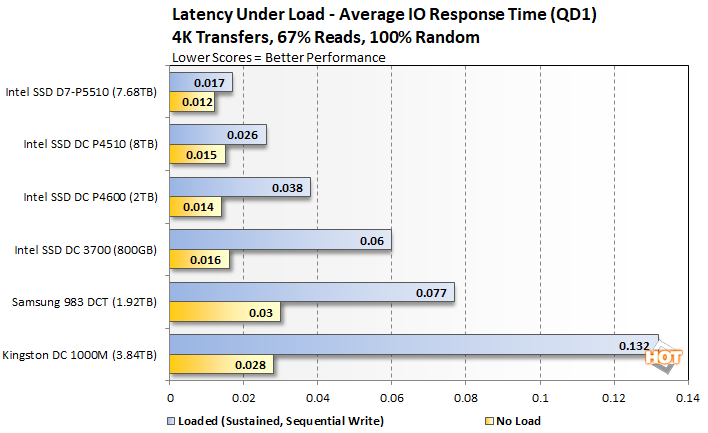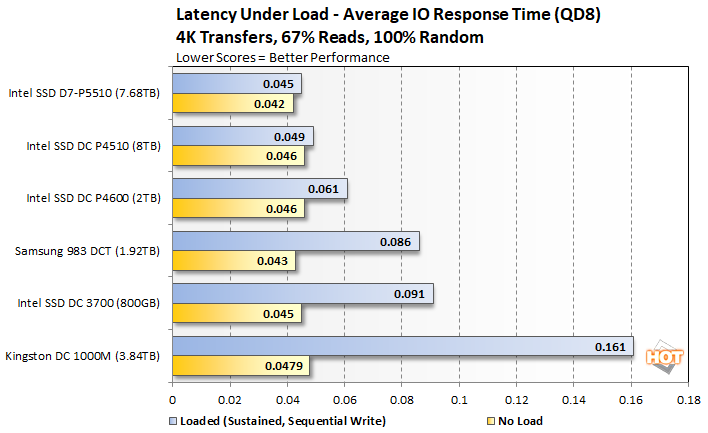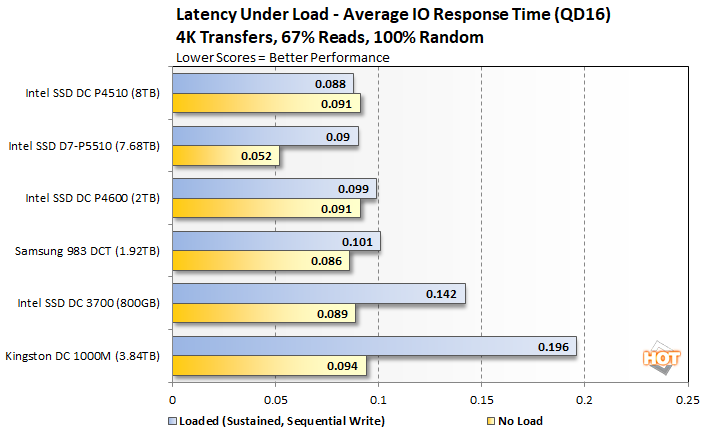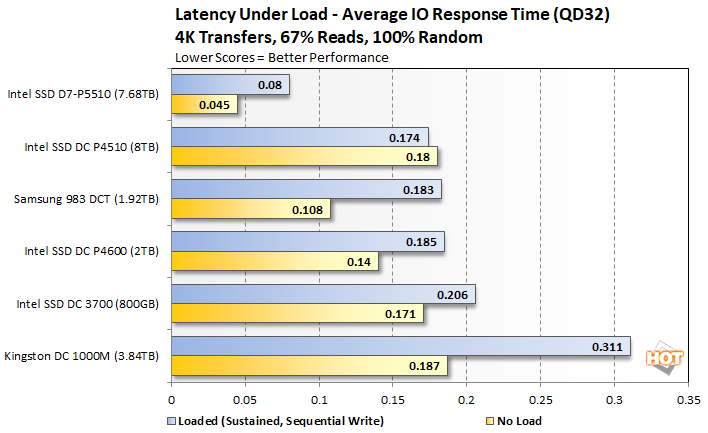 While under load, the Intel SSD D7-P5510 held onto its lead at all but one queue depth. As we've seen throughout our testing, the Intel SSD D7-P5510 is a strong performer under a wide variety of test conditions. The combination of new controller and leading-end NAND have come together to produce one heck of a well rounded SSD.
Intel SSD D7-P5510 Summary And Conclusion:
Intel set out to offer lower latency, enhanced management capabilities, and the latest NVMe features with the D7-P5510, while also boosting throughput thanks to the increased bandwidth afforded by PCIe Gen 4, and the company has succeeded.
The 7.68TB Intel D7-P5510 series drive we tested put up strong numbers across the board. And despite the drive's leading-edge feature set, pricing is competitive as well.
Intel
SSD D7-P5510 drives
can be found for about $800 - $1,600
, depending on the capacity. On a cost per gigabyte scale, that works out to about $0.21 for the 7.68TB drive we tested, which is right in-line with some of the top NVMe SSDs currently on the market. Taking the whole package into consideration, the Intel SSD D7-P5510 is easy to recommend. The drive offers excellent overall performance, leading-edge features, sold endurance, and a good warranty, at prices not much higher than consumer-class SSDs.
Excellent Performance

Low Latency

High Capacities

Competitive Pricing

Trailed In Some Tests At Mid-Range QD

Random Writes Marginally Faster Than Previous Gen
Related content
Comments