Smartphone for Snapdragon Insiders Review: Qualcomm & ASUS Set The Bar
Smartphone for Snapdragon Insiders: Benchmarks And Performance
Smartphone For Snapdragon Insiders: Audio, Data, and Call Reception
We used a combination of T-Mobile, Google Fi, and AT&T 5G sims in the Smartphone for Snapdragon Insiders and had no trouble with data or call reception (though, AT&T connected at 4G speeds), and overall audio on the device sounds exceptional. In-call audio quality was as good or better than most other devices we've used, but speaker quality on the Smartphone for Snapdragon Insiders was a notch above most other devices. You're not going to get booming bass from the small drivers in a a smartphone, but the audio quality emitted from the Smartphone for Snapdragon Insiders' speakers is surprisingly rich and full, especially in the mid-range and for human voices. Watching YouTube video in particular offered a clearly better experience than my personal Galaxy S20.

Google Fi 5G Connection

Wi-Fi6 Connection
5G data speeds (~114Mb down / ~71Mb up) were nothing to write home about due to what we believe are artificial limits put on the towers in our area, but Wi-Fi performance was strong. When connected to our Wi-Fi 6 network via an
ASUS
router, the Smartphone for Snapdragon Insiders was able to achieve >500Mbps up and down, depending on how far away from the router we were. At about 20ft away from the router, with one floor in between, we achieved the speeds you see pictured here.
Smartphone for Snapdragon Insiders Performance
We've reviewed a number of handsets with Qualcomm's Snapdragon 888 inside, including a couple manufactured by ASUS, so we already have an idea as to how the Smartphone for Snapdragon Insiders would perform. With 16GB of RAM, 512GB of fast storage, and a relatively unadulterated installation of Android 11, however, we were expecting good things from this device...


UL PCMark For Android Work 3.0
PCMark for Android is an excellent suite of tests if you want to benchmark a wide range of tasks on any handset -- things like image and video editing, as well as lighter-duty, everyday workloads such as email and web browsing. When you see the test running live, it's clear the scripted application tests are carefully selected and tuned to make use of the each mobile platform in a very controlled way...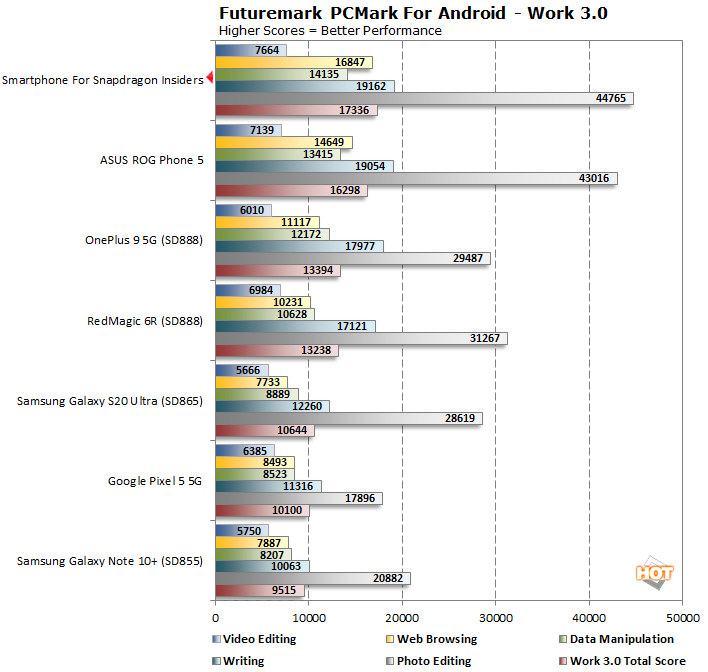 The Smartphone for Snapdragon Insiders put up the best result we have seen in the newest PCMark Work 3.0 benchmark to date. We do not have an extensive database of results for this test at the moment, but what we do have includes many flagship devices, and the Smartphone for Snapdragon Insiders beat them all.


Geekbench 5 Benchmarks
Geekbench is a cross-platform benchmark that simulates real world processing workloads in image processing and particle physics calculation scenarios. We tested all of the smartphones featured here with Geekbench's single and multi-core workloads.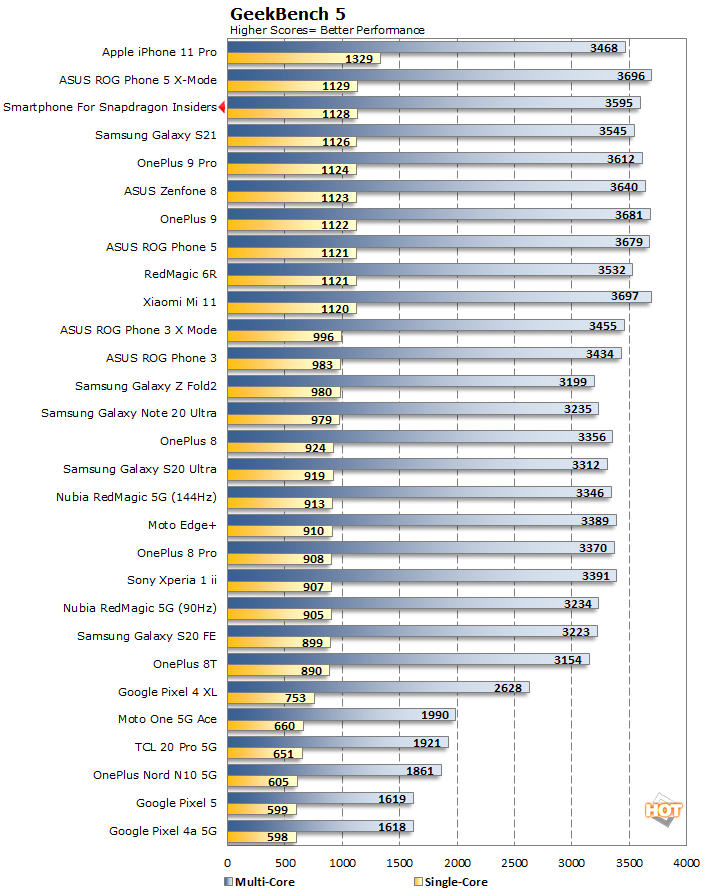 The Smartphone for Snapdragon Insiders also put up the best single-threaded Geekbench 5 result of any Android-based phone we've tested. The iPhones offered somewhat better single-thread performance, however. The Smartphone for Snapdragon Insiders posted a strong multi-threaded result as well, but it was a couple of percentage point behind the leaders.


AnTuTu and AITuTu Benchmarks
AnTuTu's latest benchmark returns a number of metrics ranked with somewhat nebulous scores, rather than frame rates or time to complete. Here we're running the latest version of AnTuTu across multiple Android devices. AnTuTu returns four top level performance results which are all included here: CPU, RAM, 3D, UX (or User Experience), along with a total score...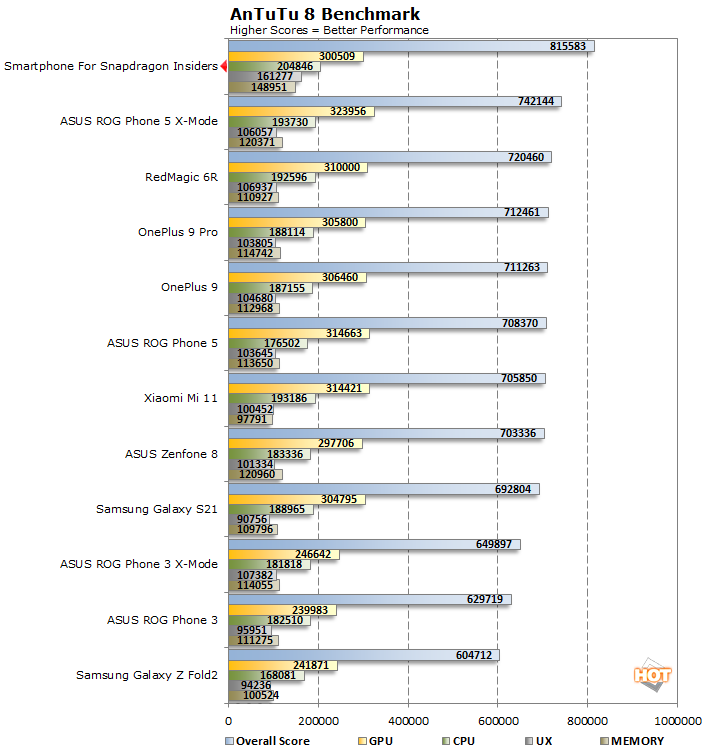 Once again we see the Smartphone for Snapdragon Insiders leading the pack. Although it didn't sweep all of the tests, particularly strong UX and memory scores propelled the device into the lead overall.
AITuTu evaluates the AI performance of a device by leveraging two mainstream neural network models for machine learning and
AI
-- Inception v3 for Image Classification and MobileNet-SSD for Object Detection. The benchmark determines the device's accuracy and speed when inferring data from each workload.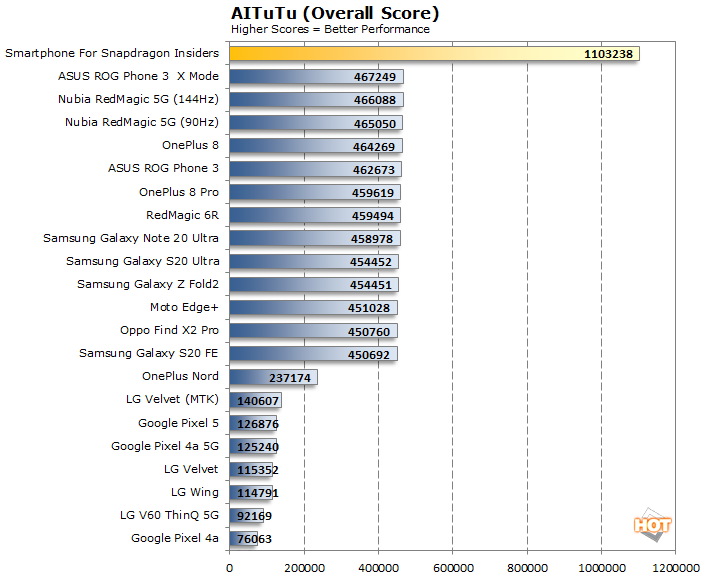 Holy Smokes! Looking at this result, you'd think ASUS and Qualcomm made some serious hardware mods here, but that is not the case. The Smartphone for Snapdragon Insiders most likely blows the competition out of the water in AITuTu's workloads due to its updates to the AI Frameworks installed on the device, in addition to optimizations made to its power and thermal profiles when leveraging the AI accelerators in the Snapdragon 888 SoC.


Gaming And Graphics Benchmarks
Next we're going to see how the Smartphone for Snapdragon Insiders compares to some other devices in GFXBench, which has been one of the standard mobile graphics/gaming performance benchmarks for years. To ensure that display refresh (v-sync) and resolution aren't limiting factors, we're comparing off-screen test results here. GFXBench tests OpenGL ES graphics workloads...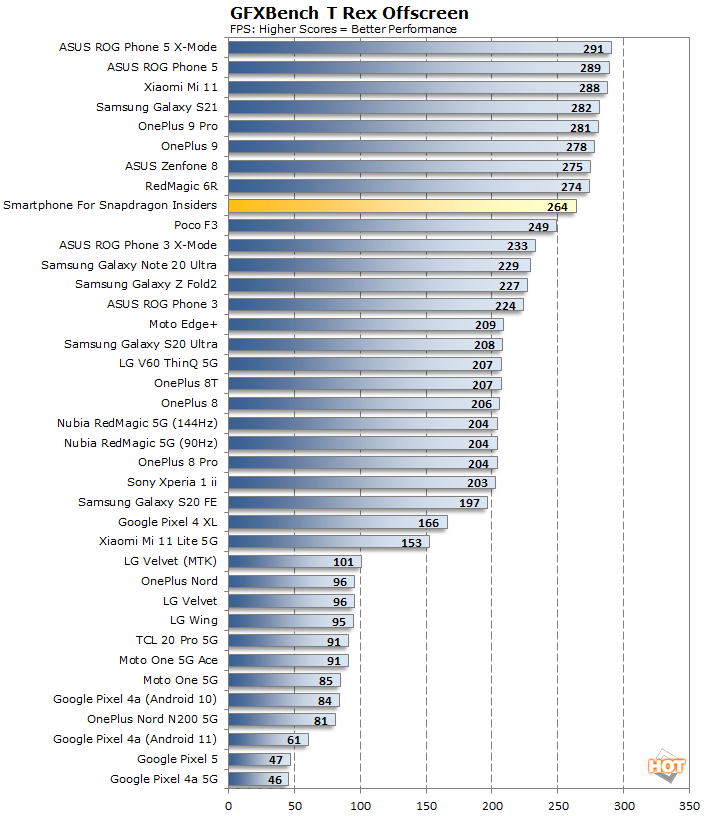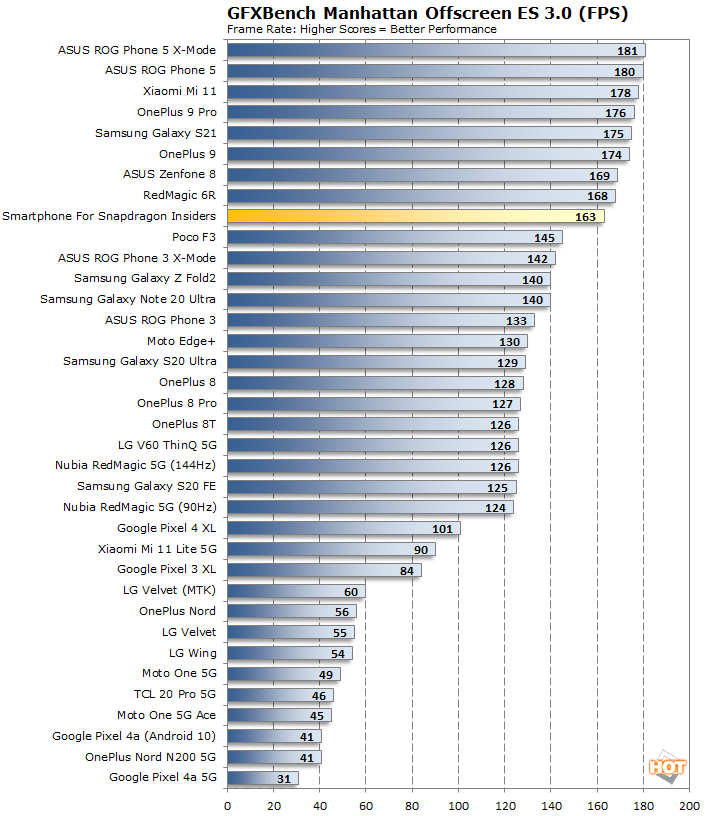 Although CPU, memory, storage and AI performance on the Smartphone for Snapdragon Insiders was strong and typically class-leading, its GPU performance is a bit more take. The Smartphone for Snapdragon Insiders still hangs with some of the fastest devices currently on the market, but lands a just a notch behind some other Snapdragon 888-based flagships.

3DMark Sling Shot is a newer benchmark module that's been added to the 3DMark mobile suite. Unlike previous gen 3DMark mobile tests, Sling Shot is a much more advanced OpenGL ES 3.1 and Metal API-based benchmark that employs more advanced rendering techniques, like volumetric lighting, particle illumination, multiple render targets, instanced rendering, uniform buffers and transform feedback. We're running this test in off-screen mode once again to remove display resolution differences from the equation. This lets us compare cross-platform results more reliably...


3DMark Sling Shot Extreme Benchmark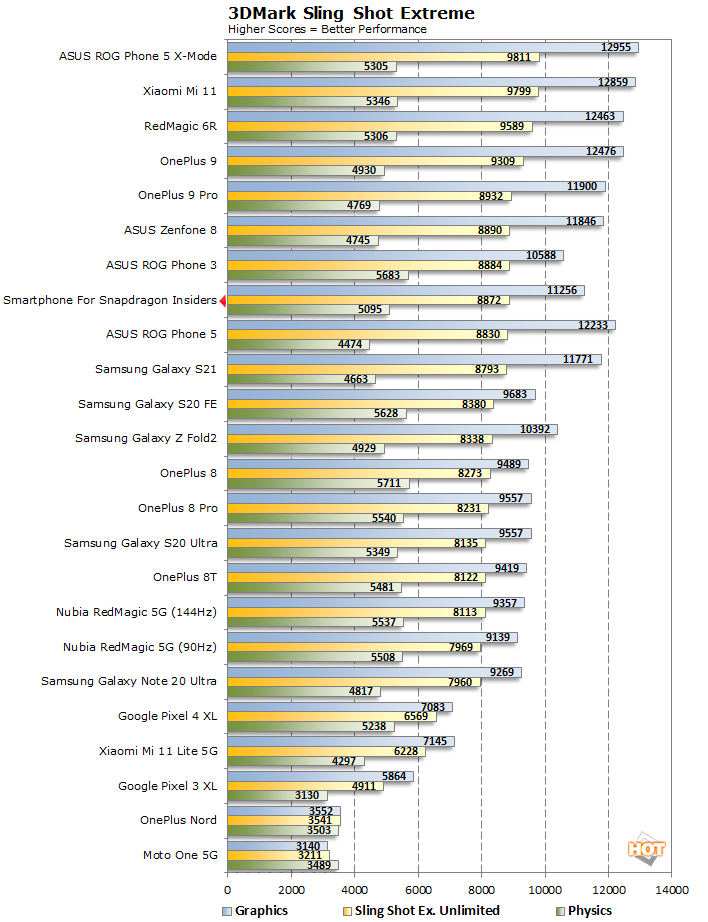 3DMark Sling Shot tells essentially the same story as GFX Bench above. The Smartphone for Snapdragon Insiders offers solid graphics and physics performance, but ultimately it lands a notch behind some of the other flagship devices.
3DMark Wild Life is the latest cross-platform test from UL. UL explains that WildLife is primarily tasked with measuring GPU performance across platforms, and two distinct tests are available. The standard WildLife test is designed to give feedback on how a game performs over a short period of time. With mobile games, people typically play in brief spurts when they find some free time; be it on the bus, on the subway, or a quick battle royale session on your lunch break. The 3DMark WildLife Stress Test, on the other hand, shows how a device performs over a longer stretch of time, and takes note of performance degradation that can crop up due to increased heat levels and throttling (which we'll get to a bit later).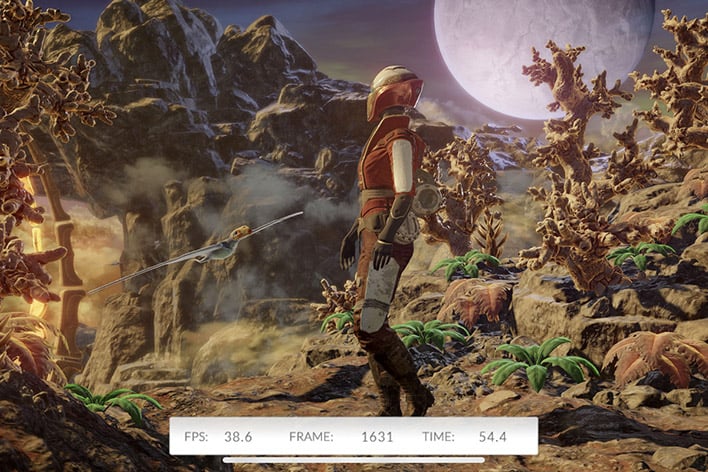 3DMark Wild Life Extreme Benchmark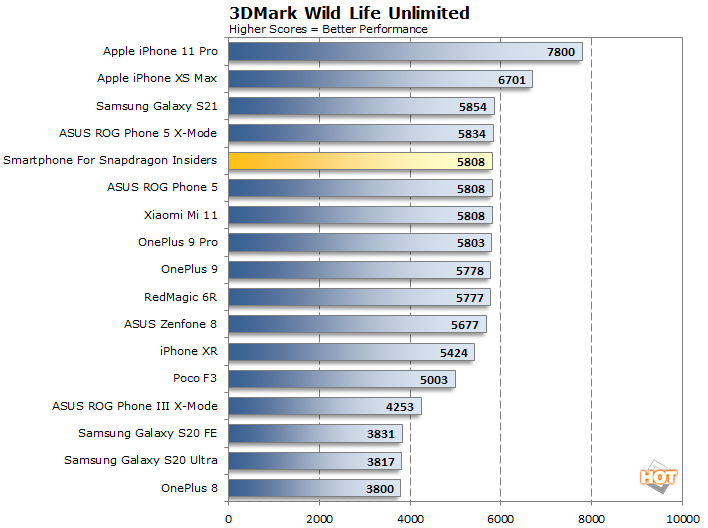 The Smartphone for Snapdragon Insiders hangs with the fastest Android-based phones we've tested in the 3DMark Wildlife benchmark; we actually had a three-way tie between it, the ROG Phone 5 and the Xiaomi Mi 11. All of the top Snapdragon 888-based phones performed similarly in this test though -- the deltas separating the devices fall will within the margin of error for this test.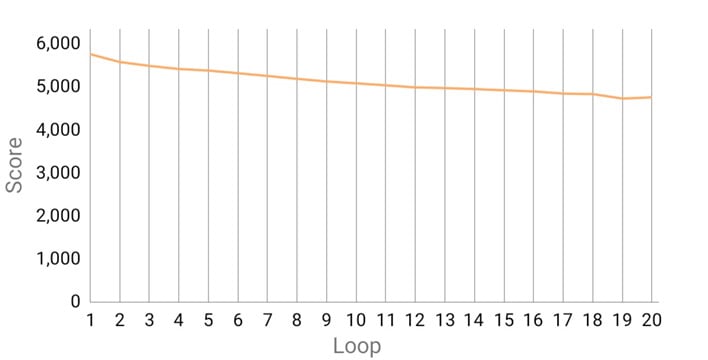 Where the Smartphone for Snapdragon Insiders looks particularly strong though, is in regard to sustained performance with 3DMark WildLife. After 20 consecutive runs, the Smartphone for Snapdragon Insiders maintained 83% of its overall performance and it never exhibited the erratic saw-tooth pattern we've seen with phones like the Galaxy S21. If gaming or graphics-intensive applications are part of your daily routine, the Smartphone for Snapdragon Insiders delivers, and will continue to deliver, even when put under sustained, heavy workloads.
Related content