AMD Ryzen Threadripper 7980X & 7970X Review: Many-Core Desktop Supremacy
AMD Threadripper 7000: Motherboard And Memory Considerations
With Threadripper 7000's relatively high core counts versus mainstream processors, stout 350W TDPs, and specific chipset/socket and DDR5 RDIMM memory requirements, building up a system requires a number of special considerations. First is obviously the motherboard. Due to their premium nature, there won't be a deluge of TRX50-based (or WRX90) motherboards.
ASUS
, ASRock and a few others will be introducing boards, but don't expect the same kind of variety as socket AM5.
For best performance, you'll also need a quad (Threadripper) or eight-channel (Threadripper Pro) DDR5 RDIMM memory kit, of which there are only a handful currently on the market. And because of the CPU's power requirements and high-end nature of the TRX50-based motherboards, a quality cooler and beefy power supply with multiple ATX12V CPU and 8-pin PCIe power feeds is needed.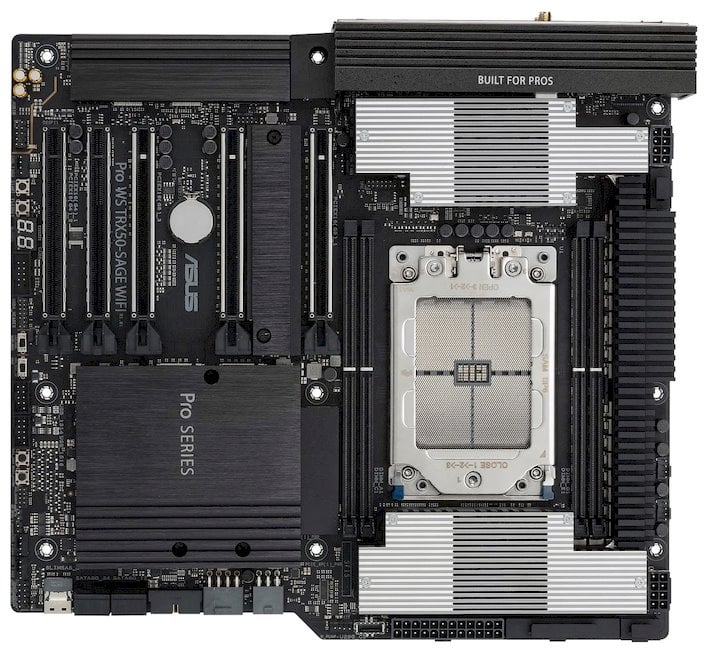 The ASUS PRO WS TRX50-SAGE WIFI
At the foundation of our particular Threadripper 7000 build was the ASUS PRO WS TRX50-SAGE WIFI. Out of the gate, the
ASUS PRO WS TRX50-SAGE WIFI
is a about as high-end a motherboard as you'll find for the platform. As its name suggests, the board is built around the AMD TRX50 chipset and is designed with enthusiasts and pro workstation users in mind.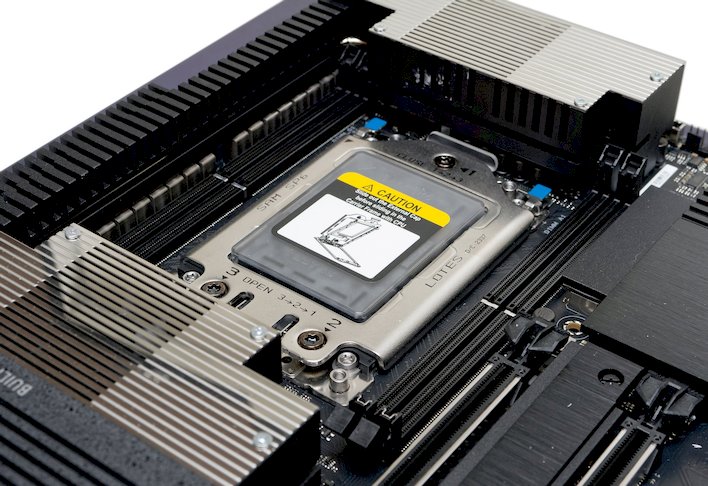 As we've come to expect from ASUS' high-end motherboards over the years, the PRO WS TRX50-SAGE WIFI is chock-full of features. This motherboard is outfitted with elaborate cooling, which includes a, embedded fan for the chipset and VRM cooling hardware, and a ton of additional capabilities over and above what's offered by the chipset. The board features a whopping 36 teamed power stages, with enough headroom to handle the Threadripper 7980X's 64-cores, the latest high-density memory kits, PCIe 5 SSDs, and multi-GPU configurations. There are heatsinks and heatshields across virtually every chip and component on the board and it's as sturdy and rigid as they come.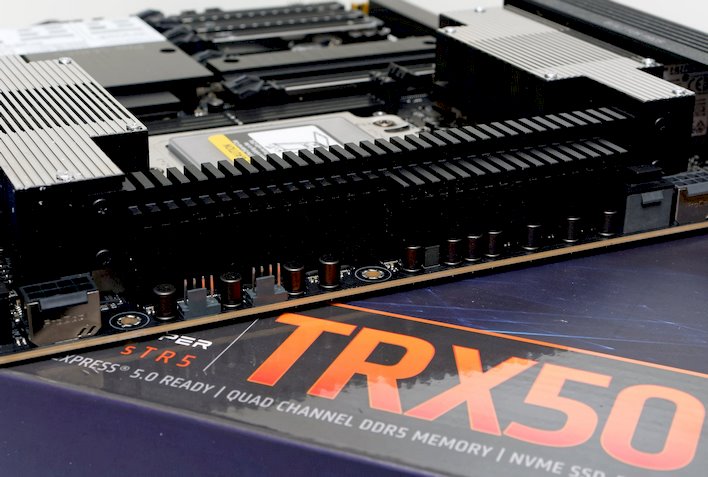 The ASUS PRO WS TRX50-SAGE WIFI lacks any RGB lighting, which is par for the course on the company's Pro WS-class boards. The board has metal reinforcements on its expansion slots, and additional shielding covers the back panel I/O, and the area around the chipset as well. The heatsinks around the edge of the board and between the slots are removable, and provide cooling for the solid-state drives installed into the
M.2 slots beneath
. Speaking of the M.2 slots, the board has three – two of which are PCIe 5.0 and one of which is PCIe 4.0. The expansion slots are a mix of PCIe 5 and PCIe 4 as well.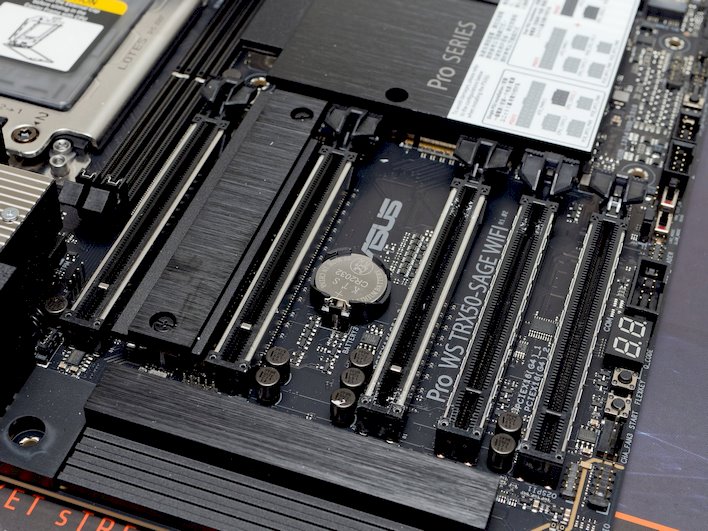 The ASUS PRO WS TRX50-SAGE WIFI features high-end capacitors and chokes throughout its design, to improve long-term reliability and overall efficiency, and provide smooth, clean power delivery. Unlike previous-gen high-end boards, however, it does NOT feature a mouse-friendly BIOS / UEFI. Instead, the board returns to the pale blue AMI-BIOS text menus of old. For old timers like us, the BIOS is still plenty easy to navigate and it offers an extensive array of performance-related options, but if you're used to graphically-rich BIOS menus, you may be surprised.
The PRO WS TRX50-SAGE WIFI also features built in IPMI remote management capabilities. There is a BMC chip on-board, which should allow for out-of-band management of many aspects of the system. As long as the ASUS PRO WS TRX50-SAGE WIFI powers up and has a connection to a network (and you know the system's IP address), you can log into the management interface via a web browser and manage the system. That said, this feature was non-functional on our motherboard sample, so we were unable to experiment with it.
The ASUS PRO WS TRX50-SAGE WIFI offers basic audio functionality by way of a Realtek controller, with a couple of 3.5mm audio jacks and a S/PDIF output available in the board's IO panel. It's also got 2.5Gb (Intel) and 10Gb (Marvel AQtion) wired Ethernet, and MediaTek-based WiFi 7 and Bluetooth 5.2
ASUS throws in an array of accessories, documentation and cables with the PRO WS TRX50-SAGE WIFI too. Along with the board, users will find a couple of SATA cables, an external WiFi 7 antenna, a pack of Q-connections, a pair of Q-latches for toolless M.2 drive mounting, rubber insulation pads for the M.2 slots, a pair of CPU 8-pin to PCIe 8-pin adapter cables, and a thermistor cable.
We found the layout of the
ASUS
PRO WS TRX50-SAGE WIFI to be good, despite the relative complexity of the board, and also like the overall aesthetic. Your tastes may vary, but we think this is a good looking motherboard with no excessing frill. Its CEB form factor will limit case compatibility, however.
G-SKILL Zeta R5 Neo R-DIMM Memory Kit
We also want to show you all the memory we used for testing. We ran some
G-SKILL Zeta R5 Neo RDIMM
memory in our rig, specifically the 64GB F5-6400R3239G16GQ4-ZR5K quad-channel kit.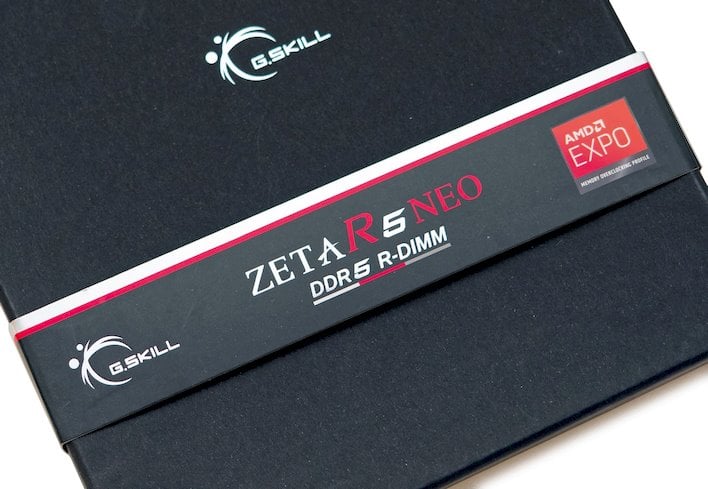 G.SKILL has a few Zeta R5 RDIMM kits currently available, in quad and eight channel varieties, for both Ryzen Threadripper and Threadripper Pro and Intel Xeon W processors. The kit we used consists of four, matching 16GB sticks of memory, for a grand total of 64GB when configured in an 4-channel setup.
This memory is capable of running at 6,400MT/s with CL32-39-39-102 timings at 1.4v, but we ran them on each platforms maximum rated memory speed, without overclocking (DDR5-4800 to DDR5-5200 depending on the platform). The memory supports ECC, and depending on the specific kit XMP or EXPO are supported as well.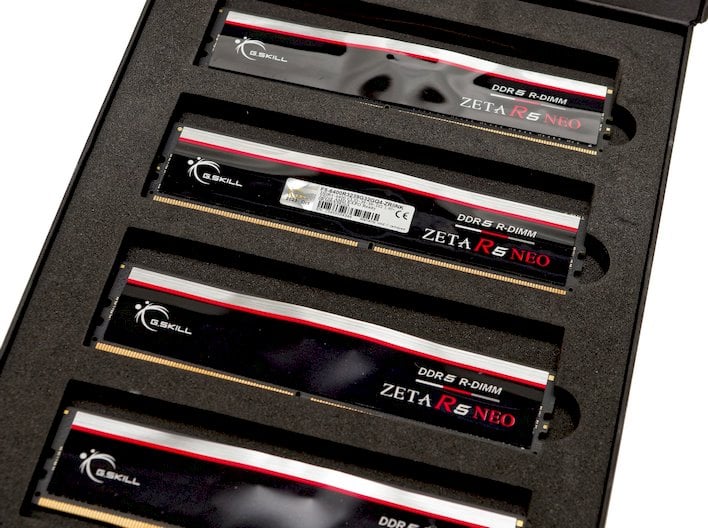 At first glance, although it may looks like these memory sticks have simple black and silver, glossy heat spreaders, they do no. The branding on the RDIMMs is simply a sticker and it doesn't have any real mass to aid in cooling.
With all of that said, let's get into some testing...
Related content