Check Out These Gloriously Ugly Windows XP Sweaters Microsoft Is Gifting To Superfans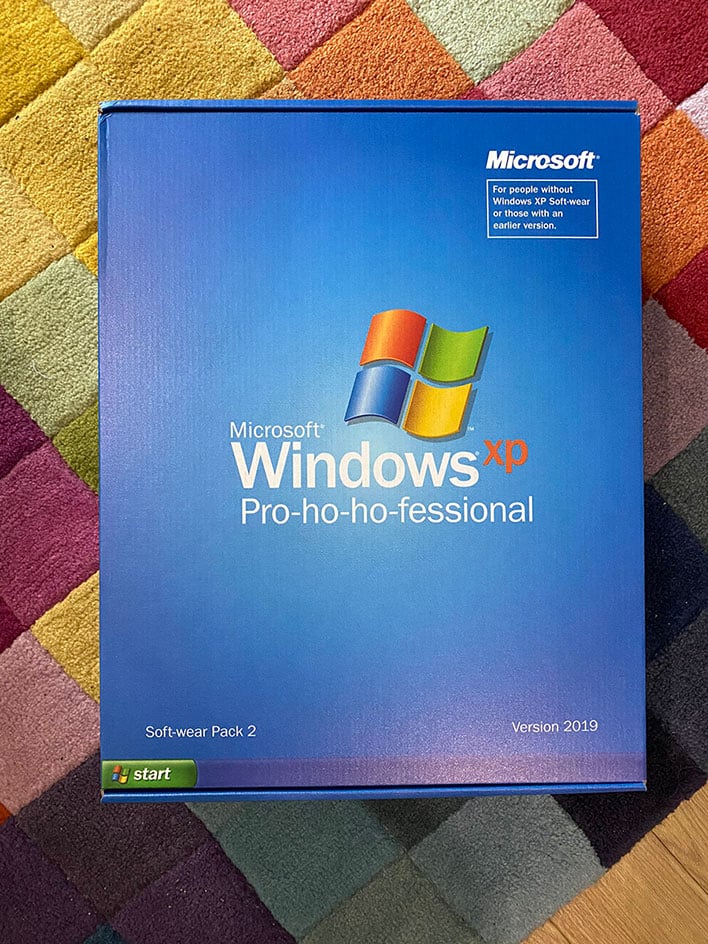 Do you need an ugly sweater for an upcoming holiday party? If you are a Microsoft superfan or work in the tech industry, the perfect sweater may soon be arriving at your door.
Microsoft
just released a Windows XP-themed holiday sweater.
The new sweater is light blue and features the
Windows XP
logo and is accompanied by some tongue-in-cheek packaging. The box reads, "Windows XP Pro-ho-ho-fessional" instead of "Windows XP Professional". The little square in the right hand corner of the box says "For those people without Windows XP Soft-wear…" instead of "For PCs without Windows…" The box also includes a list of features such as "easy installation" and a "tailored experience". Even the tissue paper contains a nod to Windows. The tissue paper stars the nostalgic Windows XP Bliss wallpaper.
Holiday party and nothing to wear? pic.twitter.com/mqBwUH2wCY

— Windows (@Windows) December 11, 2019
Unfortunately, the Windows XP holiday sweater is not for sale. It will only be sent out to a lucky few starting today. Many people have bemoaned the sweater's lack of availability.
Microsoft released a
Windows 95 ugly sweater
last holiday season; the company only produced 100 of these sweaters and gave them away to select
Twitter
followers.
Microsoft's ugly Christmas sweater is Windows XP this year. It even comes in a softwear box 😂 pic.twitter.com/Oz0lNhryPI

— Tom Warren (@tomwarren) December 11, 2019
Microsoft also just opened up preorders for their
Xbox Hooded Union Suit in green
. The onesie includes pockets for Xbox controller, TV remote and smartphone and reportedly "delivers a whole lot of comfort". It is available for $84.99 USD through the Xbox online store.
The first "Microsoft Onesie" was originally
for sale in 2016
and was an instant hit. The onesies were black and white to match the color scheme of the Xbox One S console. They were only available in Australia and many people initially believed that the onesies were fake.
It appears that many people are interested in Microsoft's geeky clothing options, yet the company seems content to release many of these products in limited quantities. The Twitterverse, at the very least, is demanding that Microsoft make these products available to a wider consumer base. Perhaps Microsoft will listen to the masses and make their sweaters available for sale next holiday season.
(Top Image from

Tom Warren via Twitter)