Windows 11 Is Getting A Long Overdue RGB Upgrade To Make It Easier To Bling Out Your PC
In a recent Windows developer blog post, Microsoft announced it will finally be adding RGB control software to Windows 11, 5 years after we first saw our first hint that Microsoft was building Windows RGB lighting controls
back in 2018
. Microsoft is calling its new RGB tool Dynamic Lighting, and it will be able to control and sync all RGB lighting accessories directly from the Windows settings app. Dynamic Lighting will be available to Windows insiders later this month.
Windows 11's new lighting control system is a feature many gamers and PC users, in general, have been seeking for a very long time. The RGB ecosystem has been completely broken since RGB lighting went mainstream, with most manufacturers offering their own distinctively different RGB ecosystems for their own RGB accessories. This meant that if you wanted to use RGB components from multiple brands, you were forced to install several different RGB applications simultaneously to control all the lights. Even worse, this also prevented unique RGB lighting effects from being used in specific RGB software utilities, unless all the components support that specific piece of software.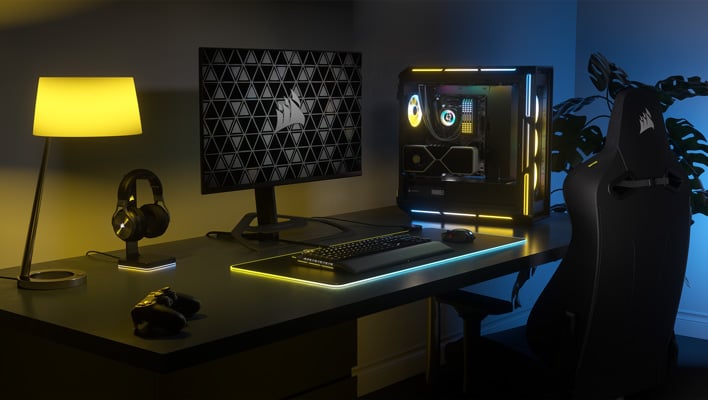 This problem is especially problematic in the DIY computer industry, where many users have no choice but to mix and match different components featuring RGB lighting, with lighting components made from other manufacturers. For instance, say you wanted to build an RGB gaming computer completely around Corsair's RGB ecosystem by using Corsair
RGB coolers
,
RGB memory
, RGB fans, and RGB lighting strips. You would still need to buy non-Corsair components for the main system, including the motherboard and graphics card. This could force you to either ditch RGB altogether on those main components or run different software to make all the RGB lights work together, albeit not in sync.
There have been 3rd party efforts to solve this problem, but sadly none of them have gained serious traction in the industry. Many of these applications are plagued with bugs or incomplete compatibility, making them very cumbersome to use. With Dynamic Lighting, Microsoft is promising a completely unified interface that will sync all of your RGB accessories together, regardless of brand. Microsoft specifically highlights the broken RGB ecosystem as we recently discussed, noting how fragmented the industry is right now and how Dynamic Lighting can make RGB customization significantly easier for the user.
For now, Microsoft's new
RGB control system
will be exclusive to Windows Insiders until all of the major bugs get ironed out.