Windows 10 Build 19541 Lands As First New Insider Preview Build Of 2020
The
Windows 10
Spring Update is hopefully just around the corner. In the meantime, Microsoft has released its Windows 10 Insider Preview Build 19541 to those enrolled in the Fast Ring. Build 19541 includes icon, task manager, and Cortana updates, as well as a few needed fixes.
First,
Microsoft
has updated the notification area icon to better convey when an app is using the device's location. Second, users will now be able to hop onto the Details tab in Task Manager and easily view the architecture of the processes. Last,
Bing
Instant Answers and Timers are once again available to users. Microsoft encourages users to test these features out by asking
Cortana
questions like "When was the Space Needle built?"
Microsoft has provided several fixes in Build 19541. One fix for an issue improves System Settings reliability. Another one addressed an issue where some users were being told to reboot their device for Windows updates even after they had already rebooted it. Several fixes are intended to better one's experiences with apps.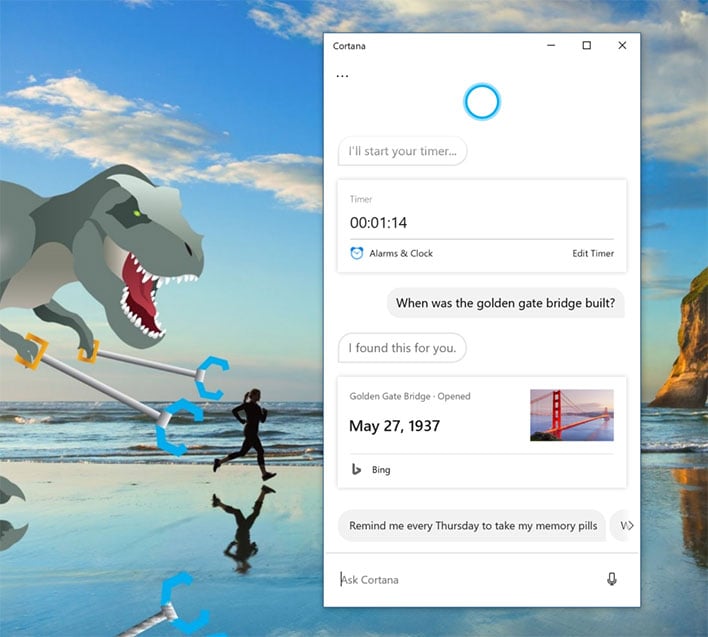 There are still a few remaining problems that Microsoft is actively working to resolve. For example, MIcrosoft and BattlEye have discovered several incompatibility issues between Insider Preview builds and various versions of BattlEye anti-cheat software. There also appear to be a few issues where certain features either crash or stop working altogether. Some users have complained that Outlook search is simply not working. Others have noted that Remote Desktop Connection when it tries to connect to several sessions.
It is important to note that this build is only available to those enrolled in the Fast Ring. Microsoft recently changed their Fast Ring program. According to Microsoft, "Windows Insiders who had opted into Skip Ahead would be migrated back into the Fast ring." Those who are enrolled in the Fast Ring also now receive updates from the active development branch that checks in their "latest code changes into the OS." Previously, some features were meant for future builds that were not yet available to Insiders. Builds now reflect all the latest progress from this branch.
Microsoft also recently that their
Chromium Edge Browser
will launch on January 15. The browser has been redesigned to take advantage of Google's
Chromium
engine. If you are interested in checking the new browser before its official release date, you can download the Microsoft Edge Release Candidate build. You will need to download it from the Beta channel with the
following link
.