Why Intel's 14th Gen Core Branding For Meteor Lake CPUs Could Lead To Confusion
There's quite a bit of mystery surrounding Intel's CPU roadmap, not the least of which pertains to
Meteor Lake
and how it will be branded and marketed to the public. As we inch closer to its release, a newly discovered support document may shed some light on both topics, though some notable leakers seem to be at odds over what it all means.
Let's start with the document itself. Twitter user @momomo_us posted a screenshot of a hardware support document for Intel's oneVPL (Video Processing Library) GPU runtime, which clearly applies the 14th Gen core label to Intel's upcoming Meteor Lake CPUs. We were able to track down the support document and as of this writing, the reference is still there. Have a look...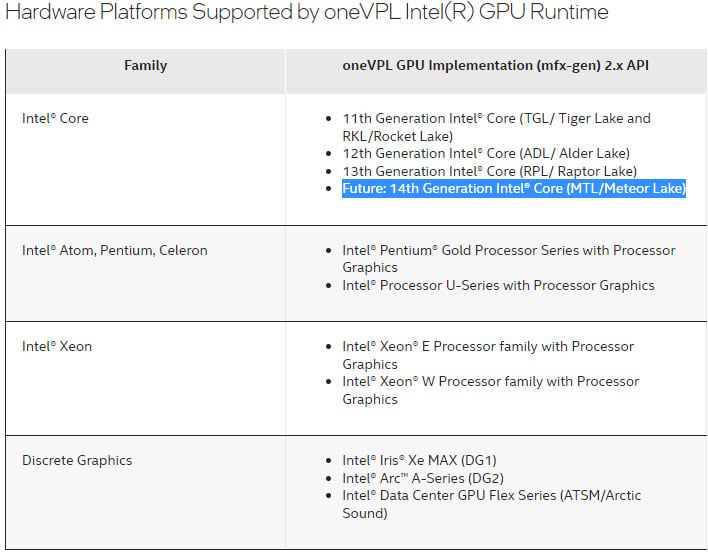 Source: Intel
We've highlighted the notable portion. Barring a last-minute change, this document solves at least one mystery by confirming that Meteor Lake will indeed carry Intel's 14th Gen Core branding. That may seem obvious since the current platform is
Raptor Lake
and it carries the 13th Gen Core branding, but there are two wrinkles of note.
We don't know if any of that is actually true as it all comes from the rumor mill. The only things we know with certainty are that as of several weeks ago, Intel still planned on
launching Meteor Lake CPUs this year
, and that it leverages the company's Intel 4 node with 3D Foveros packaging technology—it's been up and running within Intel's walls for more than half a year at this point. We also know that Lunar Lake is planned for next year.
"Meteor Lake, our first disaggregated CPU built on Intel 4, remains on track for the second half of the year. And with MTL progressing well, it's now appropriate to look forward to Lunar Lake, which is on track for production readiness in 2024, having taped-out its first silicon," Intel CEO Pat Gelsinger stated In January in reference to the company's latest earnings report.

Intel hasn't provided clarity on whether Meteor Lake will serve both the desktop and laptop markets or strictly the latter. This brings us back to the leaks and rumor scene for unofficial breadcrumbs. Hassan Mujtaba at
WCCFTech
tweeted
that Raptor Lake Refresh will be labeled 13th Gen, but according to @9550pro, it will share the same 14th Gen branding as Meteor Lake. The leaker also claims that the 14th Gen branding for Raptor Lake Refresh will apply to both desktop and mobile SKUs.
So in one possible scenario, we could be looking at the 14th Gen Core label for desktop and laptop Raptor Lake Refresh (RPL-R) CPUs, and also for laptop Meteor Lake (MTL) chips, assuming MTL skips the desktop. Again, we don't know if that's actually the plan. However, if it works out that way then it's easy to see how this can get confusing for the average user who doesn't have a constant pulse on tech.