Valve Software Updates Suggest Rumored Deckard VR Headset Is Launching Soon
Valve seems to have many moving pieces right now, between the
upcoming launch of Counter-Strike 2
, Steam Deck updates, and a
20th birthday celebration
adding to the chaos. However, more subtly, in the background, updates are being pushed to Steam VR and the Steam Client that bring new VR-related features, UI elements, and more. Perhaps all the recent noise surrounding the Bellevue-based gaming company is masking a potential new VR headset, which could even be the rumored "Deckard" wireless HMD.
Over on X (formerly Twitter), VR sleuth and analyst Brad Lynch recently uncovered a plethora of changes to the Steam
VR
Client backend, among other Steam software. Namely, they note references to battery information for a standalone HMD "thing," new UI elements, icons, and animations in the Steam Client for VR, and "Wireless Icons/Internet settings for upcoming new VR Dashboard added to Steam." You can see the full assortment of what was uncovered on their profile as it is vast but not very dense, effectively a pool of references that is a mile wide but only an inch deep.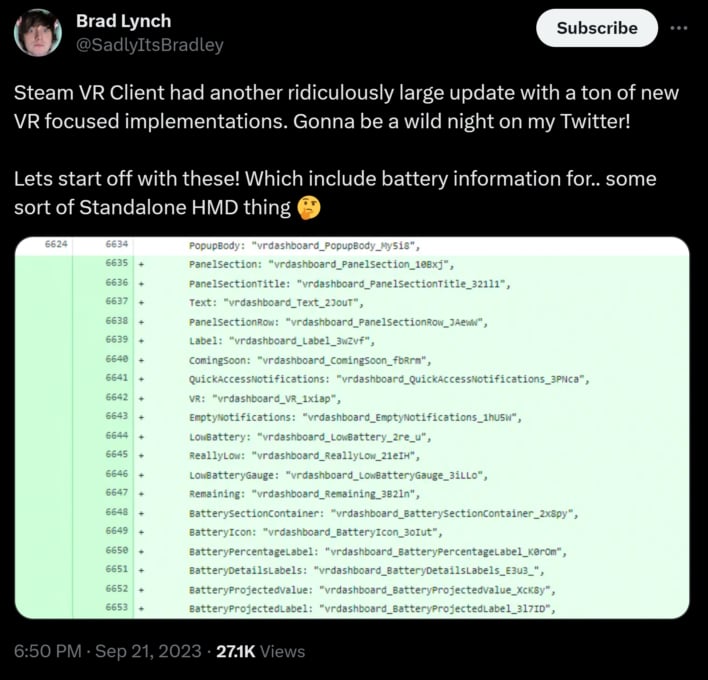 Regardless of how many references there are, these updates are indicative of movement happening in the VR scene over at Valve. The findings above also follow the recent
Valve radio certification
that popped up in South Korea, giving some credence to all the speculation. Furthermore, all these discoveries also align with an older VR patent that could be a wireless standalone
VR headset codenamed "Deckard."
However, we won't know much more than rumors and speculation until Valve makes some announcement, which may not be too far away.
Just for the giggles, let's put on a tinfoil hat for a second and speculate on when Valve might make some public announcement regarding the Deckard. With the imminent release of Counter-Strike 2, it would be interesting for Valve to capitalize on the hype surrounding the launch to tease or full-send the next VR headset. Further, it would rain on the parade of Meta, which is having its Meta Connect 2023 event on September 27th, when CS2 is rumored to launch. For the crazier theorization, the Valve Index was released 59 days after the initial announcement, so if that would track again, the next device could be released on Black Friday, given an announcement coinciding with CS2.
Of course, this is all speculation and not super likely to happen, but it is certainly fun to think about, as something is in the works and we know it is
not a new Steam Deck
. Whether or not whatever is being developed will ever see the light of day remains to be seen, as this is Valve, after all. In any event, if you have any speculation, crazy theories, or evidence to the next Valve VR headset, let us know about it in the comments below.