Counter-Strike 2 Release Date Confirmed? Valve Drops A Giant Teaser
Earlier this year,
Valve announced
the follow-up game to the ever-popular FPS game
Counter-Strike: Global Offensive
,
Counter-Strike 2
. Since then, we have seen numerous people get into beta testing the game as it rolls toward an official launch, which has not yet been confirmed. However, a teaser recently posted by the
Counter-Strike
team is hard to interpret as anything else:
CS2
might be coming next week, 9/27.
Counter-Strike 2
is what
Valve is calling
the "largest technical leap forward in
Counter-Strike
's history, ensuring new features and updates for years to come." It features new lighting, smoke mechanics, improved network infrastructure, graphics overhauls, and much more.
CS2
will also not be a whole new game but simply a free upgrade to the existing
Counter-Strike: Global Offensive
game available for free right now.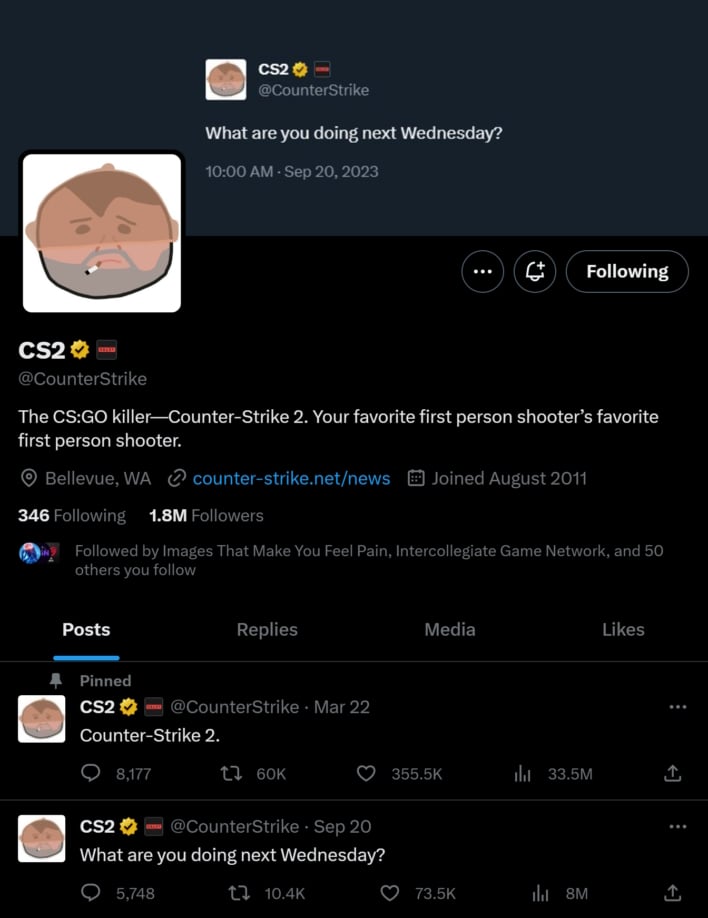 After the March
CS2
announcement, select players were invited to the
Counter-Strike 2
Limited Test as we awaited an official launch announcement, which was slated for some time this summer. However, Valve has largely been radio silent on the matter until recently. On X, the
Counter-Strike
team who goes by
CS2
posted, "What are you doing next Wednesday?" This led fans to speculate that
Counter-Strike 2
will finally be playable next week.
While this has not yet been confirmed officially, it is hard to interpret this cryptic message in any other way. The team also, funnily enough, made this post the X account's banner, indicating it is of some importance. As such, we cannot wait to see if
Counter-Strike 2
is officially released next week, even though the release will just be outside of Summer as promised. Ultimately, it really does seem that Valve cannot count, no matter what.