Sony Reveals Surprising PlayStation VR2 Sales For PS5 And Exciting Games Lineup
Sony never got deep into the metaverse, a supposed VR-based successor to the internet that was all anyone could talk about in 2022. The metaverse has since cooled, leaving gaming as the primary use case for virtual reality. Sony is reporting some surprising success there. After weeks of conflicting reports about
PlayStation VR2
sales, Sony has chimed in to report sales of the spendy new headset are outpacing the first-gen.
In a recent presentation, Sony's Game and Network business (which includes PlayStation)
revealed sales figures
(PDF) for the first six weeks of PSVR 2 availability. The company says it sold just under 600,000 units. The sales figures reported by Sony represent an 8% increase compared to sales during the first six weeks of availability for the original PSVR headset. Still, that's a far cry from Sony's
goal of 2 million units
.
The PSVR 2
retails for $550 without a bundled game
, and this is not a standalone VR system like the Meta Quest. You can only use PSVR2 with a PlayStation 5, which is itself rather expensive. So, it was not shocking when analysts started tossing around possible sales figures in the 270,000-unit range. Let this serve as a reminder that analysts' estimates are only as accurate as the data that informs them.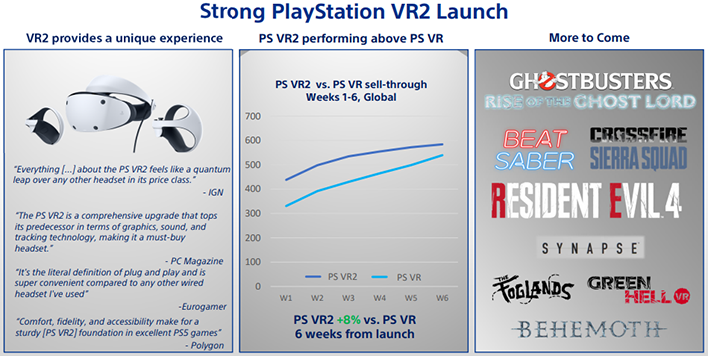 So far, Sony has only shared data on the first six weeks of availability, which runs through early April. While sales are higher than the first-gen VR system, they are tapering off a bit, whereas the original PSVR was still trending strongly upward at this point. There were clearly some gamers who were going to buy the PSVR 2 no matter how much it cost, but now it's up to Sony to keep those sales coming, and it mentioned some upcoming games that might do the trick.
Sony promises VR support for Resident Evil 4 is on the way, and VR classic Beat Saber will arrive on PSVR 2 as well. Players can also look forward to Synapse, Green Hell VR, Ghostbusters: Rise of the Ghost Lord, and The Foglands. There were rumors of a price drop, seemingly predicated on the supposed poor sales. Now it would seem Sony has no reason to drop the price. If you want to check out those games, you might need to pay the full $550 retail price. The PSVR 2 was initially only available directly from Sony, but it's
now at various retailers
, but sales are not yet forthcoming.