Sapphire Radeon RX 6750 GRE Aurora Edition Flexes OC'd Memory To Spank An RTX 4060
Before we talk about Sapphire's new graphics card, let's go over what exactly comprises a
Radeon RX 6750 GRE
graphics card. AMD launched two cards under that name in the middle of last month, differentiated primarily by their memory capacity. The 10GB version of the RX 6750 GRE is essentially a Radeon RX 6700, while the 12GB model is fundamentally the same thing as
a Radeon RX 6700 XT
. Both cards launched at considerably lower MSRPs than the original recipe, likely owing to the RDNA 2 architecture being some three years old now.
The "GRE" in the name stands for "Golden Rabbit Edition," a reference to the fact that 2023 is the year of the rabbit in the Chinese zodiac. Naturally, these cards are primarily intended for the
Asia Pacific market
. Sapphire China has just launched a new model, the Radeon RX 6750 GRE Aurora Edition, and this card does something unusual: it ships with faster memory than the Radeon RX 6750 GRE normally has.
It used to be the case that non-reference graphics cards quite frequently shipped with significant GPU overclocks, additional video RAM, and faster memory buses than reference models. That hasn't been the case in some time, but we do still occasionally see boards with
double the standard local memory
. Graphics cards like the RX 6750 GRE Aurora Edition, with faster-than-usual memory, are much less common.
The upgrade to 18 Gbps from 16 Gbps GDDR6 RAM takes the card's memory bandwidth from 384 GB/second on the reference model up to 432 GB/sec. That happens to be the same transfer rate as on
the original Radeon RX 6750 XT
, leaving the only difference between that card and this one the slightly lower core clock of 2585MHz versus 2600MHz on the Radeon RX 6750 XT.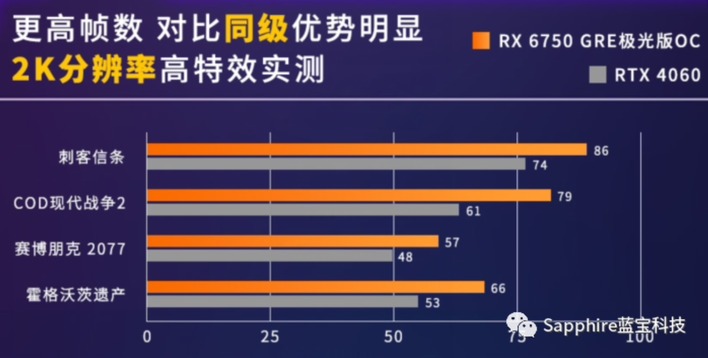 This image from Sapphire China compares the Radeon RX 6750 GRE Aurora Edition to NVIDIA's GeForce RTX 4060 in four games at 2560×1440 resolution with "high" settings. From top to bottom, the titles are
Assassin's Creed
(unspecified),
Call of Duty Modern Warfare 2
,
Cyberpunk 2077
, and
Hogwarts Legacy
. In all cases, the Sapphire card has a considerable performance advantage, but that probably shouldn't be that surprising.
We say that because Chinese-language tech blog
ITHome reports
that Sapphire marks the card for a suggested retail price of ¥2499 RMB, or about $340 USD. We're not sure what Chinese pricing for these other cards looks like, but US pricing for the GeForce RTX 4060 starts at $280 right now. In fact, you can pick up an original-recipe Radeon RX 6750 XT for $340, while the GeForce RTX 4060 Ti currently starts at around $360.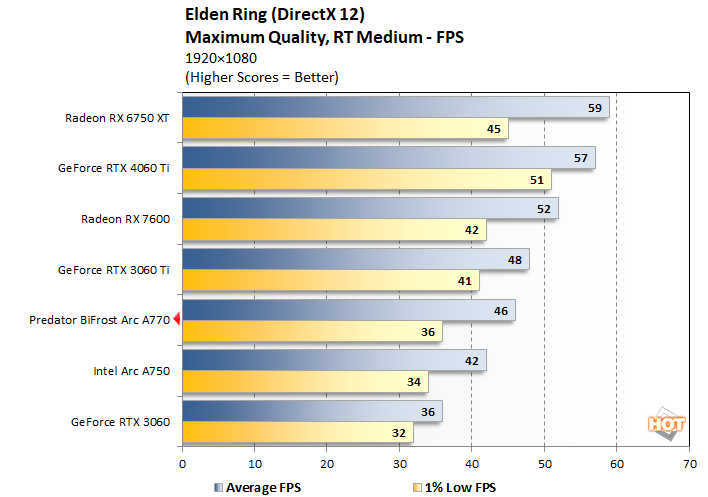 It may seem odd to launch an RDNA 2 graphics card in 2023, but in our latest testing—that being
our review
of the Predator BiFrost Arc A770—we found that the GeForce RTX 4060 Ti and the Radeon RX 6750 XT are broadly competitive. The Radeon RX 6750 XT runs a bit faster in pure rasterized games, but falls behind as the ray-tracing workload increases.
For gamers who don't care about ray-tracing, the Radeon RX 6750 GRE Aurora Edition could be a good buy if you can find one for sale. As we noted earlier, these cards are mainly meant for China and its neighbors, so they're unlikely to show up in the States, unfortunately.