AMD Reveals Official Radeon RX 7900 GRE Specs, Pricing And Release Date
AMD officially unveiled its third Radeon RX 7900 series graphics card at ChinaJoy today, known as the RX 7900 Golden Rabbit Edition — or GRE for short. The new GPU is the lowest-end RX 7900 series graphics card now on sale, featuring a further cut-down Navi 31 GPU and memory sub-system compared to the
RX 7900 XT
. The card will be exclusive to the Chinese market, starting at 5299 RMB — or $740.
It turns out the RX 7900 GRE's specifications that we covered a
few days ago
were mostly false, but such is the way of rumors. AMD's new official specifications reveal that the GRE does in fact feature a reduction in shader cores as well as a substantially reduced TBP compared to the RX 7900 XT — on top of the GPU's previously reported cut-down memory interface and capacity. Initially, the 7900 GRE was believed to only feature a smaller memory interface and reduce capacity alone, with the GPU's core configuration remaining the same as the RX 7900 XT.
So to clear everything up, here's the full spec sheet for the RX 7900 GRE: 80 Compute Units (CUs), 5120 Stream Processors (Shader Cores), 80 Ray Accelerators, 160 AI Accelerators, 54 Billion transistors, 1270MHz Base Clock, 1880MHz Game Clock, 2245MHz Boost Clock and a TBP of 260W. 16GB of 18Gbps GDDR6 memory, 256-bit wide memory interface (bus), 64MB of Infinity Cache, 576GB/s of raw memory bandwidth, and 2250GB/s of effective memory bandwidth.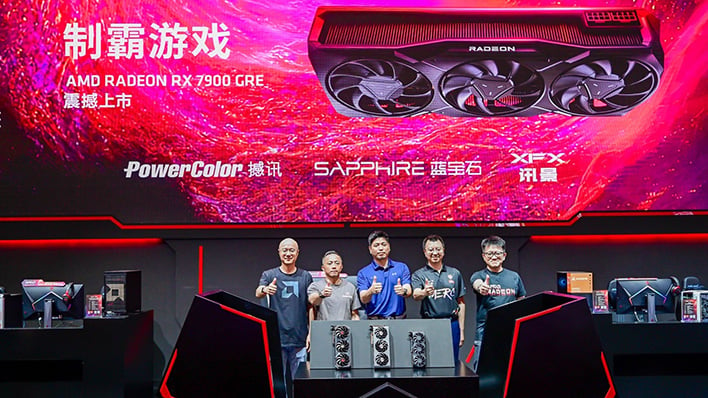 The RX 7900 GRE is essentially a further cut-down RX 7900 XT, with the price and specs of a higher-end mid-range GPU. Compared to the RX 7900 XT, the GRE variant will be noticeably slower since every part of the GPU and memory sub-system has been cut down. Clock speeds are slower, memory bandwidth and memory capacity are much slower/smaller, TBP is vastly smaller, and the amount of enabled Compute Units is also slightly worse.
It's impossible to say how much slower the GRE is, but based on price and the specs, we wouldn't be surprised to see performance land somewhere in-between the RTX 4070 and RTX 4070 Ti. The RX 7900 XT is considered an RTX 4070 Ti competitor with a slight edge over the NVIDIA part in most actual games. It would make sense to have the
RX 7900 GRE
slot in between NVIDIA's 4070 series cards so as not to cannibalize the RX 7900 XT. But AMD can't make it too slow, or it will clash with its upcoming
RX 7800 series
GPUs that should be coming soon.