AMD Ryzen 7 7840S Phoenix CPU With 30W TDP Breaks Cover In A Lenovo Laptop
A big part of AMD's business these days is in providing custom processors for its customers. That doesn't mean regular folks like you and me, but rather businesses who want a special CPU that no-one else has. The proper "semi-custom business" refers to the special chips that
show up in the Steam Deck
and commodity game consoles, like the Xboxes and PlayStations, but recently AMD's been doing
custom branding of what is
essentially standard silicon.
We've seen this most prominently with the Ryzen Z1 processors. These chips found their way into
ASUS' ROG Ally handheld
, and they are essentially the same as AMD's
Ryzen 7040 series laptop CPUs
, just with the Ryzen AI co-processor disabled and a custom power-management firmware. Lenovo has also gotten some customized parts from AMD, it seems, with the Ryzen 7040S series.

AMD uses "S" to indicate processors that are between
"U" ultra-low-voltage chips
and the "HS" full-power laptop processors. The Ryzen 7040S series seems to comprise two chips: the Ryzen 5 7640S and the Ryzen 7 7840S. These appear to be identical to the standard "HS" variants in terms of core count, capabilities, and even clock rates, but one spec is notably changed: the power limit. Where the HS processors are configurable between 35 and 54 watts, the "S" family runs at 30 watts.
Our knowledge of these chips comes from a review of the Lenovo Yoga Air 14S 2023 Ryzen Edition over at Chinese-language site
MyDrivers
. The version of the laptop that
MyDrivers
tested came with the Ryzen 7 7840S, and the site tested it against laptops with both
Ryzen 9 7940HS processors
as well as previous-generation Ryzen 9 6900HS chips.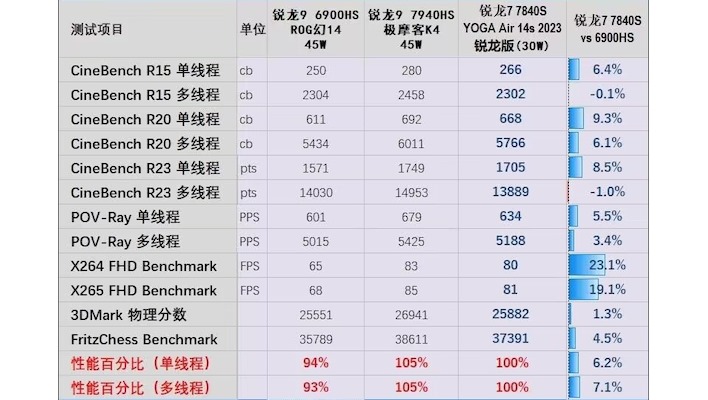 Keep in mind that those are both 45-watt processors. In that context, the final results that put the Ryzen 7 7840S just 5% behind the Ryzen 9 7940HS and 6-7% ahead of the Ryzen 9 6900HS are pretty darn decent. It's worth noting that these are all CPU-only benchmarks, though. If you put the integrated Radeon GPUs to work too, the extra 15W afforded by the higher TDP of the other chips will likely allow them to sail ahead.
The MyDrivers review tested the laptop's battery life using the PCMark Video Battery test and came away with a result between 10 and 11 hours, which is fantastic considering that this laptop has a 14" 2944×1840 OLED that refreshes at 90Hz. The display supports a peak brightness of 600 nits, and it's certified for Dolby Vision and VESA DisplayHDR 500, a new tier specifically intended for thin laptop displays.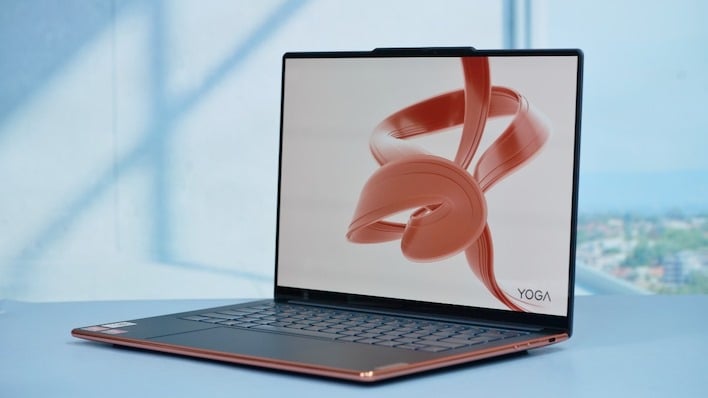 Lenovo Yoga Air 14s Ryzen Edition. Photos in this post: MyDrivers
MyDrivers reports
that the Lenovo Yoga Air 14s Ryzen Edition with the eight-core Ryzen 7 7840S comes with a 1TB SSD and your choice of 16GB or 32GB of memory. The 16GB version goes for 7999 RMB ($1094 USD), while the double-RAM version will run you 8299 RMB ($1135). No word on when or if these specific models will find their way stateside, but we wouldn't be surprised.