AMD Confirms It's Now Shipping Ryzen 7040HS Phoenix CPUs To Laptop Partners
We learned last month that one of AMD's most highly anticipated mobile CPU families had been delayed. However, a newly shared AMD statement asserts that these
Phoenix HS chips
, AKA the Ryzen 7040HS processors, are distributing to laptop OEMs now and models sporting these chips are going to arrive in retail over "the next several weeks." That means the Phoenix HS ship date has slipped from March to May.
AMD Phoenix processors are aimed at "elite ultrathin" designs. Thus, they are targeting premium laptops, but we know that there are also design wins for this processor family in
mini-PCs
and in
handheld gaming
devices. According to AMD's official launch slides, these processors were due in shipping laptops in March.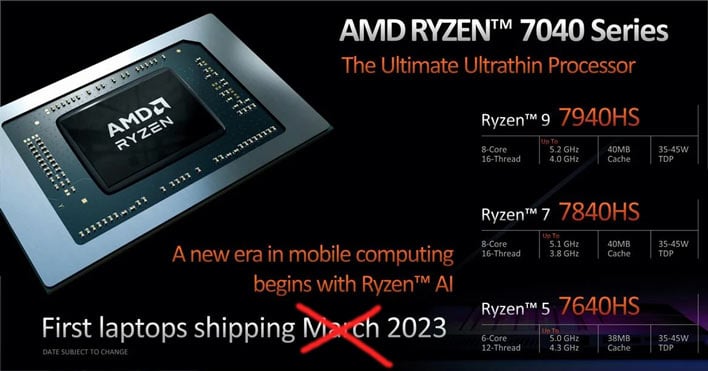 Earlier today we wrote about the
AMD Ryzen 7040U Phoenix
CPUs, which are lower TDP models (15-30W), but this news regards the delayed Ryzen 7040HS chips with a TDP range of 35-45W. Hence, the HS processors have higher base clocks, and the "ultrathin" designs they are in will need a better / bigger thermal solution.
There has now been an official AMD statement about what is happening with the delayed Ryzen 7040HS processors. "We did start to ramp production of those Ryzen 7040 Series [chips]," an AMD representative told
Tom's Hardware
. "Our OEM partners have started shipping those systems. Largely, the 7040HS systems. So those should hit etail and retail over the next several weeks. We started shipping last quarter, and those systems should be available in the next several weeks."
AMD Phoenix processors are among most hotly anticipated of the new Ryzen 7000 mobile lineup,
launched at CES
, as they are unique among the family in offering the newest and tastiest tech combination of Zen 4 CPU cores and RDNA 3 GPU cores. In other words, they are going to be the best Ryzen 7000 APUs for machines without a discrete GPU installed.
If a discrete mobile GPU is going to be installed in your system, like a gaming laptop or workstation, then the Ryzen 7045 Dragon Range series with bigger Zen 4 core counts are probably going to be the sweet spot. As you can see in our
ASUS ROG Strix Scar 17 review
, the Dragon Range chip is a great performer. We hope to have a few AMD Ryzen 7040HS Phoenix machines under test in the coming weeks - so please stay tuned.