Razer Blade 14 Gaming Laptop Specs Leak Reveals Potent CPU And GPU Combo
The key specifications of Razer's upcoming
Blade 14
refresh appear to have been divulged. Razer's Blade 14 (2023) is thought to be due shortly and, like its predecessor, it is expected to mix the charms of AMD Ryzen and NVIDIA GeForce processors. Specifically, a Twitter hardware leakster says that the smallest Blade will come packing a Ryzen 9 7940HS APU and a GeForce RTX 4070 Laptop GPU.
AMD's Ryzen 9 7940HS APU is a member of the alluring 'Phoenix' subfamily, as detailed at
Ryzen 7000 Series Mobile
launch during CES 2023. Of the new series, the Phoenix chips are perhaps the most interesting, as they are the only ones to combine AMD's newest CPU and GPU technologies in a mobile APU.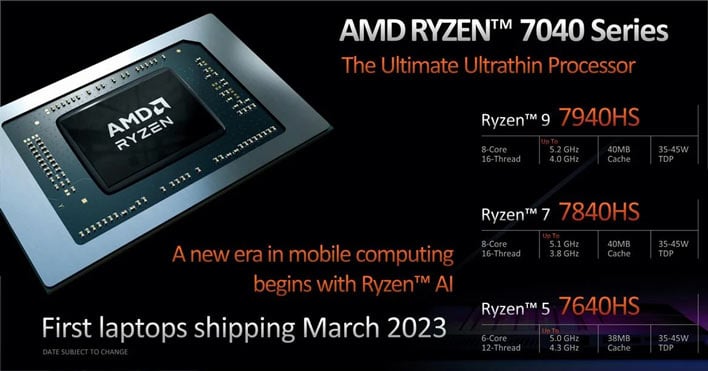 Designed for 'Ultimate Ultrathin' laptops, the Ryzen 9 7940HS sits in the middle of the Phoenix trio. It features a 5nm Zen 4 8C / 16T core configuration, which will boost to 5.1GHz when required. It also boasts a 3nm RDNA 3 GPU with 12 CUs. Other features are the 40MB cache, and TDP of between 35 and 45W, depending on the system designer's choices.
NVIDIA's
GeForce RTX 4070 Laptop GPU
was also unveiled at the CES 2023 in January, as part of the first quintet of Ada Lovelace GPUs for mobile power users. One of the most exciting propositions among the new offerings, the RTX 4070 Laptop was touted as being able to deliver RTX 3080 Laptop performance with two thirds of its power budget. We can see why Razer might have chosen it for its diminutive Blade 14 (2023).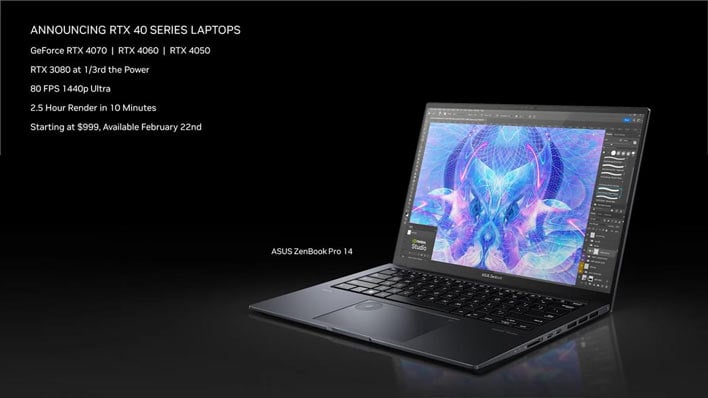 According to the official spec sheets from NVIDIA, the RTX 4070 Laptop GPU has 4608 CUDA cores, GPU boosts to 2175MHz, comes with 8GB GDDR6 on a 128-bit bus, and can be configured for between 35-115W depending on the laptop's cooling capabilities. Fingers crossed that Razer doesn't have to dial the power back too far. Last year,
Razer configured
the 14-inch Blade's Ampere GPU to run at 100W.
Sadly, that's all the specs we have for the Razer Blade 14 (2023), and we have to remember to add salt to them due to
the source
. Hopefully there won't be a very long wait until this laptop is launched, and we can check for any further upgrades to key components like screen, keyboard, construction, cooling system and so on.
Razer's laptops travel a demanding path, balancing sleek and light design against processing power, but usually manage to hit a sweet spot. Evidence of Razer's ability in this regard is shown in our recent review of the
Razer Blade 16 (2023)
, mixing an NVIDIA GeForce RTX 4090 and Intel Core i9-13950HX.