NVIDIA Launches RTX 40 Mobile GPUs Claiming Desktop-Class Gaming Performance For Laptops
NVIDIA's CES announcements were dominated by new product launches. First up was the desktop
GeForce RTX 4070 Ti
, and there was the new GeForce RTX 4080
tier for GeForce NOW
, too. Arguably the most important of the announcements was the launch of Ada Lovelace GPUs for laptops. It's a whole family this time, ranging from the GeForce RTX 4090 all the way down to the GeForce RTX 4050.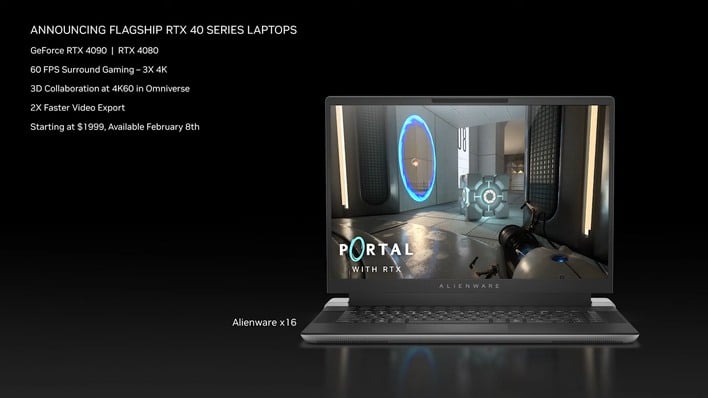 Starting from the top, we have the GeForce RTX 4090 and GeForce RTX 4080. The mobile versions of these chips are considerably smaller than the desktop versions, but they're still extremely potent—NVIDIA claims that they can drive "3x 4K" monitors in Surround Gaming at 60 FPS. That's a resolution of 11,520×2160, or nearly 25 megapixels.
NVIDIA also emphasizes the utility of its potent Ada GPUs for productivity usage, remarking that a flagship-class RTX 40 GPU offers "2X faster video export." We're not sure versus what, exactly. Perhaps most heartening is that laptops with these GPUs will apparently be available early next month starting at $2,000.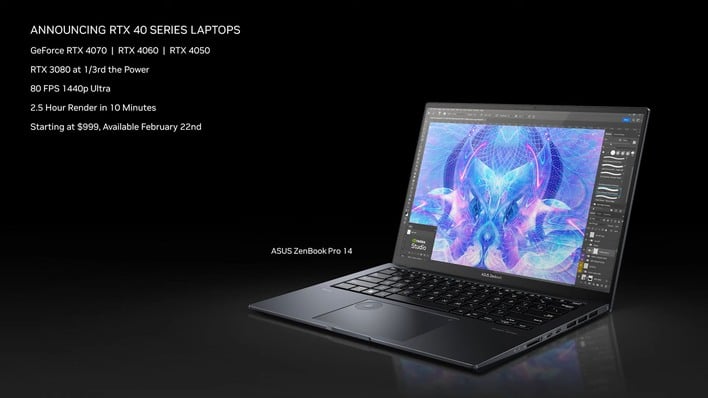 The GeForce RTX 4070, RTX 4060, and RTX 4050 haven't launched at all on desktop yet, but they're coming soon in laptop format. This slide makes it clear that the "previous-generation flagship" to which NVIDIA refers in its press release is in fact the mobile
GeForce RTX 3080
and not the significantly-speedier GA103-based
Geforce RTX 3080 Ti
.
According to the manufacturer, laptops in this class can outpace those based on the mobile RTX 3080, which is pretty impressive considering how beefy that GPU is. They'll be starting as low as $999 late next month.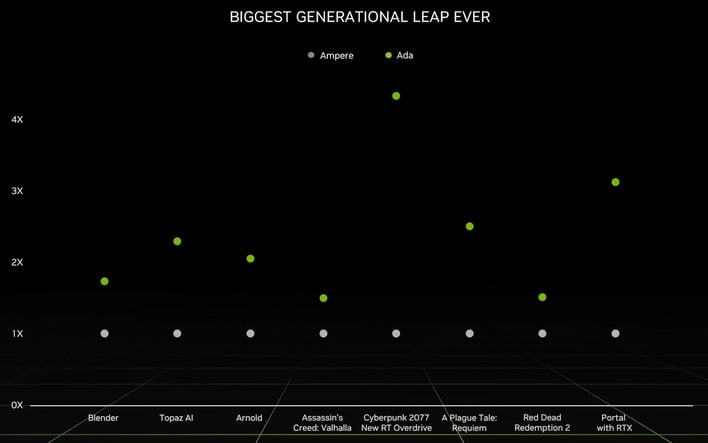 According to Team Green, the jump from Ampere to Ada is the "biggest generational leap ever". The company illustrates this with some benchmarks: three in productivity apps, and five from games. The voice-over claimed an average of triple the performance on average, but we don't know which specific GPUs are being compared nor which forms of upscaling and/or frame generation are in play here, so the benchmarks are of limited value.
Cyberpunk 2077
RT Overdrive isn't even out yet.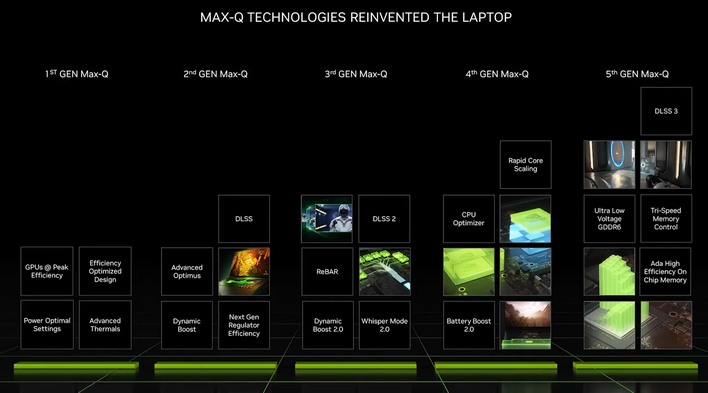 We'd naturally expect that DLSS 3 plays a big part of these performance comparisons. NVIDIA specifically mentions the frame generation technology as a major component within the 5th generation of its "Max-Q" performance
optimization paradigm
for laptop GPUs. Another big part of it this time around is dynamic frequency scaling for GDDR6 memory.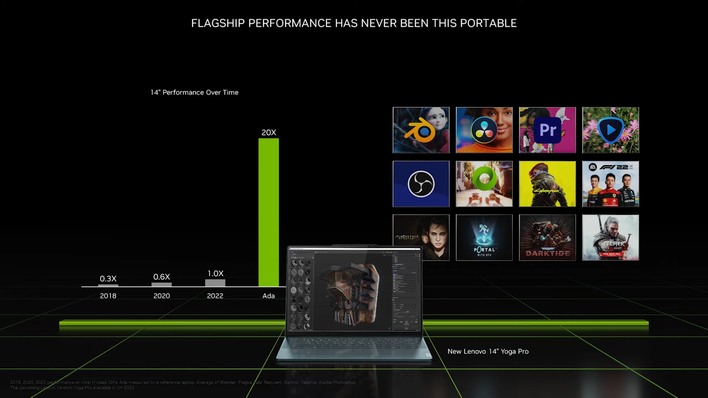 NVIDIA says that the 14" size class is the fastest-growing segment within the laptop market, and that "95% are limited to basic tasks," such as Microsoft Office. It then went on to suggest that the new Ada GPUs offer a 20x improvement in performance within that form factor. We're not really sure what the company is comparing against, probably integrated solutions, but a 20x uplift certainly sounds impressive, anyway. NVIDIA also made the amusing claim that an Ada-equipped 14" laptop is "twice as fast
as a PS5
but only 1/6th the size."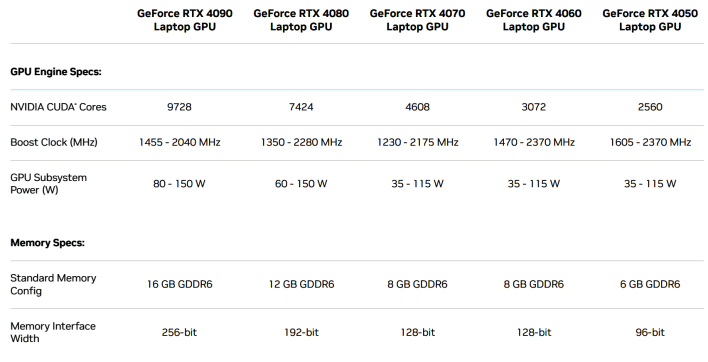 The full specifications of each GPU are already posted
on NVIDIA's website
. Based on these numbers, it definitely looks like the GeForce RTX 4060 and RTX 4050 are both based on AD107, the RTX 4070 is almost assuredly a fully-enabled AD106, the RTX 4080 is probably cut-down from the same AD104 chip that is used for the desktop RTX 4070 Ti, and then the mobile RTX 4090 looks to be cut down from an AD103 processor (shared with the desktop GeForce RTX 4080).
The idea that the GeForce RTX 4070 and its 128-bit memory interface can outperform the mobile GeForce RTX 3080 (which uses a 256-bit bus) while using one-third less power is quite exciting. We'll be fascinated to see what the real-world performance of these parts is like once we get some
Ada-equipped laptops
in hand.