Ratchet And Clank PC Hotfix Arrives To Improve Ray Tracing And Fix Visual Bugs
Twenty years ago, if you had asked your author here if he thought
a Ratchet & Clank game would ever be
the new high bar for graphics technology in PC gaming, he would have given you a very strong "no." Yet, here we are:
Ratchet & Clank Rift Apart
is one of the
most demanding titles available
, and it implements all the latest PC gaming goodies including ray-traced visual effects, smart upscalers, and DirectStorage with GPU decompression.
Speaking as a gamer,
Rift Apart
is actually a pretty awesome game. There's not a whole lot going on with it mechanically and your author certainly has his nitpicks, but the title harkens back to an older era where it was okay for a game to just be an action-packed linear blast-'em-up without having to
inject dark adult themes
or
overwrought melodrama
in every other line of dialogue, and it's a ton of fun while being a joy to look at.
The title's first hotfix has already arrived less than a week after release, and it's a pretty good one. While it's well-known that ray-tracing is broken on AMD GPUs right now, the game also still had some bugs of its own when running on said cards. So, while ray-tracing is still broken on Radeons (
likely requiring a driver update
), this patch at least resolves visual issues with character rendering on "certain GPUs, including AMD Vega-based models."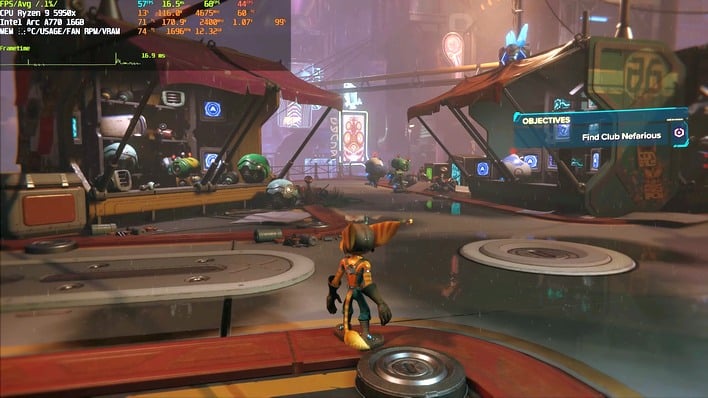 For folks playing with ray-tracing enabled—that'd be both NVIDIA and Intel Arc users, as the
Arc A770 is fully capable
of handling this game with ray-tracing turned on thanks to XeSS—this patch "improves the visual quality of vegetation in ray-traced shadows and ray-traced reflections." We aren't developers, but we reckon that this probably has to do with adjusting the tags on vegetation objects to make sure they properly appear in reflections and cast detailed shadows.
Finally, this patch fixes the texture filtering option "to work as intended." This bug affected everyone, and drastically reduced the quality of certain textures in the game environment. It wasn't common, but it was possible to notice certain textures appearing much lower-detail than they should be. We've only played a few minutes since the patch, but we haven't observed this issue cropping up again.

Since we're talking about the PC version of the game, you probably already
have the patch queued
for download. Just open up your Steam client, click on Downloads at the bottom of the window, and click the little button with the download icon on the right to start the patching process posthaste.