Potential Cyberattacks Simultaneously Disrupt Critical US, Canada And UK Services
It's no secret that cyberattacks have been on the rise lately, but a series of failures today may raise some eyebrows. The United States, Canada, and the United Kingdom have all experienced critical service disruptions today, and the root causes are still under investigation.
The United Kingdom's postal service, Royal Mail, published a service update today notifying customers of a severe disruption to its international export services. According to Royal Mail, this disruption is the result of a "
cyber incident
" rendering the postal service temporarily unable to send mail and packages overseas. The Royal Mail's import services are still operational, albeit with "minor delays." The postal service strongly recommends that customers refrain from attempting to ship anymore items internationally until the disruption is resolved.
Royal Mail has yet to elaborate on the nature of the "cyber incident" at hand, though that language is typically reserved for
cyberattacks
, rather than simply system malfunctions. The postal service
says
that it has reported the incident to regulators and security authorities and is working with external experts to investigate the matter. The UK's National Cyber Security Centre (NCSC) has also acknowledged the incident,
stating
, "We are aware of an incident affecting Royal Mail Group Ltd and are working with the company, alongside the National Crime Agency, to fully understand the impact."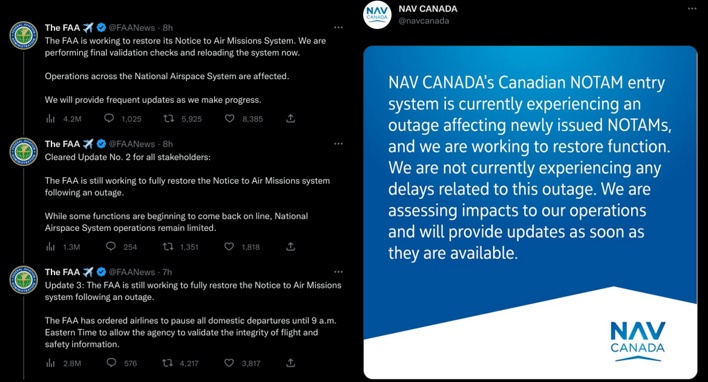 This disruption to the UK's mail services comes directly on the heels of a disruption to the Notice to Air Missions (NOTAM) system operated by the United States' Federal Aviation Administration (FAA) that began early this morning. This system provides vital air safety information to pilots in real-time, alerting pilots to potential hazards that air traffic control may miss. The US NOTAM system went down very early this morning, forcing the FAA to fall back to a phone hotline.
However, this backup system was soon overwhelmed, prompting the FAA to temporarily halt all flight departures nationwide for the first time since 9/11. Fortunately, the agency managed to restore the NOTAM system later this morning and lifted the ground stop, enabling normal air traffic operations to resume. Nonetheless, the FAA is still investigating the cause of the disruption, with the Secretary of Transportation, Pete Buttigieg,
stating
, "There is no direct indication of any kind of external or nefarious activity, but we're not yet prepared to rule that out."
Then, this afternoon, Canada's air navigation service operator, Nav Canada, announced that its NOTAM system was undergoing an outage. Nav Canada was able to quickly restore the system before the outage caused flight delays, but the cause of the disruption remains unknown. In its most recent update at the time of writing, Nav Canada
stated
, "we do not believe it to be related to the FAA outage experienced earlier today." However, the service operator is continuing to investigate the incident, so that assessment may change as more information is uncovered.