OneXPlayer 2 Pro Handheld Is Coming To Challenge The ASUS ROG Ally And Steam Deck
If you follow the portable PC space at all, you're probably familiar with the products of OneNotebook, if not by that name. The original OneXPlayer made a decent splash when it came out back in 2021, and the
sequel to the original
, which upgraded to a powerful AMD Ryzen 7 6800U SoC, started shipping to backers in March of this year.
The OneXPlayer series is essentially similar to
other PC-based handhelds
. What sets the OneXPlayer 2 apart from its competitors is that it comes with a larger screen, a bigger battery, and detachable controllers. Of course, it's also considerably more expensive than those other two machines, with even early-bird pricing in the four-digit range.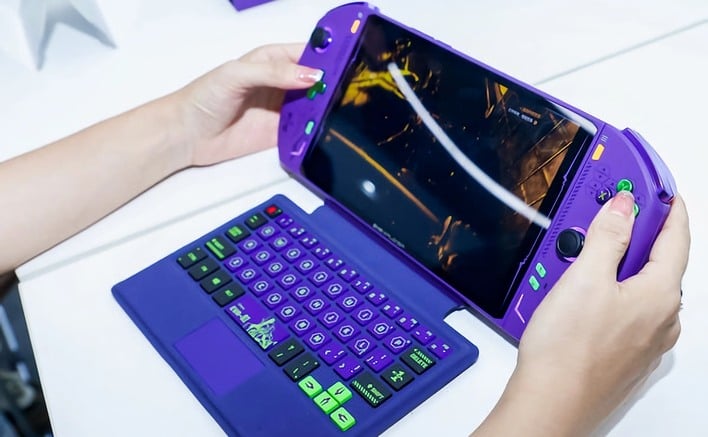 Well, if you're interested in
a higher tier of handheld computer
than the
ROG Ally
or Steam Deck, you may want to take a look at these photos of the OneXPlayer 2 Pro. Despite the name, this is actually a considerably different unit from the OneXPlayer 2. It upgrades to a bleeding-edge Ryzen 7 7840U "Phoenix" processor, with Zen 4 CPU cores and RDNA 3 graphics, as well as sporting a bold
Neon Genesis Evangelion
-inspired visual design.
These images come to us from
MiniXPC
, who got to attend an exclusive event in China where OneNotebook revealed the OneXPlayer 2 Pro EVA Edition—EVA being the short name for "Evangelions," the bio-mechs featured in the anime. It's actually the first OneXPlayer 2 Pro to be revealed, and presumably OneNotebook will also be selling OneXPlayer 2 Pros without the divisive visual flair of these.
Just like the regular OneXPlayer 2, you get an 8.4" touchscreen in 2560×1440 resolution, detachable game controllers, and a detachable keyboard case with trackpad, too. There's a separate grip to turn the controls into a gamepad, just like on the Nintendo Switch, and a hidden stand on the back to prop up the system. However, the screen is only 60 Hz, unlike the 120Hz VRR display on ASUS' machine.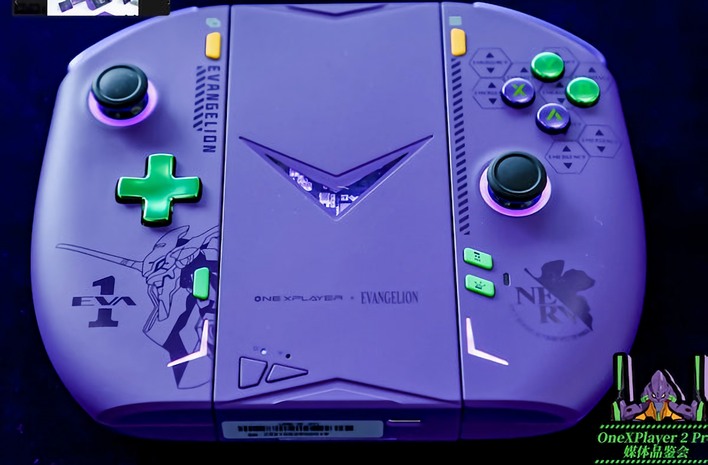 The detachable controls can also form a gamepad with a separate (included) module.

The core specifications of the OneXPlayer 2 Pro are pretty monstrous, too. The Ryzen 7 7840U has
eight Zen 4 CPU cores
that can boost as high as 5.1 GHz, as well as a Radeon 780M integrated GPU with 12 RDNA 3 compute units clocking up to 2.7 GHz—power limit and thermals allowing. You can pair that with up to 64GB of LPDDR5X "high-frequency" memory—we'd expect at least 6000 MT/s, and possibly faster, but MiniXPC didn't elaborate.
Also, either OneNotebook didn't give a price or release date for this model or MiniXPC declined to report it. This EVA limited edition model will surely be more expensive than the general version coming later, but we wouldn't be surprised if a fully kitted-out OneXPlayer 2 Pro comes in at $2000 or more. The maxed-out version of the OneXPlayer 2 goes for $1499 as we speak, and that "only" has 32GB of RAM, a 2TB SSD, and a Ryzen 7 6800U.