NVIDIA's Latency-Crushing Reflex Tech Is Headed To Diablo IV And These Other Games
NVIDIA has announced that two more titles are receiving its highly-popular NVIDIA
Reflex
latency-reducing technology, including
Diablo IV
and
Metal: Hellsinger
. According to NVIDIA, gamers can expect up to a 67% reduction in system latency in
Diablo IV,
and a 27% reduction in
Metal: Hellsinger,
improving system responsiveness for gamers.
Reflex has become one of NVIDIA's most highly utilized gaming technologies with 90% of GeForce gamers activating Reflex in all Reflex-supported titles. Reflex was released two years ago as a system responsiveness booster, that reduces system latency by preventing pre-queued frames from being generated by the CPU. This enables Reflex-supported games to sample mouse and keyboard inputs at the last possible moment and allows pre-rendered frames to be sent to the GPU as soon as possible.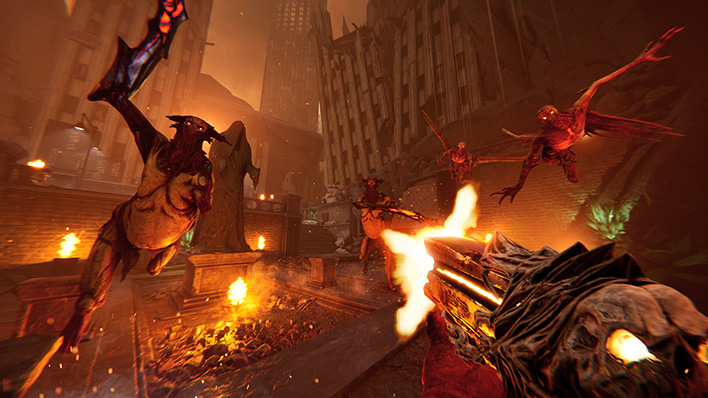 There are over 70+ Reflex-supported titles at this moment, and the list continues to grow each quarter with
Diablo IV
and
Metal: Hellsinger
being the latest entries supporting Reflex. Other recent additions include
Redfall, Returnal, and The Lord of the Rings: Gollum
, which has added NVIDIA's latency-enhancing tech due in part to DLSS 3's frame generation system requirement needing Reflex to support it.
In the announcement, NVIDIA also announced new gaming hardware that supports NVIDIA's Reflex analyzer including four new mice and a brand new 360Hz gaming monitor. The four peripherals come from Gigabyte featuring its AORUS-branded M2, M4, M5, and M6 series of gaming mice, and LG's brand-new UltraGear 25GR75FG 24.5' 1080P 360Hz gaming monitor, featuring 1ms GTG response times, and an IPS display. All these devices can utilize Nvidia's Reflex analyzing platform to measure end-to-end system latency starting from a single mouse click, to the point where that mouse click registers on screen.
Speaking of hardware, NVIDIA also recapped its new Ultra Low Motion Blur 2 (ULMB 2) technology that recently debuted a few days ago. Be sure to check out our previous coverage
here
for a full break down, but basically, ULMB 2 is a blur reduction technology that substantially increases object image quality in motion. In conjunction with 360Hz gaming monitors, ULMB 2 is able to mimic the motion blur of a theoretical 1400Hz panel — which is to say there is effectively none.
According to NVIDIA, more
Reflex-supported
games, monitors, and mice are on the way. So be sure to tune back here for more details on upcoming products, especially any products that might be announced coming from Computex right now.