Diablo IV Devs Share PC Requirements And Disappointing Ray Tracing Update
The second developer live stream for
Diablo IV
happened yesterday, and we're still reeling from all the info dropped. We'll review just about everything we can from the video and blog post associated and provide you a way to watch it below. First, we will start with the information that's part of our name, the hardware requirements.
Overall, the requirements are lean, and
Diablo IV
devs are making it so almost anyone who's purchased a PC in nearly the last decade should be able to run the game. The system specifications are as follows.
Minimum Requirements for PC

Operating System: 64-bit Windows 10
Processor: Intel Core i5-2500K or AMD FX-8100
Memory: 8GB RAM
Graphics: Nvidia GeForce GTX 660 or AMD Radeon R9 280
DirectX: Version 12
Storage: SSDS with 45 GB of available space
Internet: Broadband Connection
Recommended Specifications for PC

Operating System: 64-bit Windows 10
Processor: Intel Core i5-4670K or AMD R3-1300X
Memory: 16GB RAM
Graphics: Nvidia GeForce GTX 970 or AMD Radeon RX 470
DirectX: Version 12
Storage: SSDS with 45 GB of available space
Internet: Broadband Connection
Diablo IV
will also attempt to run on lower end systems than the minimum. However, the experience may be lesser than expected. Console-release players don't need to worry about whether their platform will be supported during the beta, as the official word is all release platforms should work.
Along with these system specifications, the developers at
Blizzard
pointed out that ray tracing will not be supported in early access, beta, or at launch. They did point out, though, that there are plans to add it at some point after launch. Ray tracing has made some games more beautiful in recent releases and even
brought new life
to beloved classics, so this news is a little disappointing though somewhat understandable. The last release for
Diablo III
was the Reaper of Souls expansion in 2014, and between then and now, the only thing developed in the franchise has been a mobile game, Diablo Immortal. So, it's feasible to think there may be some tech that's just not implemented into the engine just yet.
On the topic of engine, the developers in the video pointed out that the
recently released intro cinematic
for the title was a completely in-engine cut scene. That means if your character enters a cutscene, that character, whatever armor they may be wearing or weapons they could be wielding, will also appear. A nice little improvement for immersion.
Diablo IV Developer Update Live Stream Number Two
The developer stream also included information about when the early access and the beta will start and end.
Early Access

Start Date: March 17th, 2023
Start Time: 9:00 AM Pacific
End Date: March 20th, 2023
End Time: 12:00 PM Pacific
Open Beta

Start Date: March 24th
Start Time: 9:00 AM Pacific
End Date: March 27th
End Time: 12:00 PM Pacific
Also in the video was an outline for pre-order beta participation incentives. There are three incentives, two titles, and a unique cosmetic. The first title is
"Initial Casualty,"
which is gained by reaching Kyovashad, the main town in the story. The second title is
"Early Voyager,"
players who reach level 20 during either of the beta instances will be granted this title. Players who reach level 20 will also receive a Beta Wolf Pack Cosmetic Item, an absolutely adorable animated wolf pup cosmetic pack representation. All of these incentives can be gained by reaching the associated requirement on at least one character during the early access or open beta. It was also pointed out that up to and including during the early access, pre-orders should be granted access to the ability to play.
The armor system also received a revamp. In addition to physical damage mitigation, all armor will grant half the value of physical damage mitigation to non-physical damage mitigation. So, if armor has 60% physical damage mitigation, then 30% non-physical damage mitigation will occur. There are modifications to mitigation values dependent on differences in levels between the player and the monsters they are fighting. This goes in either direction.
Consoles are also getting a fun addition, couch co-op. Yep, you and your buddy can slay demon hordes together in the same room during early access and open beta. Only one participant needs early access or open beta access on the associated platform, but all participants must have a Battle.net account.
As a last bit of info, there are also now world bosses. These bosses will support up to 12 players simultaneously, and four will occur at different times during both Saturdays of the playtests. Players do not need to be grouped or in a party and can drop into the instance to play it.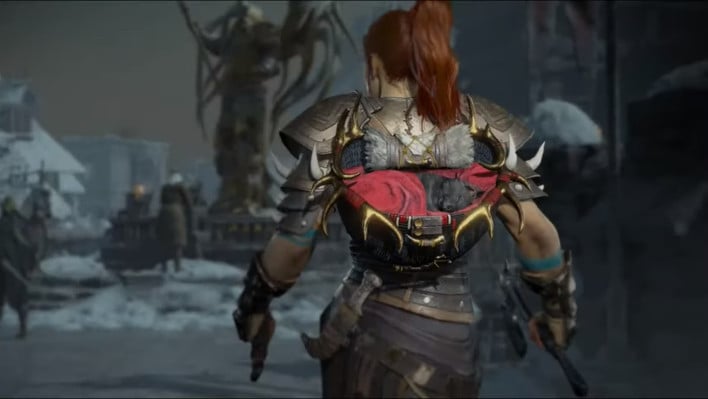 Beta Wolf Pack Cosmetic Level 20 Incentive for Pre-Orders.
All of the info and more is available on the
official Blizzard blog
. There are also a number of questions answered during the video that the blog posts might not cover, so scroll up and give it a gander. After this massive info dump from the developers, it's hard not to get even more excited for this upcoming title. It's also very hard not to go "awwww" at the little wolf pup pack cosmetic.