NVIDIA GeForce NOW Gets A Sweet RTX 4080 SuperPOD Upgrade For Smooth Gaming At 240 FPS
In addition to making the
GeForce RTX 4070 Ti
official and unveiling mobile 40-series Ada Lovelace GPUs that promise desktop-class performance for laptops, NVIDIA today also announced an enticing upgrade to its GeForce NOW cloud gaming service. It's rolling out RTX 4080 SuperPODS that deliver over 64 teraflops of graphics performance, which is a 1.75X jump over NVIDIA's last-gen SuperPODS.
That also equates to more than a 5X jump over the graphics performance offered by Microsoft's
Xbox Series X
console, for added perspective.
"NVIDIA's Ada architecture is a big leap in graphics quality, and through GeForce NOW we're streaming an RTX 4080 experience to more devices and more gamers than ever," said Jeff Fisher, senior vice president of GeForce at NVIDIA. "GeForce NOW Ultimate members will have the technology and the performance to experience even the most demanding games in their full ray-traced glory."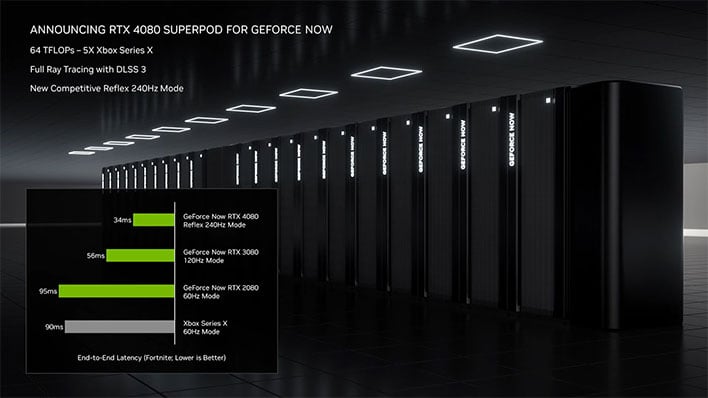 The retooled SuperPODs can render and stream games at up to 240 frames per second, NVIDIA says. They can also play nice with G-Sync monitors to vary the streaming rate to client displays in Reflex-enabled games, which is a first for GeForce NOW. Additionally, the faster hardware enables 120 FPS at 4K, upgraded from 60 FPS. NVIDIA also said it's adding support for ultrawide monitors at up to 3840x1600, another first.
As part of the upgrade, NVIDIA is renaming its
RTX 3080 membership
tier to GeForce NOW Ultimate. Subscribers both new and existing will be pleased to hear that the step up in graphics performance doesn't come with a price hike—it's still $19.99 per month for NVIDIA's top membership tier, or players can pay a discounted $99.99 rate for six months upfront.
The
GeForce NOW Ultimate
tier is available now for new signups, while existing subscribers to the RTX 3080 tier have already been converted over at their current pricing. This is in name only for the time being--upgraded streams will be available in North America and Europe by the end of the month.