NVIDIA GeForce RTX 4070 FE Joins Barrage Of Leaked Images From MSI, Gigabyte And More
The cat labelled
GeForce RTX 4070
is well and truly out if the bag after numerous photos, listings and specs leaks in recent hours. We thought we were lucky getting to see a few add-in board (AIB) photos, but those have perhaps been eclipsed by some beautifully clear shots of the NVIDIA GeForce RTX 4070 Founders Edition (FE). There are also retail listings and a GPU-Z validation to ponder over.

(Above and Top Image Credit: David Giannis)
Starting with the headlining NVIDIA GeForce RTX 4070 FE, you can see the front of this graphics card, shared by
David Giannis
, atop this article. Giannis also published a top-down view of this pleasingly slim and compact looking card, clearly showing its single 16-pin 12VHPWR connector. The FE is probably the most compact RTX 40
Ada Lovelace
architecture graphics cards we have seen yet – if the photos are genuine and not some kind of AI abomination.
Do you want to see some third-party designs? Twitter leaker
momomo_us
shared two sizable galleries of images. Among the visual treats for graphics card lovers are a wide selection of Gigabyte designs (all sport triple fans).
There is also an encouraging shot of what looks like MSI's Ventus 3x packaging area. A few of these graphics cards are packed and shrink wrapped on a table, and in the background you can see a cornucopia of boxes, presumably packed with these and other new MSI GPUs.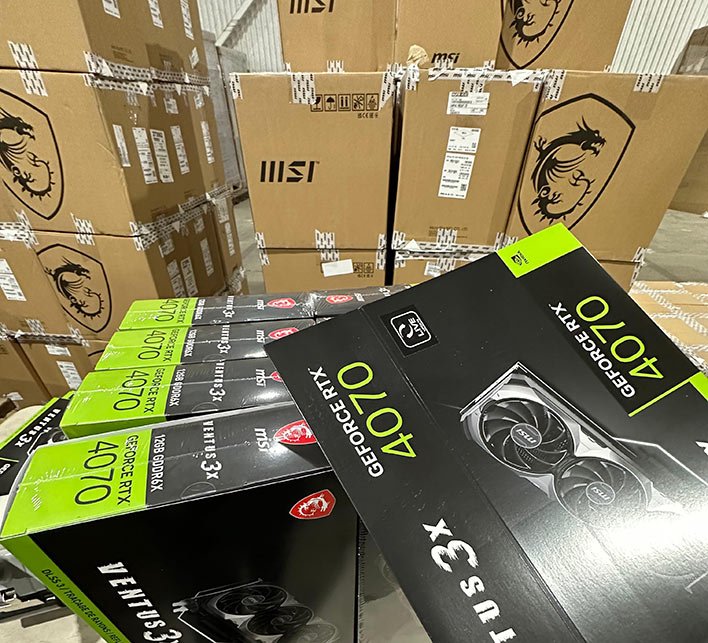 (Image Credit: @momomo_us on Twitter)
We've said it before, but the RTX 4070 will be the first Ada Lovelace GPU for users of most
Mini-ITX
, SFF and other size-constrained PCs. Dual-fan equipped examples from Zotac and Palit can be seen among the leaked images – if you can't get an FE or prefer these third-party custom dual-spinner designs for some reason.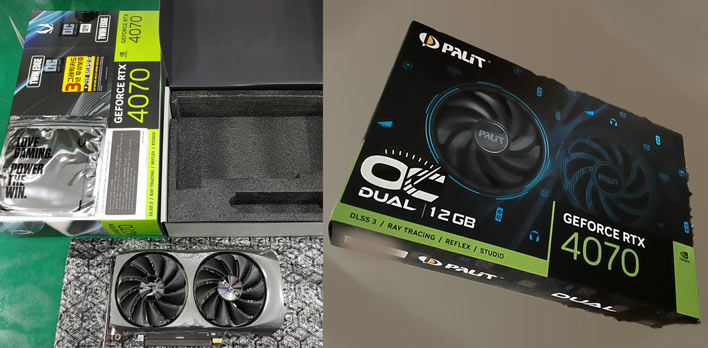 (Image Credit: @momomo_us on Twitter)
There are further GeForce RTX 4070 treats
exposed
by momomo_us courtesy of Italian tech retailer Drako IT. The retailer appears to have five MSI branded graphics cards from the Gaming X and Ventus stables. Two of the Ventus models are dual-spinner designs, and all the listings come with specifications. We note that the smallest card measures 242 x 125 x 43mm. No pricing or release date is published on these retail pages.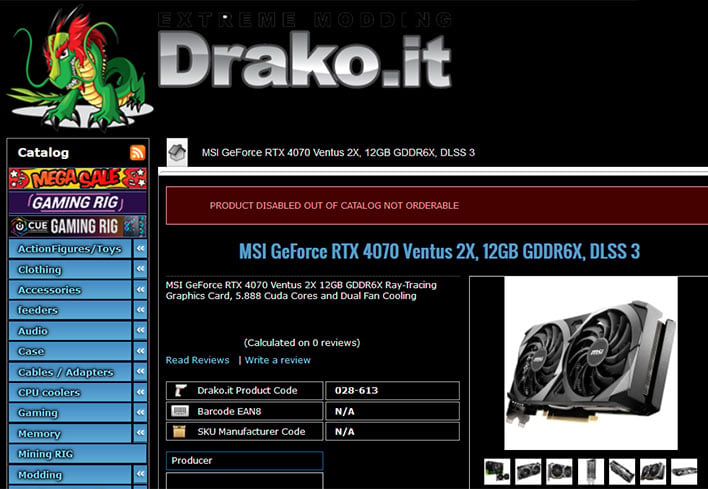 (Image Credit: @momomo_us on Twitter)
Last but not least, some early tester or reviewer appears to have validated their NVIDIA GeForce RTX 4070
in GPU-Z
. A Zotac model, possibly the one pictured above, has been analyzed by the popular accessory software and it seems to confirm the specs we have been touting for several weeks; the RTX 4070 has 5888 CUDA cores, with 12GB of GDDR6X on a 192-bit bus providing 504GB/s of bandwidth. Moreover, this result suggests the stock GPU clock is 1920MHz, boosting to 2535MHz, delivering a pixel fill rate of 162.2GPixel/s and Texture Fillrate of 466.4GTexel/s. Performance should be very similar to the previous gen RTX 3080 (ignoring DLSS 3).
The NVIDIA GeForce RTX 4070 is expected to
arrive very soon
(on Thursday, April 13) with MSRP pricing of
US$599
.