GeForce RTX 4070: Alleged Release Date And Everything We Know So Far
Unless the barrage of leaks and rumors are all wrong, NVIDIA is getting ready to unveil a new addition to its Ada Lovelace lineup—the GeForce RTX 4070. Not to be confused with the existing
GeForce RTX 4070 Ti we reviewed
in January, the non-Ti model is expected to feature fewer CUDA cores and lower GPU clocks at a lower asking price.
Before we get into all that, let's quickly recap the GeForce RTX 4070 Ti as a point of reference. Released on January 5, 2023, the Ti variant is based on NVIDIA's AD104-400 GPU with 7,680 CUDA cores, 60 streaming multiprocessors (SMs), 240 texture mapping units (TMUs), 80 render operation pipelines ( ROPs), and 60 ray tracing (RT) cores.
It also features 12GB of GDDR6X memory linked to a 192-bit memory bus, to achieve just over 504GB/s of memory bandwidth. And at stock settings, the reference design calls for a 2,310MHz base clock and 2,610MHz boost clock, resulting in 40.09 TFLOPs of graphics muscle. This all comes packaged in a 285W TDP.
There's no Founders Edition model for the GeForce RTX 4070 Ti, but there is a suggested base MSRP—$799. In our testing, the factory overclocked model from ASUS typically matched or exceeded the previous generation flagship
GeForce RTX 3090 Ti
. That's pretty impressive when you consider the 3090 Ti launched at an eye-watering $1,999.
GeForce RTX 4070 Release Date Leaks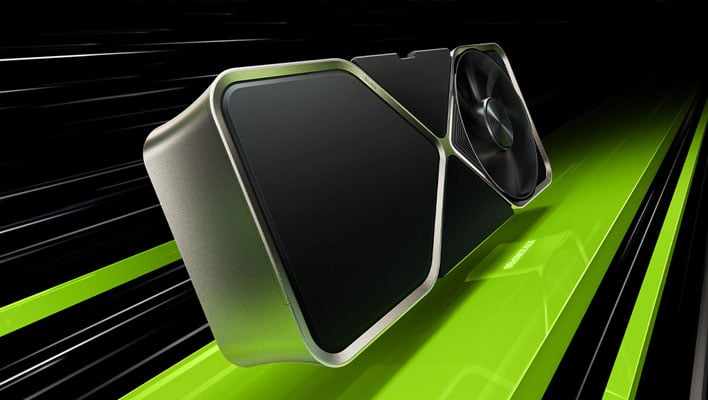 How will the
GeForce RTX 4070
compare? We'll find out very soon if the latest leaks are accurate. The folks at Videocardz posted an alleged embargo timeline with key dates in the near future. Interestingly, it looks like NVIDIA will split the review embargo into two dates, the first of which is listed as April 12 for cards priced at MSRP and the second one being April 13 for non-MSRP models.
The
leaked sheet
also shows that NVIDIA will formally introduce the GeForce RTX 4070 on April 12, with cards hitting store shelves the next day starting at 6:00 AM Pacific (9:00 AM Eastern).
There's no mention of pricing, but obviously it will be somewhere south of $799. Here's how the existing lineup shakes out...
GeForce RTX 4090 (16,384 CUDA cores, 24GB GDDR6X, 384-bit): $1,599 MSRP
GeForce RTX 4080 (9,728 CUDA cores, 16GB GDDR6X, 256-bit): $1,199 MSRP
GeForce RTX 4070 Ti (7,680 CUDA cores, 12GB GDDR6X, 192-bit): $799 MSRP
As you can see, NVIDIA has focused on the higher tiers first, as is often the case. But make no mistake, more affordable options are in the pipeline. Those also tend to sell the most units. One need only look at Steam's latest
hardware survey
for evidence of this—the top five GPUs in order are the GeForce GTX 1650, GeForce GTX 1060, GeForce RTX 3060 mobile (laptop), GeForce RTX 2060, and GeForce RTX 3060.
Possible Specs For The GeForce RTX 4070
Based on previous leaks, the GeForce RTX 4070 will launch with one of two Ada Lovelace GPUs, depending on the version. They include the AD104-250-A1 for the Founders Edition model and reference designs, and AD104-251-A1 strictly for reference models. It's not clear where there are two revisions for reference models, but it won't likely be anything users need to concern themselves over.
As for the specifications, past leaks have indicated it will arrive with 5,888 CUDA cores, which is 23.3 percent fewer than the Ti model, and base and boost clocks of 1,920MHz and 2,475MHz, respectively. This would give the card around 29 TFLOPs of graphics performance.
The memory configuration is tipped to be the same as the Ti model, with 12GB of GDDR6X shuttling data through a 192-bit bus width. As such it would have the same 504GB/s of memory bandwidth as the Ti model.
NVIDIA might also surprise us with
multiple memory configs
. We say this because Gigabyte highlighted half a dozen upcoming SKUs on its Aorus game registration site, a few of which pointed to 16GB of memory. There's also a model listed with 10GB of memory, and if that comes to fruition it would likely be mated to a 160-bit memory bus.
That's the only time we've seen a reference to multiple memory options though, and they could simply be placeholders and/or typos. We'll find out soon enough, it appears.