Rumored NVIDIA GeForce RTX 3070, RTX 3080 7nm Ampere GPU Specs Leak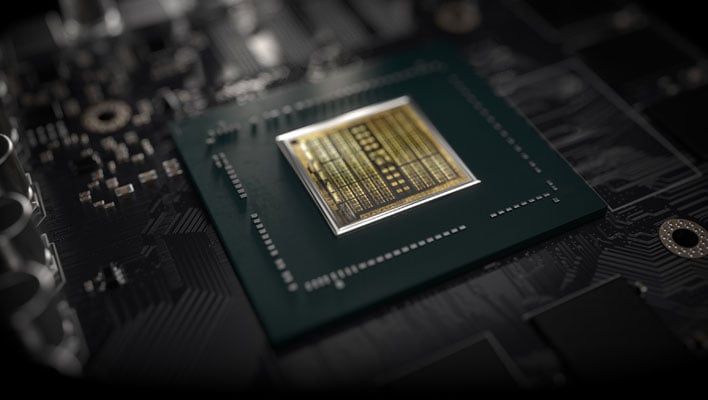 Like a submarine with a screen door, there does not appear to be a way of containing all of the leaks associated with
NVIDIA's
upcoming
Ampere GPU
as we march increasingly closer to a formal launch. The latest round of unsubstantiated claims suggest NVIDIA will launch two Ampere GPUs at the outset, including one that will power its GeForce RTX 3080 graphics card, and another for the GeForce RTX 3070.
We have been hearing about Ampere for a long time now. It is widely assumed Ampere will represent a shift in manufacturing to a 7-nanometer node, as
AMD
has done with its
Navi GPU architecture
. Generally speaking, denser nodes lend themselves to better power efficiency, with faster clockspeeds and improved performance often associated with die shrinks.
According to
MyDrivers
, the beefier of the two Ampere GPUs is GA103, which will consist of 60 streaming multiprocessors (SMs) and 3,840 CUDA cores. It will underpin the
GeForce RTX 3080
with 10GB or 20GB of GDDR6 memory and a 320-bit memory bus. There is no mention of the memory speed, though 16Gbps is certainly possible, if not likely. Assuming that's the case, we would be looking at 640GB of memory bandwidth.
The GeForce RTX 3070, meanwhile, is said to be powered by a GA104 GPU with 48 SMs, 3,072 CUDA cores, and 8GB or 16GB of GDDR6 memory pushing data through a 256-bit memory bus. If it ends up being 16Gbps memory as well, we would be looking at 512GB/s of memory bandwidth for that card.

A new presence on Twitter (KittyCorgi) echoed the specifications in a recent tweet, for whatever that might be worth. The user also posted some block diagrams. Here's a look...
According to KittyCorgi, Ampere will deliver the following...
Double the FP32 Unit for shader proportion
Now the performance of the new Tensor Core is doubled
Enhanced L1 Data Cache for more comprehensive functions
INT32 Unit remains unchanged because of issue port cannot be fully used anytime
Let's presume these leaks are accurate (and we don't know if they are, but they give us something to talk about). If so, there would be room to launch a higher-end Ampere card in the future, and specifically the GeForce RTX 3080 Ti. We would also anticipate Ampere finding its way into the data center and workstations, just as NVIDIA has done with its current-generation and some of its previous generation GPUs.
The exciting thing about Ampere is that it could potentially deliver a significant improvement in rasterized rendering performance, which would partially be the result of a move to 7nm, as well as bolster ray tracing performance in a big way. As it pertains to that, Yuanta Securities Investment Consulting Co. recently wrote in a note to investors that Ampere will bring about a
50 percent uplift in performance
at half the power, compared to Turing.
Everything is either a rumor, leak, or speculation right now, so we'll have to wait and see how things actually play out. That said, this is shaping up to be a very interesting year in graphics, with Ampere (NVIDIA),
Navi 20
(AMD), and
discrete GPUs from Intel
all on the horizon.