Intel DG1 Xe Discrete Graphics First Look: These Cards Are Shipping To ISVs
To close out Intel's CES 2020 press conference, Gregory Bryant, Executive Vice President and General Manager of Intel's Client Computing Group showed off an upcoming
Tiger Lake
-based mobile platform with discrete DG1 GPU running a game live on-screen. We were on-hand to capture video of the short demo and have it
posted for you here
.
The demonstration at the press conference used a discrete
DG1
, but not a standalone graphics card. That's an important distinction; although Intel didn't disclose the exact configuration of the Tiger Lake-based mobile platform used for the demo, it obviously wasn't packing a desktop-class graphics card. The discrete GPU was likely linked to the processor using Intel's EMIB technology,
similar to Kaby Lake-G
which featured a discrete AMD Radeon Vega-based GPU.
At a more intimate event, however, Intel did actually show off its first DG1-based graphics card. Here is the first look at Intel's Xe DG1 Software Development Vehicle that it is sampling to ISV partners now...
The graphics card you see pictured here is not likely representative of what will hit store shelves sometime later this year. It's a device Intel is seeding to developers so they can optimize their software, applications, and games to leverage the Xe graphics architecture.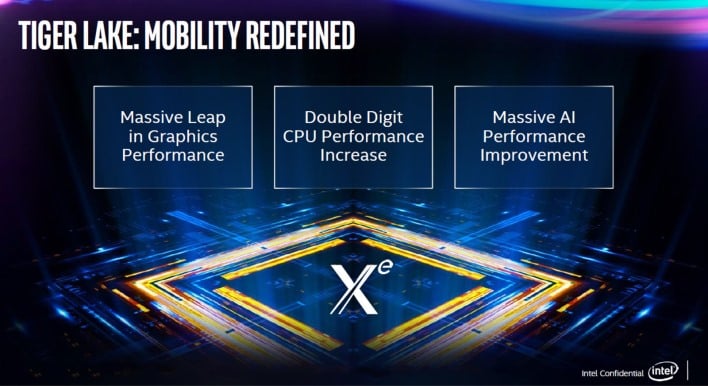 The GPU at the heart of the card is the Xe LP, or low power variant. Some versions of
Intel's Tiger Lake-based
mobile processors will feature Xe LP graphics. That same graphics engine is used in the DG1 discrete GPU. Although specific details haven't been revealed, the performance target for DG1 is roughly double that of the current Iris Plus Gen 11 graphics engine employed in
Ice Lake
. You can see how Iris Plus graphics performs today
in this article
, so roughly doubling Iris Plus' performance should make 1080p gaming a much better experience on thin and light notebooks late this year.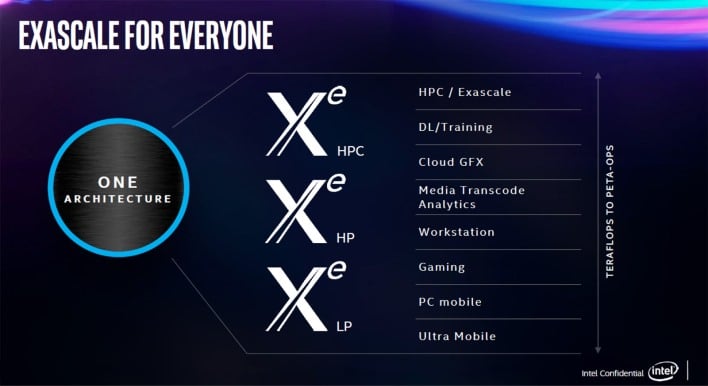 There are additional Xe GPUs coming down the pipeline, however. Intel has
already talked about Ponte Vecchio
, which will target data center and HPC workloads. Ponte Vecchio leverages Xe HPC, which will reside at the top of the stack. The Xe LP GPU used in Tiger Lake and the discrete DG1 Software Development Vehicle is the low-power, mainstream offering. There will also be an Xe HP GPU which targets workstations, content creation, and higher performance gaming segments.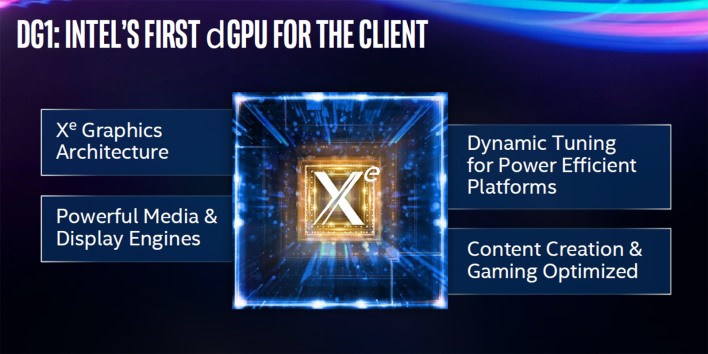 All Xe-based GPUs leverage the same graphics architecture, however, and feature more powerful media and display engines than current Intel graphics offerings. Intel also revealed that Xe-based GPUs will offer dynamic performance tuning, similar to
AMD's SmartShift technology
, revealed during its press conference at CES 2020. Dynamic CPU and GPU tuning in mobile platforms allows system to optimally leverage any available power and thermal headroom to maximize performance. And while existing platforms have similar technologies currently available, they typically require OS support and aren't software agnostic. Next-gen dynamic tuning is implemented at the firmware level and should provide for faster power state switching and finer-grained optimizations.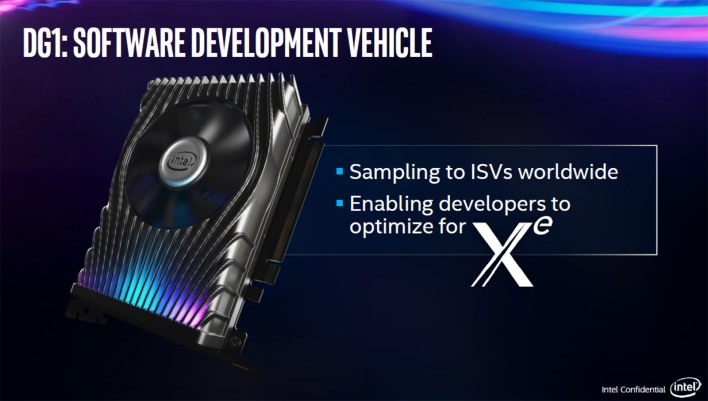 We don't have many other details to share at this point though. This particular DG1 Software Development Vehicle features a short PCB and dual-slot cooler, but since it's a low-power GPU it does not require any supplement power.
Intel
used the event to show off the card, which was powered up and running the game Warframe, and announce that its plan to enter the discrete GPU market are progressing forward and on-track for this year, as previously mentioned. The
DG1
Software Development Vehicle is shipping to ISVs now, so they can get familiar with the platform and tune their software accordingly.
Once the cards are out in the wild though, more news is likely to trickle out, so stay tuned.