NVIDIA 7nm Ampere GPU Unveil Tipped For GTC 2020, Here's What We Know
This is going to be a fun year in the graphics space. AMD is said to be working on a higher end version of its
Navi GPU
, which will offer hardware-level support for real-time ray tracing and maybe (mayyyybe) outperform NVIDIA's GeForce RTX 2080 Ti. Meanwhile,
NVIDIA
is readying its next generation Ampere GPU, perhaps for a
GTC 2020 debut
, and it has the potential to deliver monster performance.
We do not suggest marking your calendar in permanent ink, but you can at least bust out a No. 2 pencil and circle March 22-26. That is when NVIDIA's GPU Technology Conference runs, and there is sure to be an interesting announcement or two. The question is, will NVIDIA actually introduce its
Ampere
GPU during the event?
The folks at WCCFTech say they have been informed by a "new" source who has "proven to be right at least once in the past" that it's going to happen. This mystery source did not provide any other details, such as specs and what graphics card models could be on tap, only that Ampere will make a formal introduction in at GTC 2020. However, this is the not the first time a GTC 2020 unveiling has been rumored.

What We Know About NVIDIA's Next-Generation Ampere GPU
While the unnamed source may have been light on details, the internet at large has been a bit more forthcoming, though obviously none of the information that's out there at this point is official. That said, it is widely expected Ampere will be introduced as NVIDIA's first GPU to be built on a 7-nanometer manufacturing process.
NVIDIA's current generation Turing GPU leverages a 12nm node, and prior to that,
Pascal
was built on 16nm (
TSMC
) and 14nm (
Samsung
) nodes. A move to 7nm is a big deal because it will pave the way for faster clock speeds, better power efficiency and higher compute performance per square millimeter of die area. It would also take away one of the bragging rights that belongs to AMD at the moment—Navi is the only consumer GPU being manufactured on a 7nm node right now.
There is a chance NVIDIA sticks with 12nm for Ampere, especially since AMD has not been able to challenge the company's fastest offerings, and namely the
GeForce RTX 2080 Ti
. However, AMD has gone on record saying Navi will compete at the high-end, and a recent leak hints at the next version of
Navi outperforming the GeForce RTX 2080 Ti
by around 17 percent (though take that with several pinches of salt).
NVIDIA's Ampere GPU Could Deliver A Big Performance Uplift At Half The Power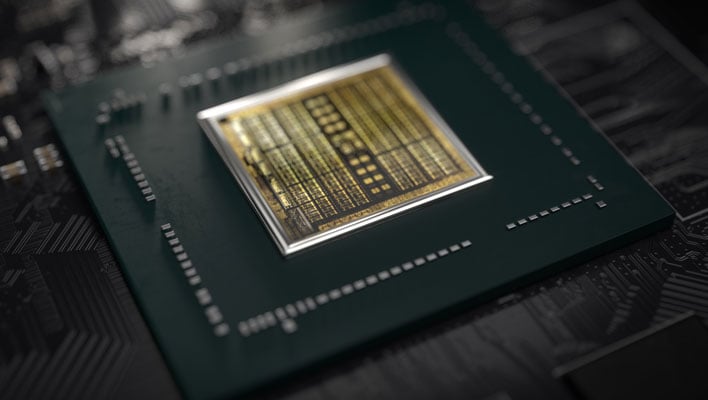 Bearing in mind that nothing has been confirmed, Yuanta Securities Investment Consulting Co. recently wrote in a note to investors that Ampere will offer a generous
50 percent performance uplift
over
Turing
, with a 50 percent reduction in power.
Those are bold claims, though not necessarily unrealistic if the move to 7nm takes place as expected. Moving to a smaller, denser node has several advantages, and we have already seen how it has benefited AMD in the CPU space with its latest-generation
Zen 2
processors.
What will be interesting to see is what kind of performance uplift Ampere brings to ray-traced workloads. In many cases, there is a pretty big performance penalty when enabling RTX on current generation cards. NVIDIA can attack this through both architectural improvements, and by brute force (jamming more RT cores into the equation).
As to when Ampere will make a retail debut, another rumor points to
NVIDIA launching GeForce RTX 3080 Ti
and GeForce RTX 3080 graphics cards at Computex in Taipei, which runs from June 2 to June 6. Then sometime after, NVIDIA would introduce more affordable options, including the GeForce RTX 3070 and GeForce RTX 3060.
Brace Yourself For A Potential Rise In Graphics Card Pricing This Year
While all this plays out, there is an interesting side story developing. Market research firm TrendForce, a division of DRAMeXchange, is expecting a
"sharp upturn" in graphics DRAM prices
in the first quarter of 2020.
"Graphics DRAM prices will see a corresponding sharp rebound. Graphics DRAM is more sensitive to demand change than other types of memory products, so its price fluctuations can be dramatic as well. With OEM clients raising their stock-up demand, Graphics DRAM contract prices are projected to increase by over 5 percent QoQ, the highest among all memory products," TrendForce analyst Arvil Wu says.
In addition, next-generation PlayStation 5 and Xbox Series X game consoles will launch towards the end of the year, and both of those will make the jump from GDDR5 to GDDR6 memory. In part of because of this, Wu says "demand is expected to exceed supply for graphics DRAM in 2020."
Market research firms have a tendency to take a 'sky is falling' approach when it comes predictions, so let's not hit the panic button. Here's hoping that even if graphics DRAM prices rise, increased competition from AMD will help offset some of the blow back on consumers when all these new GPUs arrive.