NVIDIA GeForce NOW Levels Up With A PC Game Pass Bundle Deal Ahead Of Black Friday
If you've been waiting for the right moment to dip your toes in cloud game streaming, now is the time. Why is that? NVIDIA is joining the Black Friday frenzy that has already begun by offering a pretty sweet PC gaming bundle offer—if you sign up for six months of NVIDIA's GeForce NOW Ultimate tier, you'll also receive three months of
PC Game Pass
for no extra charge. Plus there are some noteworthy updates to GeForce NOW as a whole.
GeForce NOW Ultimate is the flagship tier in NVIDIA's cloud game streaming service. It offers up the most benefits, including exclusive access to
GeForce RTX 4080-powered servers
, 8-hour gaming sessions, up to a 4K resolution, and up to 120 frames per second (
240 FPS with Reflex mode
in supported titles). It runs $19.99 per month or $99.99 for six months, the latter of which now comes bundled with three months of PC Game Pass, which is a $30 value.
Adding PC Game Pass to the mix means gaining immediate access to a library of over 300 games, including titles like Starfield, Forza Motorsport, Lies of P, Sea of Thieves 2023 Edition, Microsoft Flight Simulator Standard 40th Anniversary Edition, Dead by Daylight, and many more
It's a limited time offer, though NVIDIA hasn't said exactly how long it will be available. After the three free months expire, continuing a PC Game Pass subscription runs $9.99 per month.
Related, NVIDIA has begun rolling out an update to its GeForce NOW app that finally adds the ability to sync Xbox game libraries to the service.

"Members can now connect their Xbox accounts to GeForce NOW to sync the games they own to their GeForce NOW library. Game syncing lets members connect their digital game store accounts to GeForce NOW, so all of their supported games are part of their streaming library. Syncing an Xbox account will also add any supported titles a member has access to via PC Game Pass—perfect for members taking advantage of the latest Ultimate bundle," NVIDIA explains.
The promotion is part of Microsoft's
10-year agreement with NVIDIA
, which the software maker inked in an effort to satisfy regulators and complete its acquisition of Activision Blizzard.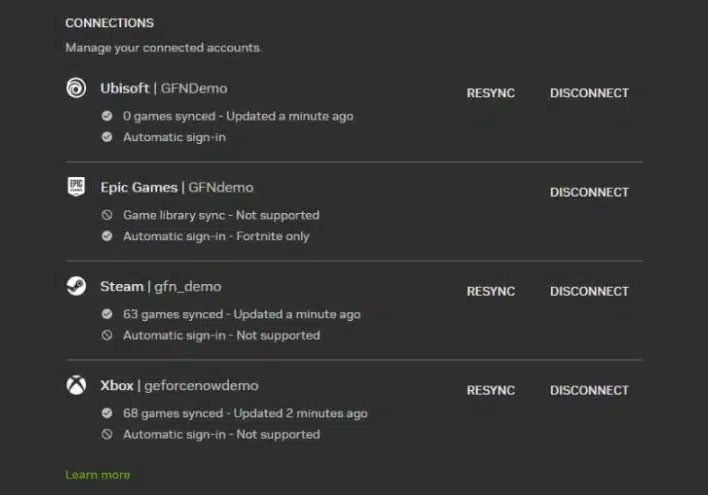 Additionally, NVIDIA says its update benefits Ubisoft+ subscribers with linked accounts, who can now launch Ubisoft+ games they own from the GeForce NOW app—launched games will be automatically added to the "My Library" section.
"Version 2.0.58 also includes an expansion of the new game session diagnostic tools to help members ensure they're streaming at optimal quality. It adds codec information to the in-stream statistics overlay and includes other miscellaneous bug fixes. The update should be available for all members soon," NVIDIA says.
Finally, NVIDIA added support for 18 more games. They include...
Spirittea (New release on Steam, Nov. 13)
KarmaZoo (New release on Steam, Nov. 14)
Naheulbeuk's Dungeon Master (New release on Steam, Nov. 15)
Warhammer Age of Sigmar: Realms of Ruin (New release on Steam, Nov. 17)
Arcana of Paradise —The Tower (Steam)
Blazing Sails: Pirate Battle Royale (Epic Games Store)
Disney Dreamlight Valley (Xbox, available on PC Game Pass)
Hello Neighbor 2 (Xbox, available on PC Game Pass)
Overcooked! 2 (Xbox, available on PC Game Pass)
RoboCop: Rogue City (New release on Epic Games Store)
Roboquest (Xbox, available on PC Game Pass)
Rune Factory 4 Special (Xbox and available on PC Game Pass)
Settlement Survival (Steam)
SOULVARS (Steam)
State of Decay: Year-One Survival Edition (Steam)
The Wonderful One: After School Hero (Steam)
Wolfenstein: The New Order (Xbox, available on PC Game Pass)
Wolfenstein: The Old Blood (Steam, Epic Games Store, Xbox and available on PC Game Pass)
Anyone interested in the limited time offer can head to the GeForce NOW
sign-up page
.