Microsoft's PC Game Pass Is Headed To GeForce NOW With A Caveat
Microsoft revealed it plans to expand the reach of its
Game Pass
catalog over to NVIDIA's GeForce NOW cloud gaming service. It represents a logical partnership, though the entirety of Microsoft's Game Pass catalog will not be available on GeForce NOW, just "select PC games." It's unclear at the moment exactly what will and will not be accessible.
The upshot is that certain PC titles will be easily available to play on platforms that, outside of a service like GeForce NOW, are ill-equipped for gaming.
"Today we shared that Game Pass members will soon be able to stream select PC games from the library through NVIDIA GeForce NOW. This will enable the PC Game Pass catalog to be played on any device that GeForce NOW streams to, like low spec PCs, Macs, Chromebooks, mobile devices, TVs, and more, and we'll be rolling this out in the months ahead," Joe Skrebels, Xbox Wire Editor-in-Chief, stated in a blog post.
GeForce NOW accomplishes this by offloading the bulk of heavy lifting required to run games to powerful cloud servers, or SuperPODs as NVIDIA calls them. There are multiple subscription tiers, including a free tier that is like tapping into a "basic rig" with standard access to gaming servers and single-hour session lengths.
A 'Priority' membership runs $9.99 per month (or $49.99 for six months) and upgrades users to a "premium rig" in the cloud, with priority access to servers, six-hour sessions, up to 1080p resolution gaming, up to 60 frames per second, and RTX capabilities.
Finally, there's an Ultimate membership for $19.99 per month ($99.99 for six months), which is like playing on a rig with a GeForce RTX 3080 (
we reviewed this tier
). Subscribers to the top tier get exclusive access to NVIDIA's fastest servers, eight-hour session lengths, up to 4K resolution gaming, and up to 120 frames per second.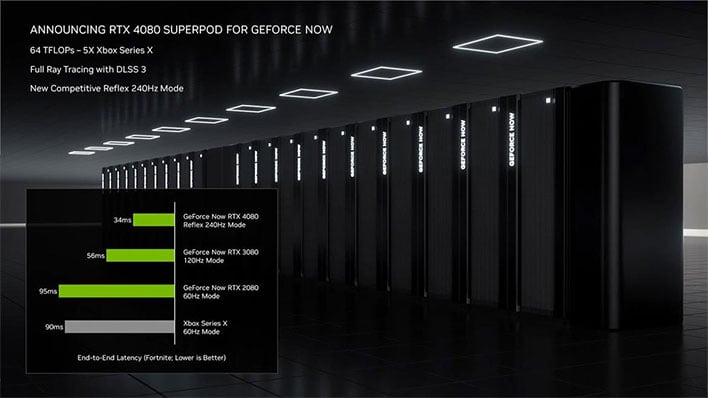 Additionally, NVIDIA announced earlier this year that it is upgrading its Ultimate tier to
GeForce RTX 4080 SuperPODs
that deliver 64 teraflops of graphics performance. These will be capable of rendering and streaming games at up to 240 frames per second, and will also have the ability to vary the streaming rate to client displays in Reflex-enabled games, a first for GeForce NOW.
"NVIDIA's Ada architecture is a big leap in graphics quality, and through GeForce NOW we're streaming an RTX 4080 experience to more devices and more gamers than ever," said Jeff Fisher, senior vice president of GeForce at NVIDIA. "GeForce NOW Ultimate members will have the technology and the performance to experience even the most demanding games in their full ray-traced glory."
The
Game Pass announcement
comes as Microsoft attempts to gain regulatory approval for its proposed $69 billion acquisition of Activision Blizzard. As part of that effort, Microsoft recently inked a
10-year gaming partnership
with NVIDIA, starting with the release of
Gears 5
on GeForce NOW.