NEO Semiconductor Unveils 3D X-DRAM With 8x The Density Of Rival DRAM Solutions
Neo Semiconductor has announced the world's first 3D stackable DRAM technology, called 3D X-DRAM, that could revolutionize the memory industry as we know it today. Neo estimates that its 3D X-DRAM tech can achieve 128Gb density which is 8 times greater compared to today's best solutions with
DDR5
technology.
3D stacking of silicon has been around for a few years. You've probably seen it in AMD's
latest Ryzen
CPUs with
3D V-Cache
technology, however, this is the first time 3D stacking tech has been brought to computer system memory (i.e. DDR4 & DDR5). Compared to current 2D solutions, 3D-XDRAM allows DRAM modules to be vertically (3D) stacked on top of each other to enhance density and overall memory capacity. Neo's new 3D X-DRAM technology uses a 3D NAND-like DRAM cell array structure. It is reportedly cheap to make and easy to produce, yet features substantially greater memory capacity compared to today's DRAM designs.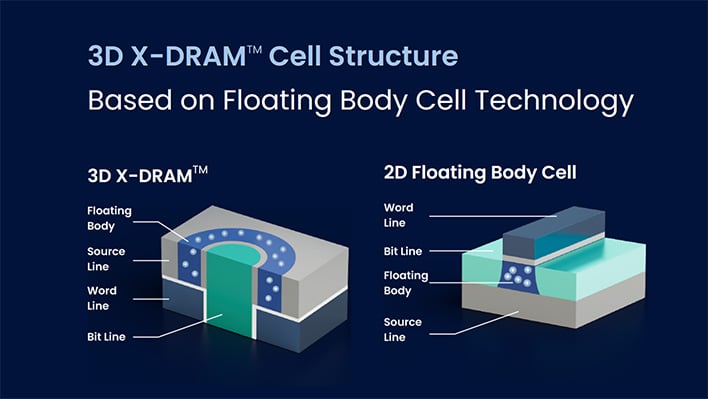 We don't know how fast or how big DRAM modules with 3D X-DRAM will be exactly, but the technology has huge implications for the entire computing industry, particularly inside the high-end server market where large chunks of memory (in excess of 1TB) are needed to run complex workloads, like simulation and machine learning. Based on Neo's analysis, we could have individual memory DIMMs with 4TB to 8TB of capacity in the future with 3D X-DRAM, which is an astonishing capacity considering most servers max out at 8TB currently using a full bank of DIMMs.
Neo says the entire semiconductor industry is moving to 3D stacked technology for system memory due to its impressive functionality. 3D stacking will reportedly allow the industry to bypass decades of cost and yield delays surrounding DRAM density, as well as inevitable manufacturing disruptions.
Neo expects
3D X-DRAM development to skyrocket over the next 15 years, with densities increasing linearly from 128Gb all the way to 1Tb from 2024 to the mid-2030s.