MSI's Popular Afterburner GPU Overclocking Tool Might Not Be Dead After All
If you're reading this website, you're probably familiar with
MSI Afterburner
, at least by name. It's one of the most popular
GPU tweaking
and tuning programs, so much so that hackers are willing to
spoof the MSI website
to fool unsuspecting gamers. However, its future is in limbo following the revelation that the Russian developer hasn't been paid by MSI in nearly a year.

Controversy arose last week when the author of MSI's application, one Mr. Alexey "Unwinder" Nicolaychuk, posted on the venerable
Guru3D
forums that the project is "probably dead" due to being "semi-abandoned" by MSI. It was known for a long time that Afterburner has largely been a hands-off project for MSI, but it seems that due to the
ongoing conflict
in Ukraine, MSI hasn't been paying Unwinder for his work for some 11 months.
The specific issue is apparently that the payment method that MSI and Unwinder were using, known as SWIFT, pulled out of Unwinder's native Russia due to the conflict. Unwinder says that the issue is "not MSI's fault at all" and that the Taiwanese tech firm would "love to keep the project alive."

The software author understandably remarks that he feels "demotivated" by the situation, and that work on the popular application has all but stopped. It's hard to blame the fellow for being unwilling to work for free, and he deserves all credit for continuing to work even after communication with MSI stopped.
So that's it, then? MSI Afterburner is dead, a casualty of the Ukraine war? Well, hope may not be completely lost. Hassan Mujtaba of
WCCFTech
went to MSI about the problem and got a statement, which you can see reproduced below: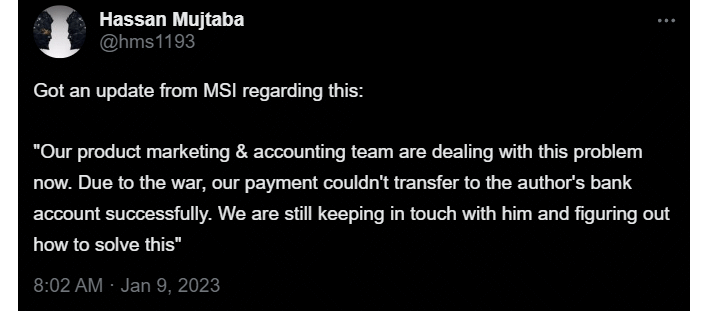 This statement would seem to contradict Unwinder's remarks, but it's possible that pressure from the community and tech press has forced MSI's hand on the matter. Surely any company would prefer to have its employees work for free, but we would hope that responsible businesses would take every step to ensure their employees are compensated. However, there's been no public statement from Unwinder or MSI on whether development will resume.

By the way, whatever happens, this doesn't mean the death of Rivatuner. Rivatuner Statistics Server, known as RTSS for short, is a hobby project of Unwinder's that dates back far further than the creation of MSI Afterburner. He specifically remarks in
the Guru3D forum thread
that the death of Afterburner won't mean the end of RTSS, so while folks may or may not need to find a new tuning utility, the overlay will remain the same.