Modder Upgrades A GeForce RTX 2080 Ti 11GB To 44GB Of VRAM But There's A Caveat
A modder has managed to boost a
GeForce RTX 2080 Ti
graphics card from 11GB to an expansive 44GB of GDDR6. This impressive feat was achieved thanks to the five-year-old flagship graphics card sharing a common PCB with the Titan RTX pro visualization card, which has 24 VRAM module pads. Sadly, this GPU modification project has some issues which mean that it works in some applications but not others (notably 3D benchmarks and games).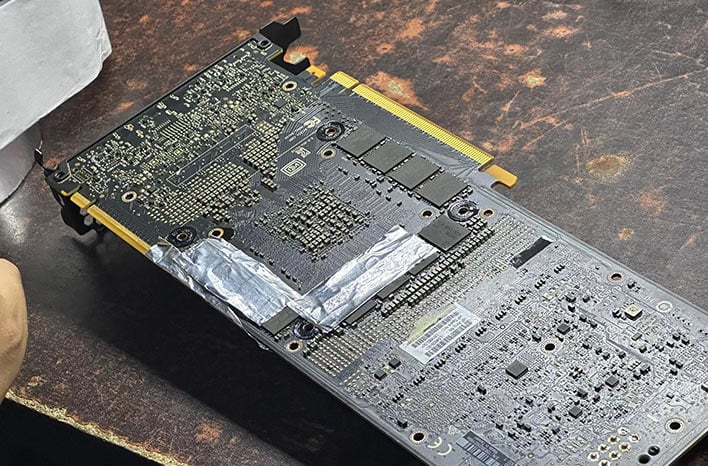 NVIDIA's GeForce RTX 2080 Ti was the Turing flagship GPU and an object of desire for many PC enthusiasts and gamers. We reviewed it upon these pages back in 2018, and at the time its performance and 11GB of GDDR6
impressed
. In 2023, with modern AAA games regularly stuttering on the latest architecture 8GB graphics cards, RTX 2080 Ti owners will probably be looking for something with more
VRAM breathing room
, not to mention support for the newest features and efficiency gains.
Graphics card VRAM modding appears to be an established trend in 2023, so perhaps
Twitter's @wxnod
set off thinking this project could be a big success. It was indeed 'big' in boosting the effective VRAM, but we think it needs some more work to inspire others to follow.
The source didn't publish a video of the procedure, but we know he removed the RTX 2080 Ti's 1GB memory modules, replacing them with new 2GB modules from Samsung. This procedure was continued on the other side of the card's PCB (12 pads either side). The result was that after the solder had cooled, the modded GeForce RTX 2080 Ti had 48GB of VRAM on board. However, due to the PCB design and 352-bit memory interface only 22 of the 24 memory modules were accessible, resulting in 44GB of GDDR6 observable from PC system info and analysis tools.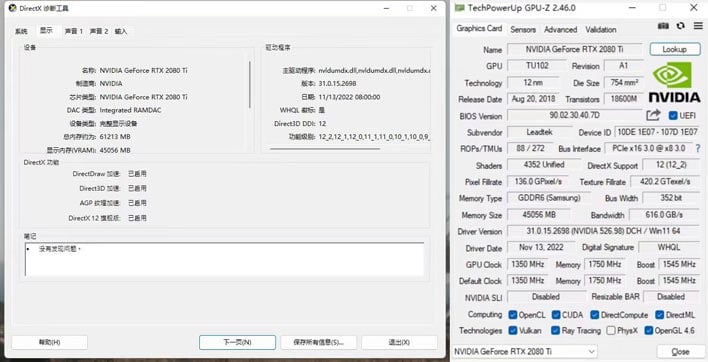 The modder currently has to settle for this project being partly successful, or continue to work (or find a collaborator) to add some essential finishing touches. The project seems close, but it probably needs some double-checking on the hardware side of things, as well as some custom vBIOS or driver work to be completed.
At Computex we reported on a commercial VRAM boosted product: the
GXore GeForce RTX 3070 16GB
. Another interesting previous project was the successful conversion of an NVIDIA
GeForce RTX 3060 8GB
into a
model with 12GB of VRAM
(review).