Microsoft Surface Laptop Studio 2 Is Coming With RTX Graphics And A Dedicated AI Chip
Microsoft announced its new Surface Laptop Studio 2 with RTX graphics and a dedicated AI chip yesterday. The tech giant also revealed its latest Surface Laptop Go 3 and Surface Go 4.
Microsoft Surface Laptop Studio 2
The Surface Laptop
Studio 2
is touted as being the most potent and versatile Surface Laptop yet. Microsoft says it is the perfect tool for engineers working on mechanical designs, designers editing images while utilizing the Surface Slim Pen 2, or developers building an app.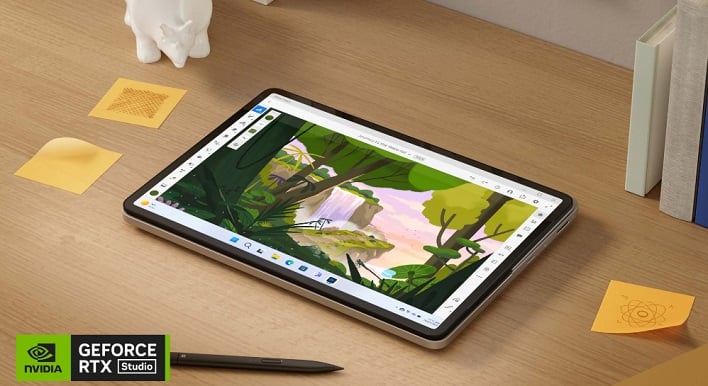 The Studio 2 delivers twice the power as the original, incorporating the latest 13th Gen Intel Core processors and NVIDIA GPU options that will accelerate a professional's workflow. Users will be able to take advantage of smart, predictive text suggestions in Microsoft 365 by
utilizing AI
built into the taskbar and camera.
The device can be customized to come with a range of GPU options, including an RTX 4050, RTX 4060, and even an RTX 2000 ADA Generation Laptop GPU. Other options offered with the Surface Laptop Studio 2 include up to 64GB of RAM and 2TB SSD.
The display is a 10-point multi-touch touchscreen 14.4-inch PixelSense Flow display with a resolution of 2400 x 1600 (200PPI). It offers a refresh rate of up to 120Hz and has a contrast ratio of 1500:1.
Microsoft's Surface Laptop Studio 2 has a starting
price of $1,999.99
.
Microsoft Surface Laptop Go 3
For those who don't need all the power and versatility that the Studio 2 offers, Microsoft also revealed its latest Surface Laptop Go 3. This
laptop
is designed to be ultraportable, so owners can tote it around for work and play easily.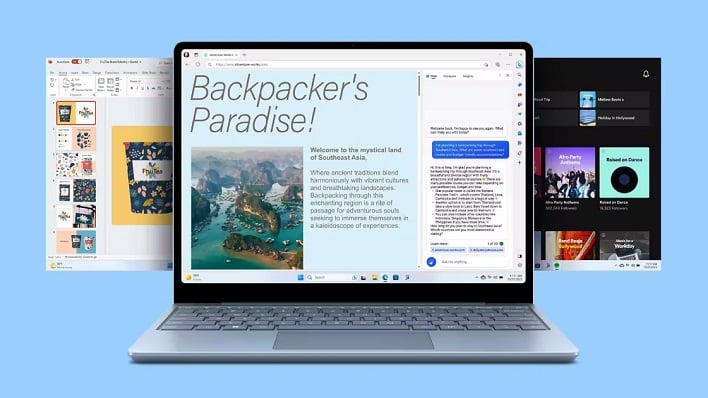 It may not pack the punch of the Studio 2, but the Go 3 is no slouch. It has an Intel Core i5 processor, up to 16GB of RAM and 256GB of storage. Users should be able to get up to 15 hours on a single charge, and with Fast Charging, they will be able to spend less time plugged in and more time getting work done.
The Go 3 can also guard against cyber threats with its industry-leading security measures, like the Fingerprint Power Button and TPM 2.0 on Windows 11.
The Go 3 has a vibrant 12.4-inch PixelSense display that will make watching videos or playing games a delight. It also comes in 4 different color options: Ice Blue, Sage, Sandstone, and Platinum.
The Surface Laptop Go 3 is available to order now with a starting
price of $799.99
Microsoft Surface Go 4
The Microsoft Surface Go 4 for business is designed to supercharge your productivity with an intuitive touch and pen experience in
Windows 11
and Microsoft 365, according to the company. Its design makes it easy to handle and carry around and durable enough for those on the frontline.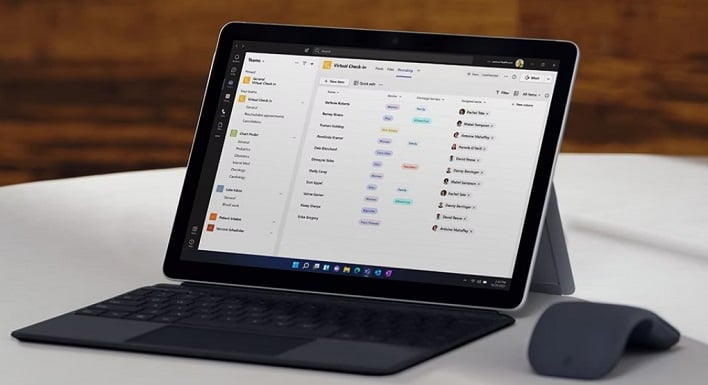 Microsoft says the Go 4 is up to 80 percent faster than its predecessor and can be used for up to 12.5 hours on a single charge. According to Microsoft, the device is also designed for replacing multiple components, like the motherboard and battery, through a network of Authorized Service Providers or on-site through a skilled technician.
Adding to the compatibility for frontline workers is the ability to take and place calls with its 2W stereo speakers and far-field Studio Mics. Microsoft's Go 4 is also compatible with LTE Advanced for secure connectivity. The Go 4 is perfect for those in healthcare, field operations, retail, and call centers.
The Microsoft Surface Go 4 has a starting price of
only $579.99
.