Microsoft Unveils Edge Web Browser Video Super Resolution On NVIDIA And AMD GPUs
Microsoft is preparing a new AI-powered upscaling technology for distribution as part of its
Edge browser
experience, dubbed Video Super Resolution (VSR). The technology behind VSR sounds a lot like NVIDIA's recently enabled
RTX Video Super Resolution
, or RTX VSR. However, Microsoft's implementation has a great advantage in that it works on both NVIDIA and AMD GPUs.
Microsoft's pitch for its VSR implementation is as you might expect; the technology is claimed to make watching lower-res videos more enjoyable with cleaner details, and more legible text. There are two main reasons you might be watching a poor or lower-quality video, perhaps there is only a low resolution source available, or you have a slow or intermittent internet connection and have chosen a lower resoluiton / frame rate streaming option. Microsoft asserts that its AI technology can "enhance the quality of any video," played in Edge, but there are some hardware, software, and source provisos.
Looking at hardware requirements first, to accelerate the on-device AI processing acceptably, Microsoft specifies the following minimum GPU hardware requirements: NVIDIA GeForce RTX 20/30/40 series, or AMD Radeon
RX 5700
– RX 7800 series GPUs (perhaps Microsoft means the
RX 7900 series
). Notably, NVIDIA RTX VSR is limited to RTX 30 or better GPUs. Microsoft also says you must connect your suitably GPU endowed device to an AC outlet for its AI to work, presumably becuase it'll require the GPU to consume considerable power, thus reducing battery life in a laptop.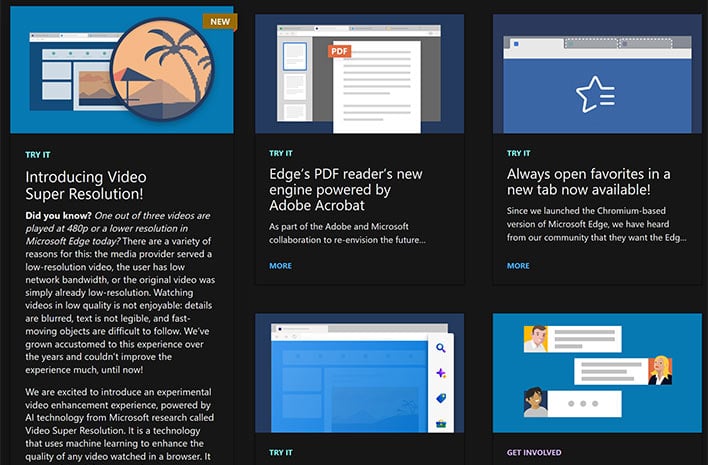 As for software, yes, you need to watch the streaming video in Edge. Specifically, "the feature is currently available in the Canary channel for 50% of users." On a hybrid graphics device, with
an iGPU
and more powerful discrete GPU, you must make sure Edge runs on the qualifying discrete GPU hardware in the graphics control panel. When the feature is available to use in the content you are viewing, you will see an 'HD' icon in the address bar. Microsoft says that you can manually enable its VSR by inputting edge://flags/#edge-video-super-resolution in the browser address bar.
Microsoft Edge VSR will also only work on videos that fit the following criteria; the video is lower res than 720p, the video is higher res than 192p, and that the video isn't protected by DRM.

With the Edge VSR feature
now in testing
, though labelled 'experimental', it hopefully won't be long until it goes mainstream. Then, those that don't want to tinker with pre-release versions of Edge can enjoy some classic SD source videos, and/or low-bandwidth streaming, with added Microsoft AI polish.