NVIDIA's Atomic Heart Game Ready Driver Also Launches RTX Video Super Resolution
This has been a pretty big year for game releases already and we're just now entering March. Besides
Hogwarts Legacy
, the long-anticipated
Atomic Heart
finally arrived, and we've also seen the release of
Company of Heroes 3
,
Forspoken, Dead Space,
and more. With a pile of game releases naturally comes a spate of driver releases, and NVIDIA's got one out that's Game Ready for
Atomic Heart
as well as the upcoming beta test for
The Finals
.
Atomic Heart
(pictured above) is the first game from Cyprus-based studio Mundfish. First shown back in 2018 with
the original release
of the GeForce RTX nameplate and Turing-based RTX 2000 GPUs, the game
has been a showpiece
for RTX ever since. Ironic, then, that the final release doesn't actually include ray-traced graphics in any way. It does, however, support NVIDIA Reflex and DLSS, including
DLSS 3 Frame Generation
. The game is heavily inspired by
Bioshock
and is set in an alternate history where the Soviet Union won the Cold War. It's a delightfully weird game, and your author recommends it.
Meanwhile, what is "
The Finals
," Zak? Why, it's a new competitive shooter from the
original creators of Battlefield
. In what's been shown so far, it has a heavy visual influence from the game
Mirror's Edge
, and it appears to make heavy use of destructible environments. NVIDIA's promoting the game because, along with Reflex and DLSS,
The Finals
also makes use of
RTXGI ray-traced global illumination
to provide dynamically-adaptive lighting that can change along with the environmental destruction. There's a two-week closed beta happening from March 7th, so head to the
game's Steam store page
to sign up for that.
Aside from game-specific support for those two titles, this new driver also includes GeForce Experience optimized settings for Hogwarts Legacy, Perish, The Settlers: New Allies, and Warlander. Bug fixes include crashing in Forza Horizon 4 and COD:MW2, issues with ProRes RAW file processing in Adobe products, and support for Resizable BAR in the Dead Space remake.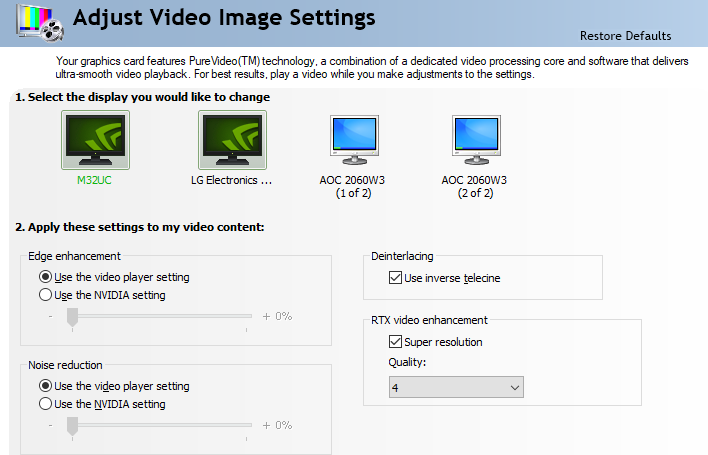 Despite that top area, these settings actually apply to all monitors.

Of course, the most interesting part of the new driver is definitely support for
RTX Video Super Resolution
, or RTX VSR—not to be confused with AMD's Virtual Super Resolution. This is exactly what it sounds like: AI-powered upscaling for videos, not just games. In a sense, it's sort of like DLSS Super Resolution (formerly known as DLSS 2X), just for video instead of 3D renders.
To use RTX Video Super Resolution, you'll need a
GeForce RTX 30
or
40 series GPU
, this driver, and the latest version of Microsoft Edge or Google Chrome. Once you satisfy those requirements, head to the GeForce control panel as seen above, and tick the little box that says "Super resolution" under "RTX video enhancement." You can pick a quality preset, where 1 is the lowest and 4 is the highest. This adjusts how much GPU power the driver should allocate on upscaling the videos.
Using the highest quality setting on a
GeForce RTX 4080
, your author found that RTX Video Super Resolution upscaling from 1080p to UHD 4K put about 40% load on the GPU—and that's compute load, not video decode load. So saying, this isn't for the energy-conscious, and probably shouldn't be used while you're playing games unless you've got tons of GPU horsepower to spare.
However, the results are pretty nice. In fast-moving content the difference is very hard to see, but in content with a lot of static images it makes a pretty obvious difference. Lines are clearer and sharper, and there's less "fuzz" to the overall video presentation. It's not going to fool anyone into thinking your video is a native 4K presentation, but it's more pleasant than looking at a blurry bilinear-filtered upscale.
Folks using GeForce Experience will probably already have the driver ready to download and install, but if you're old-school, you can hit up
NVIDIA's download site
to grab the software.