Micron Unveils UFS 4.0 Mobile Storage Using 232-Layer NAND For Huge Bandwidth Gains
Micron has announced that it is sending samples of its latest Universal Flash Storage (UFS) 4.0 ICs to smart device makers. Devices using these new NAND chips will benefit from double speed transfers compared to the previous gen
UFS 3.1 solutions
. The headlining figure given by Micron is that transfers of up to 4,300Mbps can be achieved. Additionally, UFS 4.0 is more power efficient and offers lower latency than previous gen UFS storage revisions.
The new UFS 4.0 storage solution from Micron utilizes the latest 3D NAND from the firm, just like its PC SSDs. That means Micron UFS 4.0 ICs employ the company's innovative
232-layer
triple-level cell (TLC) six-plane NAND. This industry first means that the resulting UFS 4.0 storage solution can deliver "more responsiveness, faster application loading times and a better overall user experience," according to Micron. Other aspects which differentiate Micron's UFS 4.0 solution are the use of its own controller and firmware.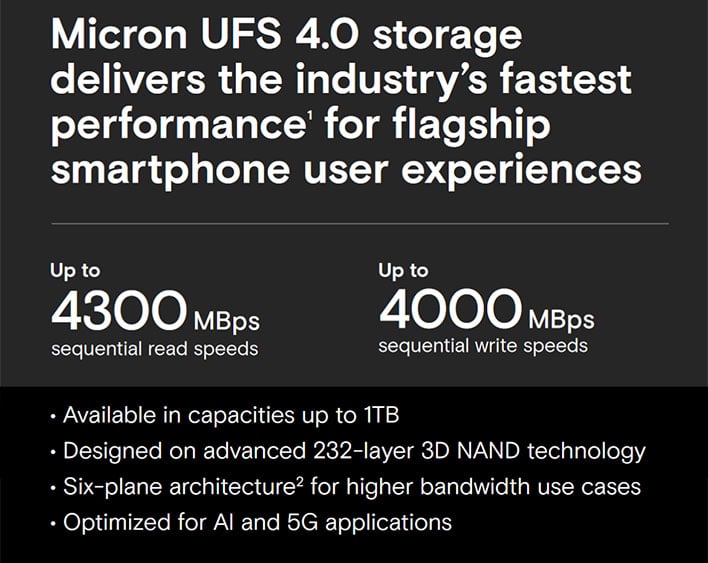 Focusing more closely on the performance aspects of Micron's new UFS 4.0 chips, consider the statistics comparison below:
Micron UFS 4.0: 232-layer NAND, reads up to 4,300 MB/s, write up to 4,000 MB/s.
Micron UFS 3.1: 176-layer NAND, reads/write speeds up to 1,890 MB/s.
Faster transfers help your device to boot up more quickly (20% faster, says Micron) and launch apps faster (up to 15% faster, says Micron). Moreover, there is a touted 10% write latency improvement compared to other UFS 4.0 ICs, according to the memory and storage giant.
In addition to raw performance, Micron wishes to emphasize other important
benefits
of its latest mobile storage solution. UFS 4.0 is "25% more power-efficient," it says – an important improvement for mobile device users who spend most of their device time running on battery.
Micron is shipping UFS 4.0 samples in 256GB, 512GB and 1TB packages for device makers.
It says
mass production is scheduled for H2 this year, so hopefully we will start to see devices packing this storage from Q4 2023 or early 2024. We look forward to testing smartphones and tablets using UFS 4.0 to see if they live up to the promise.
Samsung's UFS 4.0 solution
was announced back in May. The South Korean firm's ICs use 7th generation V-NAND flash memory paired with a proprietary controller to facilitate up to 4,200MB/s of sequential read performance and up to 2,800MB/s of sequential write performance. However, its power efficiency upgrade claims were 'better' than Micron's, with its latest UFS 4.0 touted to be 46% more power efficient than the previous gen.