Logitech Teams With iFixIt On Self-Repair Program For These 11 Mouse Models
Logitech is teaming up with the gadget repair surgeons at iFixIt to make it easier for consumers to extend the life of their peripherals. The two companies hope to achieve this by offering spare parts and support for repairs that extend beyond the relevant warranty period, and by working together to develop repair guides (similar to what iFixIt has been doing with
Samsung
,
Nokia
, and others). There is a caveat, though.
This newly formed partnership only applies to two product lines, at least initially:
Logitech MX Master
and MX Anywhere mouse models. It's possible (and probably even likely) that Logitech and iFixIt will extend the program to more devices, though time will tell.
As it stands, the actual number of collective models within those two product families numbers nearly a dozen devices. They include the Anywhere Mouse MX,
MX Anywhere 2
, MX Anywhere 2S, MX Anywhere 3 for Mac, MX Anywhere 3, MX Master, MX Master 2S, MX Master 3, MX Master 3 for Business, MX Master 3 for Mac, and MX Master 3S.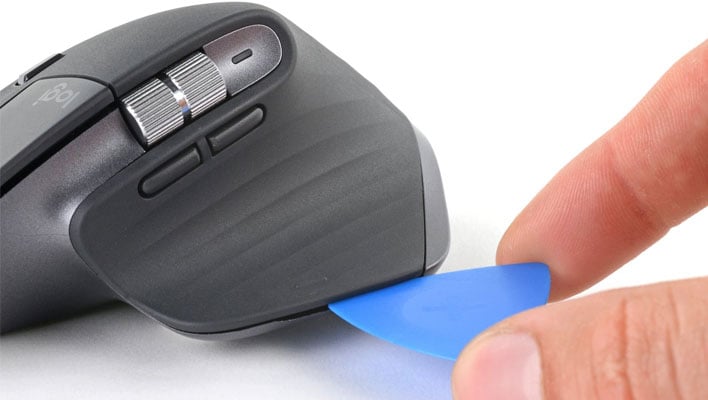 "Consumers often struggle to find avenues to repair and extend the life of their product," said Prakash Arunkundrum, chief operating officer at Logitech. "More can be done by brands and by broader value chains who wish to play an active role in the shift to a more circular economy. I am excited that we are able to collaborate with iFixit to develop better designs and make it easier for consumers to have a self-repair option to extend the life of our products."
Elizabeth Chamberlain, director of sustainability at iFixIt, echoed Arunkundrum's sentiment saying it's important for companies to both design products with self-repair in mind, and make spare parts available.
"To give a healthy planet to the next generation, we need to keep our things working for as long as possible, reduce our demand for raw materials, and cut down the amount of e-waste we're generating. It's wonderful to see Logitech working towards those goals, and we're beyond happy to do what we can to help," Chamerlain added.
What this collaboration will entail is a specialized Logitech repair hub on iFixIt's website. It's basically a one-stop destination to find genuine replacement parts, including batteries, either in standalone form or as part of a repair kit that includes the necessary tools. It's also home to detailed guides.
The
Logitech repair hub
is already live and partially fleshed out with guides. Genuine repair parts will be made available sometime this summer.
Images courtesy of iFixIt