Lenovo ThinkPad X1 Fold Hands-On: The World's First Foldable 5G Windows PC
Back in mid-May 2019, Lenovo gave us our first glimpse at the
ThinkPad X1 Fold
, which was billed at the time as the world's first PC with a foldable display. At the time, the company provided a high-level overview of its specs including its 13.3-inch OLED display, unnamed (at the time) Intel processor, and Wacom pen support.
Today, Lenovo is giving us a lot more details on the 2.2-pound ThinkPad X1 Fold, including the revelation that it will feature Intel Core Processors with Intel Hybrid Technology. That leads us to believe that the folding wunderkind will be powered by Intel 10nm Lakefied SoCs, which will also underpin Microsoft's Surface Neo dual display foldable Windows 10 PC that will arrive later this year.
The Intel SoC will be paired with 8GB of LPDDR4x memory, and there is apparently no provision to add more memory at the time of purchase or post-sale. However, up to a 1TB PCIe NVMe SSD can be installed. Lenovo has outfitted the ThinkPad X1 Fold with a 50 WHr battery, which it says is good for up to 11 hours of runtime.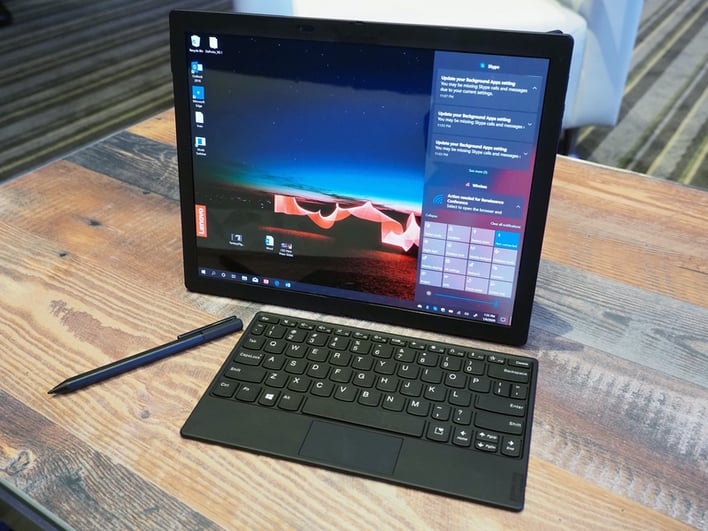 As for that folding display, it features a 4:3 aspect ratio with a resolution of 2048x1536, and offers brightness of 300 nits. Lenovo says that the display features a robust design with metal frames, a support layer, and strong carbon fiber plates. This is all supported by a four-link hinge that delivers a "friction-free" experience when opening and closing the display.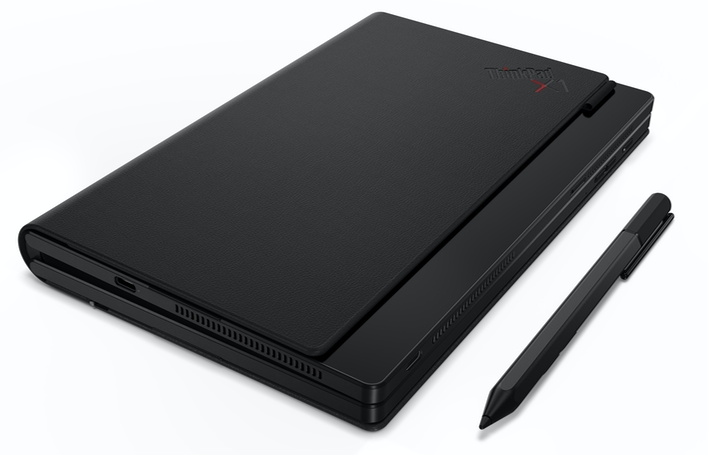 When it comes to connectivity, you won't find Thunderbolt 3, but there is a one USB-C (Gen 1) and one USB-C (Gen 2) port along with a DisplayPort connection (USB-C) and a slot for a SIM card. Thankfully, the ThinkPad X1 Fold is also 5G-capable along with requisite support for Wi-Fi 6 and Bluetooth 5.0. We'd imagine that the 5G support is provided by a Qualcomm Snapdragon X55 modem.
The ThinkPad X1 Fold will come bundled with a new Active Pen and a Mini Fold Keyboard, which connects via Bluetooth to the machine. The keyboard can also wirelessly charge from the ThinkPad X1 Fold.
Lenovo says that the ThinkPad X1 Fold will ship in mid-2020 with a starting price of $2,499.