Intel Granite Rapids Xeon 9000 CPU Socket Dwarfs Sapphire Rapids In Eye-Popping Comparison
Leaked images of a purported
Intel Granite Rapids
Xeon 9000 CPU socket have been put under close scrutiny. It is estimated that the socket is a massive 1.7X larger than the current gen
Intel Sapphire Rapids
Xeon 8000 CPU socket, but this is understandable given that the new socket has 61% more pins.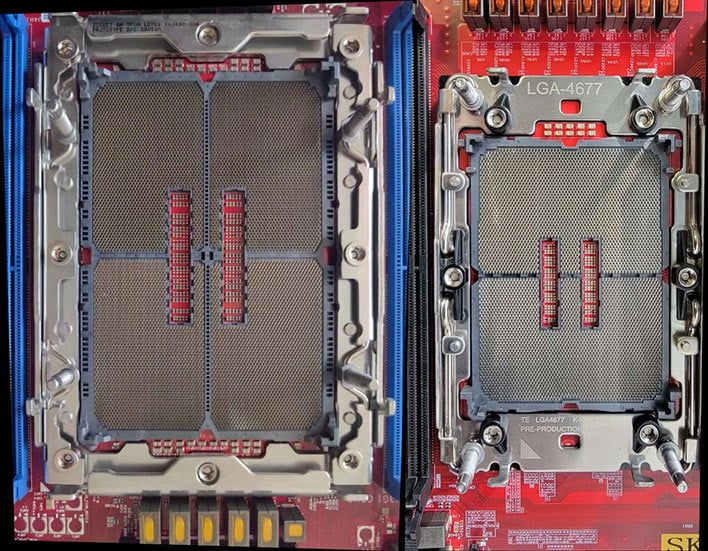 Earlier this week, an image of the upcoming Intel Granite Rapids Xeon 9000 CPU socket was leaked by
Yuuki Ans
. A trio of highly detailed images showed the socket with its cover on and off, as well as a view from the backplate. Twitterer
SkyJuice
of Angstronomics has since processed the photos, and made some measurements and calculations which gives us a good idea of the colossal scale of this upcoming LGA 7529 socket. The new socket is estimated to measure 105 x 70.5mm. Again, to emphasize the intergenerational size inflation going on, this is 1.7X larger than the LGA 4677 socket used by current gen Sapphire Rapids server processors.
If you are finding it hard to envision an area with dimensions of 105 x 70.5mm, check out the bullet points of 'familiar objects' below to see where the Granite Rapids CPUs would fit in:
An Intel Alder Lake or Raptor Lake CPU measures 45 x 37.5mm,
A typical business card and credit card measures 85 x 55mm,
A deck of playing cards is 88.9 x 63.5mm,
AMD's Socket SP5 for latest gen Epyc Zen 4 Genoa CPUs measures 75.4 x 72mm,
Intel's Granite Rapids Xeon 9000 CPU socket measures 105 x 70.5mm,
An Apple iPhone 13 Mini measures 131.5 x 64.2mm (and 7.65mm thick),
An Intel NUC 12 Pro is about 117 x 112mm (and 54mm tall for the 'Slim' model).


So, why is the Intel Granite Rapids Xeon 9000 CPU socket, so large and so much bigger than the current gen Xeon processor / socket? Firstly, we have already mentioned the significantly increased pin count the newer processors require. This pin count and size inflation will be a knock-on effect of Intel's plans for CPUs going into this socket. Granite Rapids chips are expected to feature up to 128 cores, which is twice as many as Sapphire Rapids and Emerald Rapids will wield on LGA 4677. Moreover, Intel has plans to use the new LGA 7529 socket with Sierra Forest Xeons which may feature up to 334 cores. Extra cores and added complexity / demand in things like PCIe, memory channels, and power delivery will make use of the extra pins.
Intel's Granite Rapids and Sierra Forest Xeons aren't due until 2024.