Intel Earnings Bring Surprise Return To Profit Ahead Of Foundry Services And AI Boom
Three months ago, Intel CEO Pat Gelsinger was upbeat about the company's IDM 2.0 strategy and what he said was a $1 trillion market opportunity for Intel Foundry Service (IFS) to grow into, even as overall
earnings plummeted
to an all-time low. Now we know why he was so optimistic. After two consecutive
quarters of losses
, Intel just posted an unexpected profit, helped in small part by a massive surge in its IFS revenue.
The numbers paint an interesting and almost nonsensical picture. Intel's revenue for the second quarter of 2023 fell 15% year-over-over to $12.9 billion. Likewise, every individual category other than IFS posted losses for the quarter, with Network and Edge (NEX) seeing the biggest decline at 38% (to $1.4 billion). Going in order from there, Data Center and AI (DCAI) revenue fell 15 percent to $4 billion, Client Computing Group (CCG) slid 12% to $6.8 billion, and Mobileye inched backwards 1% to $454 billion.
IFS, however, posted a huge 307% gain, but it was also Intel's smallest earner at $232 million for the quarter. But instead of all this adding up to a bloodbath, Intel returned to profitability with net income coming out to $1.5 billion, compared to a $500 million loss in the same quarter a year ago and a $2.8 billion loss in the previous quarter.
"Our Q2 results exceeded the high end of our guidance as we continue to execute on our strategic priorities, including building momentum with our foundry business and delivering on our product and process roadmaps," Gelsinger said in a statement. "We are also well-positioned to capitalize on the significant growth across the AI continuum by championing an open ecosystem and silicon solutions that optimize performance, cost and security to democratize AI from cloud to enterprise, edge and client."
AI is emerging as a red-hot category and during an earnings call, Gelsinger made no bones about Intel's plans to "build AI into every product," including client, edge, enterprise, retail and manufacturing, and industrial. It will be interesting to see how that plays out financially in the coming quarters and into next year.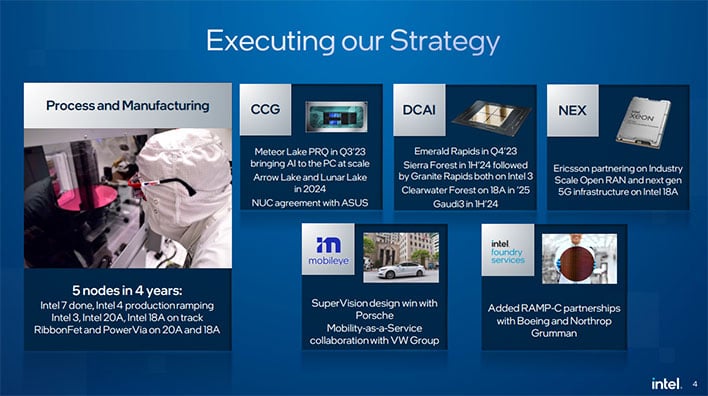 Speaking of Intel's future outlook, the chip maker remains on track with its mission to deliver five nodes in four years. By extension, that also means Intel's upcoming CPU architectures are on track—
Meteor Lake
(built on Intel 4) is expected to hit product release qualification in the third quarter of this year, while both
Arrow Lake
and
Lunar Lake
are on schedule to release in 2024.
On the server side, Emerald Rapids is still due to release in the fourth quarter of this year, followed by
Sierra Forest
in the first half of 2024, then Granite Rapids, both of which are based on Intel 3.
"In addition to executing on our process and product roadmaps during the quarter, we remain on track to achieve our goal of reducing costs by $3 billion in 2023 and $8 billion to $10 billion exiting 2025," Gelsinger said.
Investors are so far reacting positively to the
surprise profit
and Intel's overall positioning. Shares of Intel are up more than 5 percent in early market trading, signaling confidence that Intel will continue to execute on its roadmap and dig into what is a potentially massive market for AI.