Intel Core Ultra 7 165H 16-Core Meteor Lake CPU Makes A Benchmark Run With Strong Results
What appears to be a benchmark score from a PC system packing an Intel Core Ultra 7 165H 16-Core CPU has been spotted online. The fresh result can be found in the Geekbench result browser, and the score is one of the strongest we have seen for the unreleased
Meteor Lake (MTL) family
of processors.
This isn't the first time we have seen mention of the Intel
Core Ultra 7 165H
. This chip is set to be a pivotal Meteor Lake part, probably the sweet spot between performance and price for numerous potential buyers.

The headlining system, which purportedly packs one of the new Intel Core Ultra 7 165H chips, has made a good impression in Geekbench. It achieved an impressive single-core score of 2502 in Geekbench 6. To put that into context, a quick visit to the handy Geekbench online ranking charts reveals that the 165H would steal the crown for the best mobile CPU if it were released right now. It edges past AMD's latest mobile chips like the
AMD Ryzen 9 7940HS
, and you would need a desktop
Core i9-12900K
for something with a clear and consistent performance gap above it (score: 2587).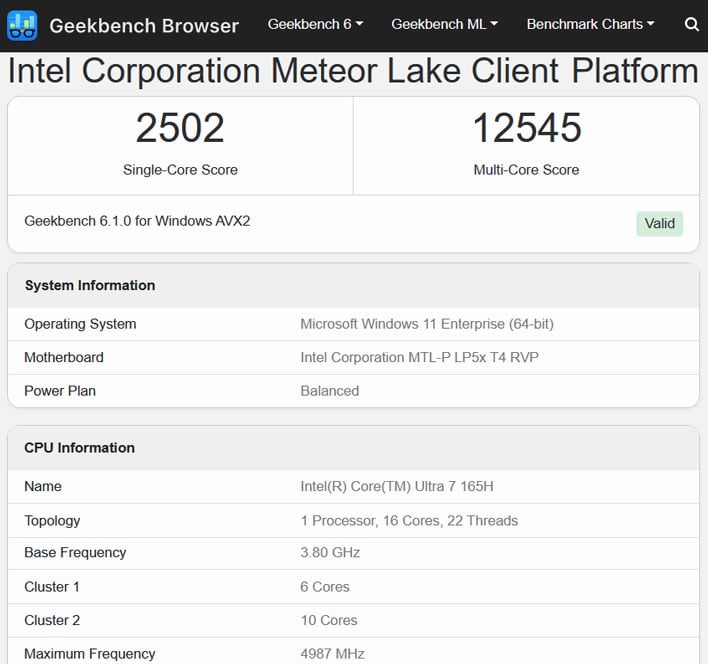 Moving onto the purported Intel Core Ultra 7 165H's multi-threaded Geekbench performance, things aren't quite as impressive but remain respectable. Its score of 12545 is evidence of just a 5.0X MP ratio (to use a Cinebench style comparison). This could be better, and should be when the chip is released and software, firmware, and microcodes have all been tweaked some more.
Digging through the Geekbench rankings to find a similar multi-threaded test scoring chip to
this result
shows the Meteor Core Lake Ultra 7 may be almost as performant as CPUs like the AMD Ryzen 5 7600X and the Intel Core i5-13600 - both desktop processors expected to chew through more watts.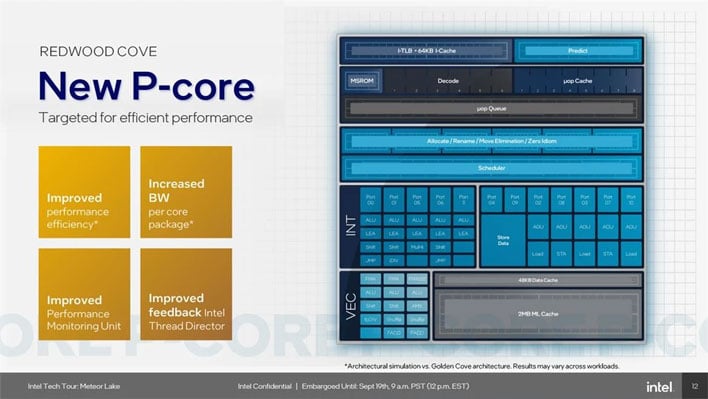 Intel has yet to confirm what Meteor Lake SKUs to expect, but we know these laptop chips will be with us by the end of the year (mid-December). Remember that it has been confirmed to
Hot Hardware
that we will get
desktop Meteor Lake chips
too, but you will have to wait until 2024 for those.