Intel Core Ultra Meteor Lake CPUs Spotted With Up To 16 Cores And 5.1GHz Boost Clock
The purported specs of three high-end 1st Gen Intel Core Ultra '
Meteor Lake
' processors have been outlined by Chinese tech tipster Golden Pig Upgrade Package (GPUP). In a separate development, someone appears to have been benchmarking unannounced HP laptops that are packing some of the first Intel Core Ultra chips.
Pondering over the GPUP leak first, the tech tipster provides some interesting details of the Core Ultra 7 155H, Core Ultra 7 165H, and the Core Ultra 9 185H.
We already expect
all these H-series mobile chips to come with six performance cores + eight efficient cores + two SoC-located efficient cores - and thus 22 threads. We've concentrated on just the P-cores in our table, and if the GPUP data is correct, these chips will be clocked as shown below:

Some crossover between the GPUP data, above, and a couple of leaked Geekbench score helps us paint a clearer picture of upcoming Meteor Lake specs and performance. On Wednesday, someone tested what seems to be a new
HP Spectre x360 2-in-1
laptop in Geekbench. According to the result, it was packing an Intel Core Ultra 7 155H processor. Its specs are in line with the above leak, i.e. it had 16C / 22T and a base clock of 3.80GHz.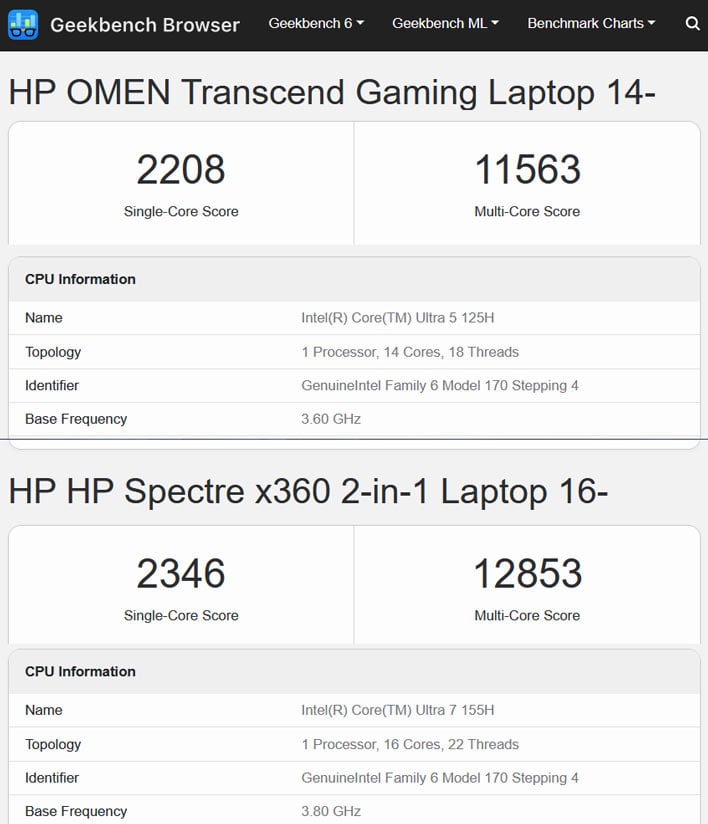 Another system, a supposed
HP Omen Transcend
gaming laptop, appears to feature an Intel Core Ultra 5 125H processor. This lower tier H-series chip stands apart from those above by having just four P-cores. Geekbench detects it as a 14C / 18T processor. Also, the base frequency is reduced somewhat, at 3.6GHz. We aren't surprised that the Smart Cache has also been put under the knife for the sake of economy and differentiation.
You might be wondering how well those Geekbench scores compare to currently available rivals. The 1T score of 2346 is a little bit better than the desktop '
Alder Lake
' Core i7-12700F achieves in the official Geekbench results ranking tables. If we look at something with a similar multi-core score to 12853 (result from the Core Ultra 7 155H again), the result would sit quite snugly between the Core i5-13600 and the Core i7-12700KF in Geekbench's official charts.
Things appear to be hotting up on the Intel next-gen processor front - in terms of both desktop (
RPL-R
) and laptop (MTL-H) terms. The
Golden Pig Upgrade
leaks, for example, make processor and partner product launches seem imminent. Intel's Sept 19-20 Innovation Event may be extremely interesting to those thinking of upgrading their PC or getting a new laptop.