Intel Core i9-10990XE Rumored To Wield 22 Cores, 44 Threads To Pummel Multi-Threaded Workloads
It appears
Intel
is getting ready to introduce a new processor for the high-end desktop (HEDT) space, one that would sit at the top of the stack above the
Core i9-10980XE
. While that is a beastly CPU with 18 cores and 36 threads to throw at workloads, a new Core i9-109980XE with 22 threads and 44 cores has made a supposed cameo.
If the CPU is real, this would be another push on the
X299
platform. Of course, it's less interesting these days with AMD cranking out meaty
Threadripper processors
with up to
64 cores and 128 threads
, but for those who are into the HEDT scene, the Core i9-109980XE would be yet another option, and the best available in Intel's camp.
According to
ComputerBase
, the 22-core/44-thread Core i9-109980XE would represent the first use of an XCC (Xtreme Core Count) die on the LGA2066 socket. The XCC die measures around 700mm
2
, and so far has only been implemented in socket LGA3647 form, with the introduction of the 28-core/56-thread
Xeon W-3175X
.
The site also claims it heard from motherboard vendors at
CES 2020
that this chip is real, and that Intel currently "validating the entire situation" (Google translation). This is said to be a high-wattage chip. As in, up to 380 watts, with the 22-core/48-thread chip running at a 4GHz base clock and 5GHz boost clock. That's not surprising, given the wattage demands of the Core i9-10980XE.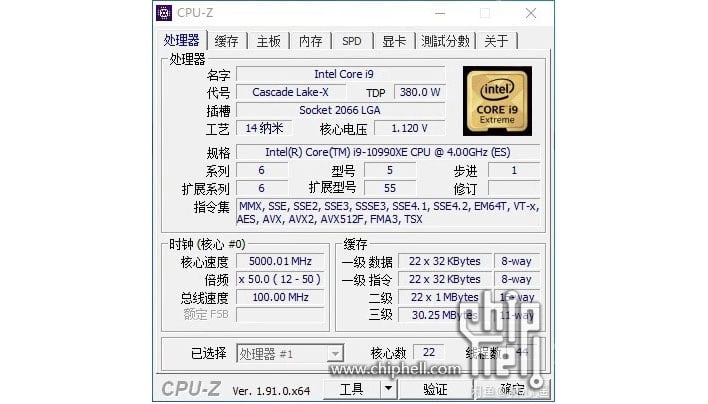 Source:
Chiphell

In addition to the rumblings from motherboard vendors, Chiphell posted a CPU-Z screenie of the alleged processor, as shown above. According to the CPU-Z shot, it is a 380W part with the aforementioned clockspeeds, though it's listed as an engineering sample (meaning the specs could change by the time production silicon rolls into view.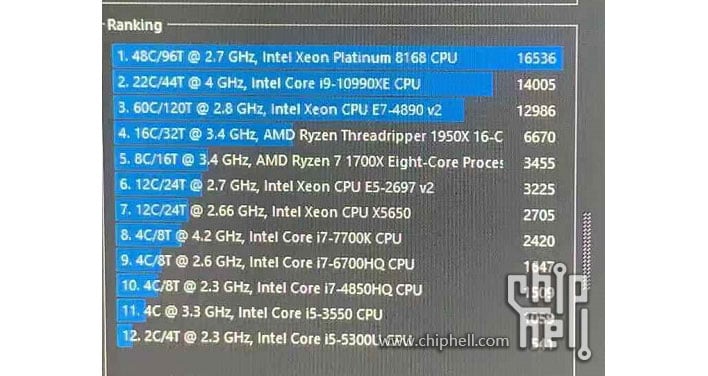 Source: Chiphell
The same source also posted a supposed Cinebench R20 screenshot, which shows the Core i9-109980XE scoring just over 14,000 points.
We'd caution to take all of this a grain of salt, as nothing has been confirmed or official announced by Intel at this point. That said, the leaked specs and other information are at least plausible. This part would also be a tough sell if it comes to fruition, given the high power demands and increased competition in the HEDT space. Heck, even AMD's technically 'mainstream'
Ryzen 9 3950X
offers up a bunch of cores (16) and threads (32).