GeForce RTX 4070 Retail Packaging Leak Reveals A Founders Edition Model Is Coming
The first purported images showing NVIDIA GeForce RTX 4070 graphics card packaging have emerged, and they depict what appears to be the inside and outside of a Founders Edition reference model carton. NVIDIA's RTX 4070 remains unannounced, despite whispers that it would make an appearance at CES 2023. However, the
GeForce RTX 4070 Ti
, which actually was made official at the Las Vegas expo hasn't been released as a reference model by the green team.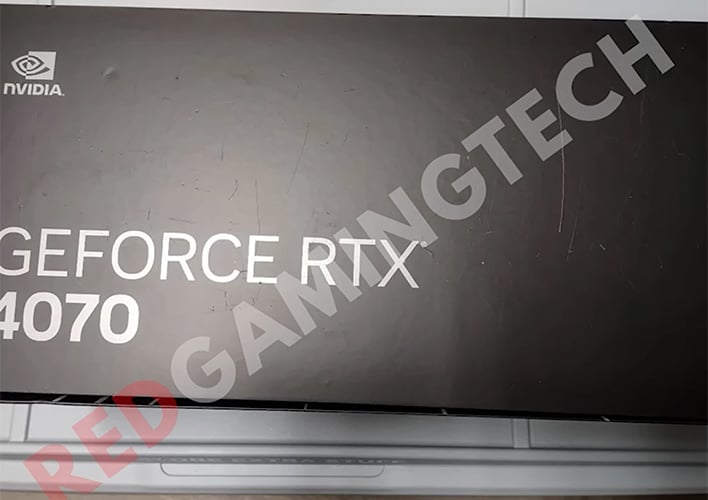 Packaging pictures throughout this article were shared by TechTuber
Red Gaming Tech
, AKA RGT, or Paul. Within his presentation of the images RGT said that the photos aren't first-hand, and there is a possibility they could be faked or "a great Photoshop job," to use the TechTuber's words. The photo source was claimed to have a good track record with supplying similar images, though.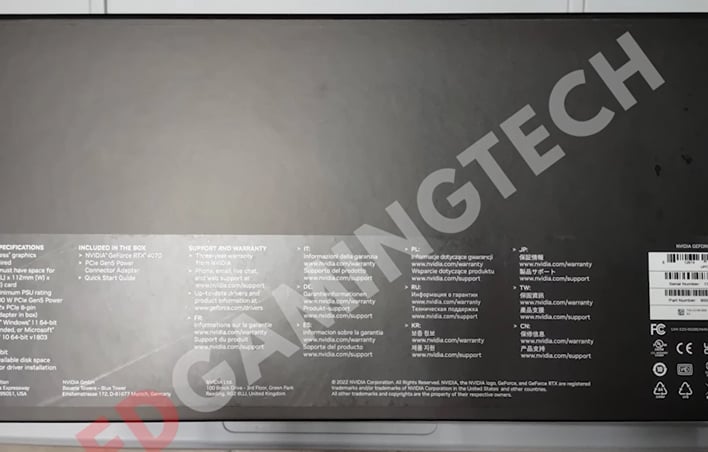 On the back of the purported box, you can make out some of the writing, but some of the specs like TGP are tantalizingly just out of shot. There appears to be confirmation of a 12VHPWR adaptor supplied in the box that feeds from 2 x 8-pin Molex connectors. It can also be glimpsed that the RTX 4070 reference is 112mm in width, significantly slimmer than the 140mm RTX 4080. No further details of immediate interest are apparent.
Readers will have probably already put two and two together regarding the question of why there was no reference model for the
RTX 4070 Ti launched
last week. RGT deduces that there could be several reasons for this; perhaps NVIDIA had one ready for the unlaunched RTX 4080 12GB and never got around to doing a rebrand, and/or it may not be releasing reference models for anything below the
RTX 4080 16GB
. RGT reasoned that NVIDIA has a track record of designing reference models for internal testing purposes, but not always releasing them to the masses. That sounds plausible, but the extra step of creating such ornate packaging would be unnecessary for distributing some engineering samples.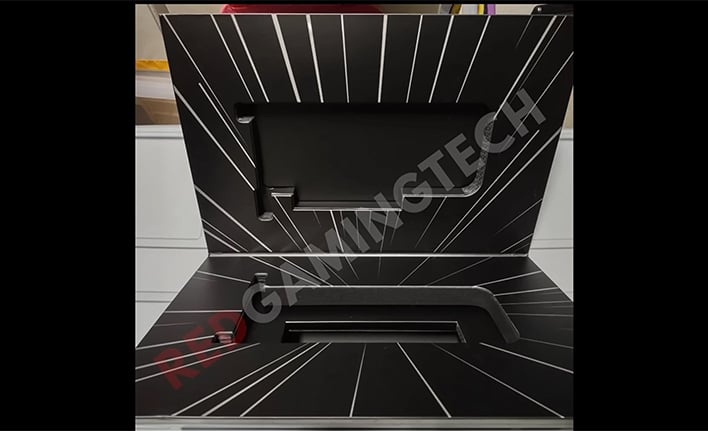 Sadly, whoever took these photos seems to have held back from sharing any images of the graphics card which should have laid within. Perhaps these images have been held back for another video or news leak, in order to keep tech enthusiasts on simmer.
Yesterday, we wrote about some leaked information about the upcoming
GeForce RTX 4070 and RTX 4060 Ti
, and we recommend you head over to that link to check out the specs table for details such as CUDA core counts and VRAM configurations. Another morsel from RGT today, helped to cast more light onto the release date for the RTX 4070. The TechTuber said that the RTX 4070 was scheduled for a Q2 release. Optimists may see this as a hint that release could be earlier than the Computex show, but it could actually still coincide with this important tech event which spans the end of May and early June.